Vol. XV, No. 6, July 2015
---
---
The state of family play
In April, Quaker Chewy, part of The Quaker Oats Company, conducted a national survey of 4,500 U.S. parents inquiring about their attitudes and behaviors towards family playtime. The survey found that 95% of parents say that play is important to their families. The majority of parents say family playtime helps them grow close and spend more time together (84%), as well as create lifetime memories (71%). Additionally, about half of parents indicate it helps reduce stress (56%) and they have fun themselves while playing together as a family.
A little over half of parents are devoting less than three hours per week to playtime. Parents say that work schedules are the top factor that stands in the way of family playtime (73% percent), followed by chores/cleaning the house (40% percent). Parents also listed kids' sports/activities, money, weather and school/homework as frequent barriers to family play.
We dug into the American Time Use Study data to see if there had been any changes over the past decade in the amount of time that parents play with their children. What we found is encouraging. Parents on average are spending an increasing amount of time playing with their children. Since 2003, women are spending 18% more time playing with children, now almost two hours (116 minutes) per day, while men have increase their playing time 15% to one hour and 50 minutes a day.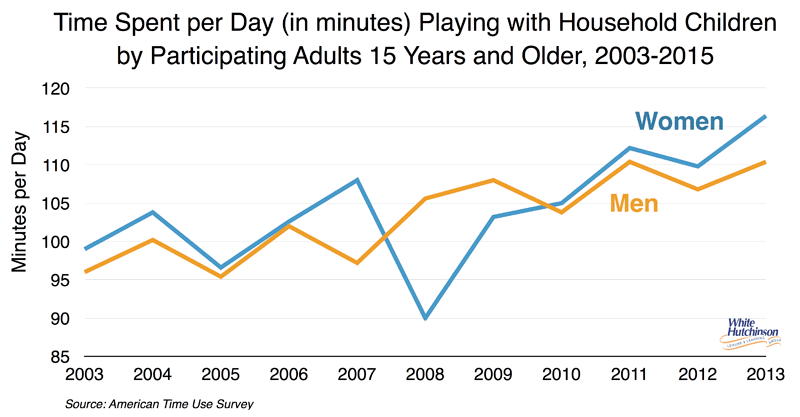 The survey reveals a major challenge for family entertainment centers that want to attract families. Parents want to spend more time playing with their children. To attract them, FECs need to offer activities such as bowling, laser tag and miniature golf that allow a family to play together. Unfortunately, too many FECs have a large number of entertainment activities such as ropes courses, Ballocity and soft play that are only for individual play or children's only play rather than attractions for families playing together (game rooms are a mixed bag as most games are for individual play, but some are for group play). Although parents of course want to see their children have fun with those individual play activities, they do not have as strong an appeal as attractions that allow all the family members to play together.
With limited playtime available, convenience is a major consideration. Parents don't want the limited time they have to play with their family consumed by drivetimes. That is a barrier to visiting an FEC, so makes an FEC's location important very.
The convenience of visiting an FEC can also be increased by combining it with good food and beverage offerings. This does not mean a snack bar. It requires a restaurant menu and food quality that makes the FEC a restaurant destination as well. That means a family can combine a dining trip with playtime, saving them time with a one-stop trip. Unfortunately, most FECs fail to meet this standard as they continue to believe the entertainment is the primary anchor. Based on the success of the many new eatertainment concepts that incorporate social old-school games, we are seeing that the food and beverage is in fact "the" anchor attraction, while the synergy with the play makes it a more desirable destination than a restaurant alone (for more see our company's eatertainment article in its last Leisure eNewsletter).
In today's world, with so little time for parents to play with their children, disposable leisure time has become the limiting factor rather than money for upper-middle and higher income families. You can win with families by maximizing the convenience of visiting your FEC and having attractions the family can play together.
Vol. XV, No. 6, July 2015
---
---