Hospitality, Resorts, Tourist & Other Attractions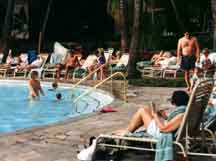 Families are a significant market for most resorts and tourist and other attractions. By its very definition, family means children. Our studies have shown that at most resorts and attractions, the vast majority of children visiting with families are 12 years old or younger.
The White Hutchinson Leisure & Learning Group has an experienced child- and family oriented, multi-disciplinary group of professionals who work as a team to design and oversee the development of high quality and successful family and children's entertainment, play, edutainment leisure and learning environments.
Designing a quality and culturally appropriate environment for families and their children is a highly complex, specialized and unique skill. The physical environment; including its atmospherics, layout, equipment and furnishings; and the management of the facility has a profound impact on families' and children's fun, learning and behavior. Children of different ages have unique needs and interests. Parents' needs must also be met. We understand the importance of having the design of the entire environment, including the building, equipment and it management, assist and support, rather than impede, children's fun, parents' needs and enjoyment and staff's abilities to accomplish their jobs.
With our focus and extensive experience in developing market strategies and designing leisure, entertainment, play, edutainment and learning or enrichment facilities for families and children, the White Hutchinson Leisure & Learning Group has the specialized expertise to assist resorts, tourist and other attractions with evaluating their family friendliness and developing strategies and designing renovations and additional facilities to appeal to this important family market.
The White Hutchinson Leisure & Learning Group is a multi-disciplinary, full-service feasibility, design, production and consulting firm. Our services cover every aspect of planning, designing, opening and managing projects, including:
When it comes to designing a project - both the physical facility and operations - our multi-disciplinary design and production process results in a uniquely branded concept with exceptional attention to the hundreds of important details required to produce a project:
After all, it is a positive guest experience, not just architecture, that results in maximum traffic, repeat visits, positive word-of-mouth marketing, and of course, the maximum revenue. Add to that efficient and economical operations, and the result for our clients is profits and a high return on investment.