Children's Outdoor Play Areas & Adventure Play Gardens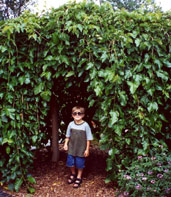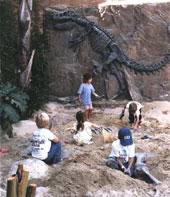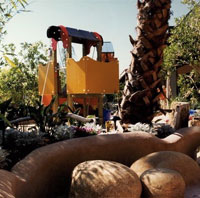 Children's adventure play gardens break the paradigm of traditional playground design that relies solely on fixed manufactured equipment. Although an adventure play garden may have some conventional play equipment, it primarily uses nature and vegetation as the play setting and nature as the play materials. Research has clearly established children's preference for the landscape and nature versus the sterile environment and limited play choices a traditional playground offers.
A naturalized adventure play garden reads as a child's place, rather than someplace designed by and for adults. Children experience an adventure play garden as a place that responds to their own sense of place and time and their need to be empowered by the play environment to engage in spontaneous free play of all types. Adventure play gardens are places where children can reclaim the magic that is the hallmark of child's play - the ability to learn in a natural environment through exploration, discovery, and the power of their own imaginations.
Adventure play gardens have high repeat appeal to children and are perceived by parents as an enriching environment for their children. Adventure play gardens can be incorporated in leisure and cultural facilities of all types including family entertainment centers, children's edutainment centers, children's museums, nature centers, resorts and tourist attractions, botanical centers and zoos.
White Hutchinson has extensive experience in the design of children's outdoor entertainment, play and naturalized play areas for all types of leisure facilities including entertainment, cultural and tourist attractions and for children's educational facilities including preschools, primary schools and animal and nature centers.