Adult Entertainment Centers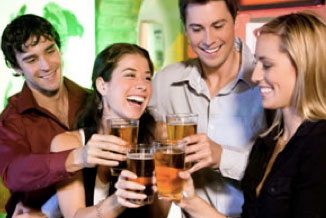 Adult entertainment centers such as Dave & Buster's and the new bowling lounges and hybrid bowling centers such as Lucky Strike Lanes can be the most profitable type of location-based entertainment center. Compared to typical family entertainment centers, adult entertainment centers operate longer hours, attract more group business, and achieve much higher per capita expenditures, greater sales per square foot and higher EBITDAs. Although they are designed to attract the adult market, many also attract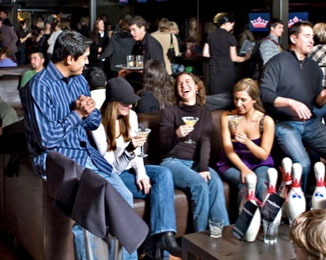 family business during the daytime and early evening as a secondary market.
The White Hutchinson Leisure & Learning Group has extensive development experience with market and financial feasibility and the architectural and interior design of adult entertainment centers. Our experience also includes many projects that included adult areas and attractions as part of their mix.
International company
Developing a new bowling center concept for an international company that will feature a well know brand as the center's theme. Our work included original consumer research to test the new concept.
East Coast, Florida
Developed plans for a hybrid bowling-bocce-art house cinema adult entertainment center that included a dining and lounge area and a gourmet coffee, wine, cheese and chocolate bar.
Luanda, Angola
Conducted feasibility and working on designs for an indoor-outdoor entertainment center that will include go-karts, bowling, VIP lounges and two areas that each can accommodate 300 people for parties and group events.
Twin River Lanes, Mt. Pleasant, South Carolina (Charleston area)
Conducted market feasibility studies. Completed construction documents for renovation of this bowling center to include contemporary interior design, VIP lanes, new bar, new gameroom and group and party rooms.
Suburban Lanes, Decatur, GA (Atlanta area)
Conducting full market and financial feasibility study and developing renovation plans to convert this this 32-lane center to an adult hybrid bowling center with VIP lanes, laser tag and group area.
City Beach, Fremont & Santa Clara, CA
Consulted with these popular corporate and adult group facilities on renovations and enhancements to increase their appeal and their per capita sales.
Twenty-Three, Las Vegas, Nevada
Conducting full market and financial feasibility, concept and brand development for an adult 37,000 square foot bowling center with a destination restaurant.
Red & Jerry's, Sheridan, CO
Consulted for this popular adult venue that includes off-track-betting, gameroom and event center.