More Information About Us
The White Hutchinson Leisure & Learning Group is not a large company where projects get delegated to junior associates. Rather, we have deliberately chosen to stay medium size, or what is sometimes called "boutique size." All too often, when companies become large, the principals of the company end-up being only managers of the company rather than having direct involvement with clients and projects.
Randy White, CEO, and Vicki L. Stoecklin, Education & Child Development Director, the two principals of WHLLG, enjoy hands-on work with clients and projects. Therefore, we have chosen to stay small enough so all client contact and project management can be handled directly by either Vicki or Randy. For our Middle East projects, our Middle East Director, Engr. Saeed AlKuwari, is also directly involved.
In addition to Randy, Vicki and Saeed, our design and production team includes:
Dave Williams, AIA - architect
Greg Finkle, AIA - architect
Dave Gerber - architect
Curt Krambeck, LEED AP - architect (LEED Accredited Professional)
Amy Nichols, ASID, IIDA - interior designer
PB&J Restaurants - food & beverage/restaurant specialist
Gordon MacDonald - kitchen design
Dana Foster - sign and wayfinding designer
Jeff Maple - logo and graphic design
Joe Stites - character/mascot and mural design
Linda Wallis - procurement manager
Eric Davis, RLA, ASIC, LEED AP - landscape architect
Kathi Vandel, P.E. - lighting designer
Steve Thorburn, PE, CTS-D, CTS-I - acoustic and audio-visual design
Becky Abbott - school field trip curriculum specialist
Top specialists in other design, economic, training and management disciplines are included on our design and production team, as needed, to meet specific project requirements.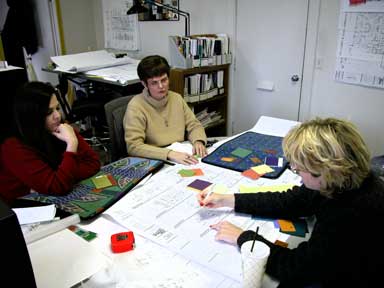 Vicki Stoecklin, Education & Child Development Director; Amy Nichols, Interior Designer and Jolie Stoecklin, Procurement Director, work on design and color and finish selections for Paradise Park's children's edutainment center.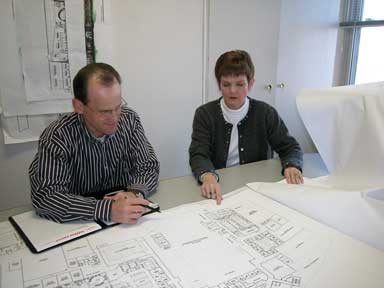 Dave Williams, Architect, and Vicki Stoecklin, Education & Child Development Director, review architectural plans for project.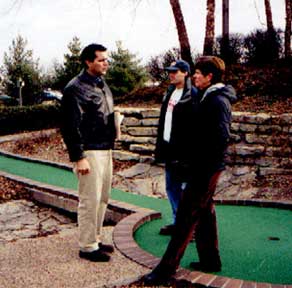 Vicki Stoecklin, our Education & Child Development Director;
Mike Turner, landscape architect; and Jon Ellis, owner of Paradise Park,
during pre-design inspection for $6.0 million expansion.
Our company was formed in the middle 1980's as a real estate consultancy. At that time, we specialized in evaluations of troubled or distressed commercial real estate projects and developing turn-around or financial workout strategies for them. This was the era of the real estate recession in the US brought on by overbuilding and Federal tax code revisions.
Then, in January 1989, an older bowling center, which one of our shopping center clients owned in Olathe, Kansas, a suburb of Kansas City, burned to the ground. Our client asked us to oversee the redevelopment of the center.
Seeing that there might be possibilities to improve the business with the new facility, we sent a four-page questionnaire to all its league bowlers. 70% returned the questionnaires with no incentive, a clear indication we had loyal customers. The bowlers' profile was completely different than the owner thought - 85% were upper-middle class, white-collar workers; 51% were women. So we completely redesigned the bowling center, targeting this upscale socio-economic niche. WHLLG's work included full design and theming, food & beverage concept development and implementation for 'Charlie's Diner', project management and management culture re-engineering.

The former 24-lane bowling center was rebuilt from fire to reopening in nine months time as a contemporary, 32-lane bowling center using fast track design and construction techniques. The design of the center was based upon our market research and was guest-driven. It broke most paradigms of bowling center design at the time including:
Elimination of settee seating and the use of comfortable cocktail style table seating to maximize bowler socialization, comfort and food and beverage sales,
Completely level floors with no step down to the approach area (this was pre-ADA design),
Bright light levels throughout,
Windows on the concourse,
Upscale nursery,
Upscale food service - Charlie's Diner,
Full thematic design using an art deco theme,
Hourly per lane charges rather than per game charges, and
The concept of guest service rather than customer services.
When the bowling center reopened, its business immediately doubled although nothing else in the marketplace had changed. The center commanded premium rates, its per game food and beverage sales quadrupled and it won national awards for:
Best new bowling center
Best billiards area
Best commercial restrooms
Best lounge/eatery
Today, many years after its reopening, the center continues to be successful. The center has established new design paradigms in the bowling center industry, and to this day is still considered a benchmark model. In the late 1990's Brunswick Bowling introduced a new line of bowling seating that imitates the concourse seating we first introduced at Olathe Lanes East.
Randy and his partner Miles quickly came to the conclusion that producing successful leisure projects for owners was much more fun and rewarding than meeting with bankers and explaining to them that the value of the real estate collateral for their mortgages was as low as 1/3 the mortgage's balance (We had analyzed one project that originally cost US$60 million to develop that was only worth about US$20 million. The bankers became rather upset when we explained this to them.) So they held a strategic planning session and decided to move out of real estate consultancy business and into consulting, design and production of leisure projects.
The timing was perfect, as that was the beginning of the family entertainment center industry, with the boom in the development of indoor facilities in the US. One thing lead to another, and we were soon in the heart of the family entertainment and leisure industry.
In the early-1990s, a client came to us to develop a children's entertainment center. He felt the existing centers at the time (Discovery Zones, its knockoffs and Jungle Jim Playgrounds) left a lot to be desired and there must be a better formula. So he commissioned us to undertake an extensive series of focus groups with mothers and children between ages five and twelve in both a East Coast city and a Midwest city, as well as conduct a phone survey to examine what facilities families with younger children visited and how often. It was a real eye-opener. It was fascinating at the focus groups to see the dramatic differences in different age children and between girls and boys. The telephone survey found that families were visiting facilities such as children's museums, nature centers and zoos more frequently than for-profit children's facilities.
We decided that there must be something to this, so started to research children's development on the premise that if we can give children what they want, we can create successful projects. This is the same time that Vicki Stoecklin, our Education & Child Development Director, joined our company with her extensive knowledge on child development and designing environments for children. Not to make the story too long, the result was our development of the for-profit children's edutainment center concept and starting a separate company division that specializes in the design of children's learning environments, including child care centers and outdoor play spaces.
Since that first project in Olathe, Kansas, we have served over 330 clients throughout the world (as of December 2006), produced many innovative, award winning and successful projects for clients, opened a Middle East office in Doha, Qatar and assisted other clients with existing projects with renovations, additions and improving their businesses. Our work has received recognition by the Food Network, The Wall Street Journal, Time Magazine and many industry trade journals. Our articles and academic papers have received wide recognition and been cited in many books and by researchers.
Our offices are located in an historic 'Greene and Greene' architectural style two-story house in the Westport area of Kansas City.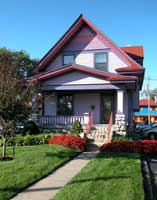 Westport got its name in the mid-1800's as the 'last port West.' It was the starting point and last place before entering Indian territory where wagon caravans taking the Oregon, California and Santa Fe trails could stock-up on supplies. Just one mile west was the border of Missouri and the beginning of Indian territory (this was before Kansas was even a territory and then a State).
Just one mile south of Westport is the Country Club Plaza area of Kansas City. The Country Club Plaza, first developed in 1923 by J.C. Nichols, was the nation's first privately-owned shopping district or shopping center. It's design is based on romantic Spanish architecture.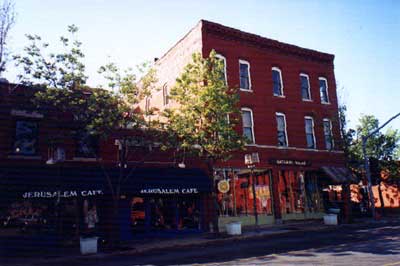 This is a slide show of the
Westport and Country Club Plaza areas of Kansas City, Missouri.
All scenes are within walking distance of our office.