Water Parks and Spraygrounds
The White Hutchinson Leisure & Learning Group designs all types of family and children's venues, including projects with water facilities.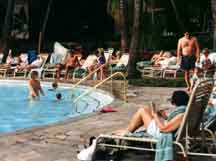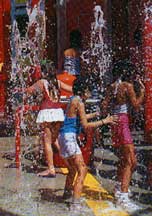 Catfish Bend Casino & Fun City, Burlington, IA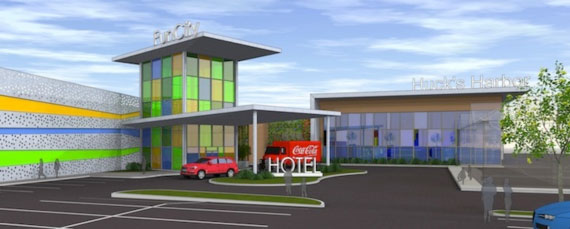 Completed a master plan for phased expansion and renovation of this popular east Iowa entertainment destination that includes both adult and family hotels. Completed full designs for renovation of the Huck's Harbor indoor water park. Half the water park was renovated as a dry expansion of the Fun City family entertainment center (FEC) to include a combination Ballocity and soft play structure, a ropes course that also includes a tykes ropes course and birthday party areas. The other half of the water park was totally rebuilt to include a children's area with an interactive play structure, adult area, a current channel and hot tub spa area.
Roaring Springs Water Park, Meridian, Idaho
Developing master plan for expansion and planning the addition of mom-friendly children's areas and better integration of the waterpark into its adjoining family entertainment center; and expansion of the family entertainment center, including bowling and a destination restaurant, to become the Boise metro areas number one indoor family entertainment attraction.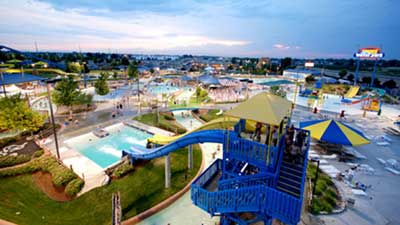 Family Leisure Oasis, Doha Qatar
Conducted market and economic feasibility and developed preliminary plans for a large multi-venue family leisure project that included an aqua park resort (waterpark resort) with 360 rooms and an 12,000 square meter indoor waterpark.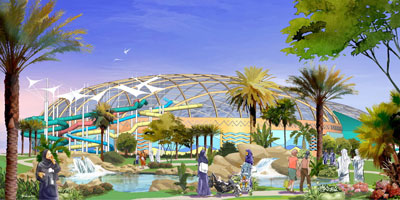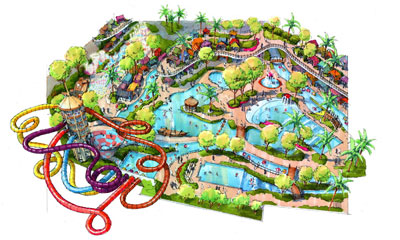 Davis' Farmland, Sterling, Massachusetts
In 1994, White Hutchinson conducted a feasibility study and prepared the master design plan for the relocation and expansion of Davis' Farmland, a Family Farm Adventure. Since then, Farmland has retained WHLLG every year to evaluate the facility and operations and develop plans for improvements and expansion.
Farmland is basically a farm-based, outdoor children's edutainment facility. Sometimes, these projects are also called agritainment.
On July 24, 2002, Davis' Farmland opened North America's largest non-waterpark children's sprayground. The sprayground is part of the Adventure Play & Spray additional to Farmland designed by White Hutchinson.
There are two spraypads, one for toddlers and one for children 3-8 years old. The spraypads cover approximately 8,000 square feet and feature every kind of water spray and play imaginable, from ground bubblers and misters to a pretend car wash, to water trays and even a water tower geyser. Other areas of the Adventure Play & Spray addition have children's dry play including:
boulder and log climbing,
a prehistoric dinosaur dig with immersion bamboo landscaping,
woven huts in a grasslands,
'Moo Works'--a sand play piece of equipment themed to look like a Guernsey cow,
a 2-D maze,
climbing equipment and
a pedal go-kart track through a pine forest.
The Adventure Play & Spray area also includes a new 3,500 square foot guest service building with the Udder Herd Rock Calfé, restrooms, family restrooms and family changing/shower rooms.
Other parts of the $2.0 million renovation and expansion to Farmland included a new enclosed admissions area, a new management office and a new state-of-the art admissions, inventory, financial and management information system. WHLLG designed all the improvements and assisted Farmland with setting up a new management structure, management systems, policies and procedures and pricing.
US Navy Family Entertainment Center at Brunswick, Maine NAS
The White Hutchinson Leisure & Learning Group recently completed design of the US Navy's 1st family entertainment center (FEC) to be located at the Naval Air Station (NAS) in Brunswick, Maine. Randy White, CEO of White Hutchinson, said the US military is undertaking an extensive upgrading of all their moral, welfare and recreation (MWR) facilities worldwide. The purpose of the NAS Brunswick project is to help retain military families on the base by offering them leisure amenities specifically tailored to their needs. The center is currently under construction for an opening in the late summer of 2000.
The FEC is being developed as an addition and renovation of the existing bowling center. The facility will have over 20,000 square feet of interior space including:
a food court with a gourmet coffee café, a pizza shop and an A&W Restaurant with a drive-thru,
a children's edutainment area with soft-contained-play, construction play, do-it-yourself face painting, an art studio, pretend dress-up and a pretend play house,
a games area with redemption games and a redemption prize counter,
a multi-purpose area that can accommodate two private birthday parties, movies, meetings and other activities, and
the base's central information, ticket and tours (ITT) office.
Outside, there will be a children's zero depth water playground, and two dry playground areas-one for children 2 to 5 years old and one for older children.
Badajoz, Spain, Family Aquatic & Entertainment Park
WHLLG recently completed feasibility and preliminary design for a 23 acre project called "Lusiberia Parque de Ocio Familiar" which will be combination 'dry' family entertainment center and a water park targeted to families with children toddlers to teenagers. Due to the parks location one kilometer from the Spain/Portugal border, an important cultural consideration will be a design that appeals to both Spaniards and Portuguese, traditional rivals. This and other cultural considerations will be addressed through both a values-based storyline and design theme and the food and beverage selections at a destination Wrestaurant. The mix and theme of the park will also incorporate a strong educational and cultural component.
Also see article: Expanding Water Parks with Dry Attractions