Bowling Center Feasibility & Design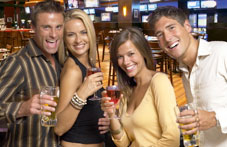 Bowling continues to be the most popular form of indoor recreation and is growing in popularity, especially with the open-play customer. Being truly intergenerational, it has high appeal to both families with children and adults, so it makes an ideal anchor attraction for destination entertainment and eatertainment centers.
Bowling has been undergoing a major market shift. At one time leagues made up 70 percent and more of bowling centers' business. Changing lifestyles have seriously eroded league business. Today, leagues make up the minority of business at most bowling centers. To offset the lose of league business and increase appeal as entertainment destinations for the open-play customer, many bowling centers are remodeling and expanding as bowling-based family entertainment centers (FEC), often referred to as hybrid bowling centers. Other centers are targeting the young adult market with upscale bowling lounges, also known as bowling boutiques. New hybrid-bowling centers and lounges are being developed throughout America and achieving revenues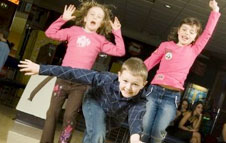 and profits far exceeding those of the old bowling alley formula. Many family entertainment centers (FEC) are expanding and adding bowling as one of their anchor attractions. Some cinemas are adding bowling and destination dining to their cinema complexes. Most hybrid bowling centers, FECs with bowling and all bowling lounges no longer offer league bowling. Most also now offer an upscale menu of food and beverage far superior to the old bowling alley snack bar. Many feature destination restaurants.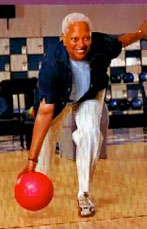 Dating back to 1989, the White Hutchinson Leisure & Learning Groups has a broad-based experience and a proven track record with bowling centers of all types. Our bowling experience and expertise for development of new bowling centers and the renovation of existing bowling alleys includes:
Market feasibility
Financial feasibility
Concept and mix development
Brand development
Bowling center architectural design and interior design
Furniture and equipment specifications
Bowling center foodservice and restaurant design
Management start-up and consulting
Bowling centers we have designed won the Bowler's Journal award for the best new bowling center interior in both 1990 and 1995. We won the NewsMaker Award in three separate years for the design of the best new family entertainment centers, one of which incorporated bowling as an anchor attraction. We have pioneered innovative concepts in bowling design, including the first bowling center to eliminate all fixed settee seating and instead feature cocktail-type seating on the concourse to maximize food and beverage sales. After we introduced this seating concept, bowling suppliers introduced their own versions. We also designed the first bowling center to have a completely flat floor, with no floor height change between the concourse and approach. That is now standard practice for the design of new bowling centers.
Additional reading:
Our bowling projects include:
FUNomenal Ventures, Berlin, Germany
Currently working on feasibility and concept development for this restaurant-bowling-entertainment center.
Twin Waters Entertainment Center, Lekki, Lagos, Nigeria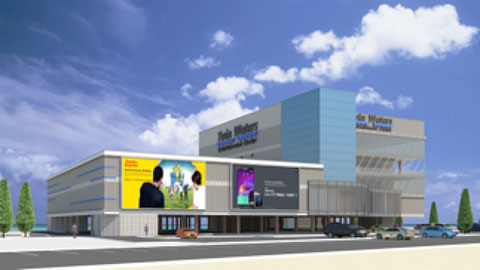 Owner retained us for full interior design; development of the restaurant's menu, and specifications and procurement of all entertainment, furniture and kitchen equipment for this 22,600 square foot (2,100 SM) adult entertainment center that includes a restaurant, a 130-game gameroom and a VIP bowling. We completed the feasibility study for the center several years earlier. Anticipated opening 2017
Doc Brundy's, Utah
Conducted full feasibility and design for this 16,100 square foot center that will feature a soda fountain grille, 6 lanes of duckpin bowling, a retro gameroom and party and meeting space with a prohibition-speakeasy inspired interior design theme. Anticipated opening late 2017.
South Puget Sound Social Hub Project
Our Puget South Sound Building E project, that will establish a new archetype for the community leisure venue industry is under construction for a late 2017 opening. A significant part of our design and production work for this 57,000-square-foot project that includes social bowling is both the physical and experience design of its destination, highly sustainable, farm & sea to table, scratch restaurant that will feature an exhibition kitchen, a menu influenced by global cuisines and culinary events. The building will be LEED certified and the restaurant will have a Green Restaurant Certification.

Da Nang City, Vietnam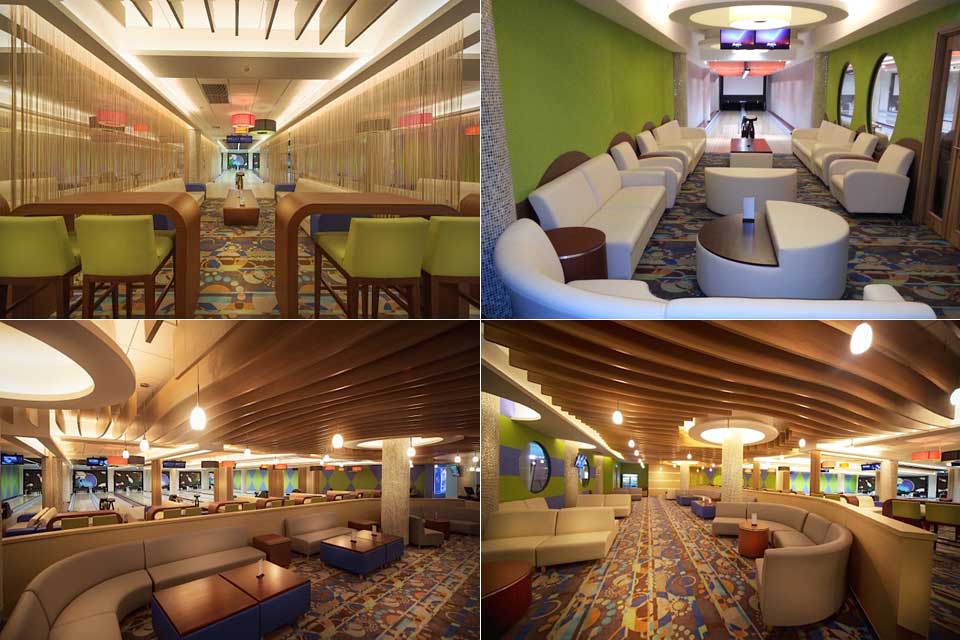 Performed the initial feasibility study and completed full design for the 157,000-square-foot Helio Center that open February 2015. The ground and mezzanine floor include many family and adult entertainment attractions:
The basement has a garage for 1000 motorbikes and 52 automobiles.
The 2.6-acre outdoor area includes three rides and a children's discovery play garden that is part of the Helio Kids children's edutainment center.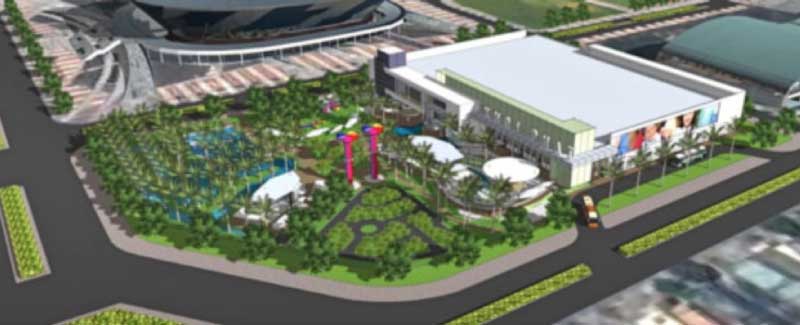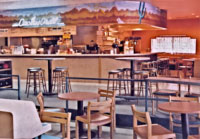 Olathe Lanes East, Olathe, KS
Completed the full design for the total renovation of this 24-lane bowling center in 1990. Our design work included upgrading the food and beverage with a new Cactus Grill bar and lounge area. As a result of the renovation, revenues increased by 35%.
Club Mais, Luanda, Angola
Angola, and especially its capital Luanda, has one of Africa's fastest growing economies. Completed full market and financial feasibility and design for a hybrid bowling and family entertainment center in this rapidly growing African Country. The 5,000-square-meter indoor FEC will include a restaurant, bowling, a large gameroom with bumper cars and Ballocity, two private VIP bowling suites, and multi-purpose meeting rooms. Outdoor there will be go-kart tracks and an outdoor group/party pavilion that can accommodate up to 300 people.
International company
Developing a new bowling center concept for an international company that will feature a well know brand as the center's theme. Our work has included original consumer research to test the new concept.
Greater Florida area
Working on site selection and concept development for a new brand of bowling center.
Twin River Lanes, Mt. Pleasant, South Carolina (Charleston area)
Conducted market feasibility studies. Preparing full construction documents for renovation of this bowling center to include contemporary interior design, VIP lanes, new bar, new gameroom and group and party rooms.
Suburban Lanes, Decatur, GA (Atlanta area)
Conducting full market and financial feasibility study and developing renovation plans for this 32-lanes center.
Rhode Island
Conducted preliminary market feasibility study and currently assisting client with site selection for a new upscale bowling center.
Various cities, India
Developed prototype hybrid bowling and family entertainment center concept to be located in malls that includes duckpin bowling as one of its anchor attractions
Twenty-Three, Las Vegas, Nevada
Conducting full market and financial feasibility, concept and brand development for a 37,000 square foot hybrid bowling center with a destination restaurant.

Wahooz Family Fun Zone, Meridian, Idaho
Worked with the new owners of this established FEC on market and financial feasibility, a long-term master plan and design of a major building expansion to include 24 lanes of family bowling, other family attractions and a destination pizza buffet restaurant.
Northcross Lanes at the Lake, Huntersville, NC
Conducted market analysis, evaluated facility and recommended program for renovation.
Strikes Bowl, Show Low, Arizona
Conducted preliminary market analysis that resulted in a recommendation of moving the project to a new site with more potential.
Manama, Bahrain
Developed feasibility study and designed concept plans for a children's and woman's center that included a separate floor of 12 duckpin bowling lanes.
Knuckleheads, Wisconsin Dells, Wisconsin
White Hutchinson assisted the Waterman family with concept and mix development and plans for their $20-million, 115,000-square-foot Knuckleheads Bowling & Family Entertainment Center and Buffalo Phil's Grille that opened in 2007 in Wisconsin Dells, Wisconsin
The 80,000-square-foot indoor family entertainment portion of Knuckleheads includes 24 ten-pin bowling lanes with 12 large projection screens and 40 LCD monitors. The projection screens and monitors can be used for viewing jukebox music videos, sporting events and other shows. Adjoining the bowling is a multi-level electric go-kart track, a family rollercoaster, family Himalayan ride, other family rides, bumper cars, a 10-seat, 3-D projection ride theater, 125 redemption and arcade games and the Pumphouse Pizza café.
Western Texas, U.S.A. – Cinema-restaurant-entertainment-bowling complex
Developing design plans for a 65,000-square-foot entertainment complex that includes six movie theaters, bowling, a destination restaurant, family entertainment attractions and games, and party and meeting rooms.
White Hutchinson Designs US Navy's 1st Family Entertainment Center as renovation and expansion of existing bowling center.

The White Hutchinson Leisure & Learning Group recently completed design of the US Navy's 1st family entertainment center (FEC) to be located at the Naval Air Station (NAS) in Brunswick, Maine. Randy White, CEO of White Hutchinson, said the US military is undertaking an extensive upgrading of all their moral, welfare and recreation (MWR) facilities worldwide. The purpose of the NAS Brunswick project is to help retain military families on the base by offering them leisure amenities specifically tailored to their needs. The center is currently under construction for an opening in the late summer of 2000.
The FEC is being developed as an addition and renovation of the existing bowling center. The facility will have over 20,000 square feet of interior space and include:
a food court with a gourmet coffee café, a pizza shop and an A&W Restaurant with a drive-thru,
a children's edutainment area with soft-contained-play, construction play, do-it-yourself face painting, an art studio, pretend dress-up and a pretend play house,
a games area with redemption games and a redemption prize counter,
a multi-purpose area that can accommodate two private birthday parties, movies, meetings and other activities, and
the base's central information, ticket and tours (ITT) office.
In a landscaped plaza area at the entrance to the FEC, there will be a patio dining area, a children's water playground, and two dry playground areas-one for children 2 to 5 years old and one for older children.
Super Bowl, Appleton, WI
Conducted market and site evaluation for expansion.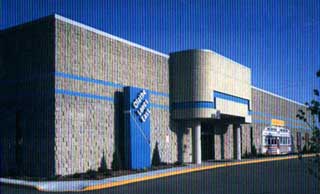 Olathe Lanes East, Kansas City, MO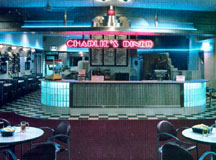 In January 1989, one of our client's bowling allies in Olathe, Kansas, a suburb of Kansas City burned to the ground and we were retained to manage its redevelopment. Seeing that there might be possibilities to improve the business, we sent a four-page questionnaire to its league bowlers. 70% returned the questionnaires with no incentive, a clear indication we had loyal customers. The bowlers profile was completely different than the owner thought - 85 percent where upper-middle class white-collar workers, 51 percent were women. So we completely redesigned the bowling center, targeting this upscale niche. WHLLG's work included full design and theming, food & beverage concept development and implementation for "Charlie's Diner", project management and management culture re-engineering.
The former 24 lane bowling center was rebuilt in nine months using fast track design and construction techniques from fire to reopening as a contemporary 32 lane bowling center. The design of the center was market research and guest driven and broke most paradigms of bowling center design at the time including:
Elimination of settee seating and the use of comfortable cocktail style table seating to maximize bowler socialization, comfort and food and beverage sales,
Completely level floors with no step to the approach area (this was pre-ADA design),
Bright light levels throughout,
Windows on the concourse,
Upscale nursery,
Upscale food service - Charlie's Diner,
Full thematic design using an art deco theme,
Hourly per lane charges rather than per game charges, and
The concept of guest service rather than customer services.
When the bowling center reopened, its business immediately doubled although nothing else in the marketplace had changed. The center commanded premium rates, it's per game food and beverage sales quadrupled and it won awards for:
Best new bowling center
Best billiards area
Best commercial restrooms
Best lounge/eatery
The center has established new design paradigms in the bowling center industry and to this day is still considered a benchmark model. In the late 1990's Brunswick Bowling introduced a new line of bowling seating that imitates the concourse seating first introduced at Olathe Lanes East.
Wol-Ha, Cancun, Mexico
This 35,000 square foot family entertainment center includes a 20-lane bowling center, a children's pay-for-play center, a McDonald's restaurant and a separate café. WHLLG handled the full feasibility and interior design of the center. Wol-Ha won the Bowler's Journal 1995 award for the best new bowling center interior and the 1994 NewsMaker award for the best new international family entertainment center.
Olympic Lanes, Milwaukee, WI
Prepared renovation plans and cost estimates.
Hermitage Lanes, Nashville, Tennessee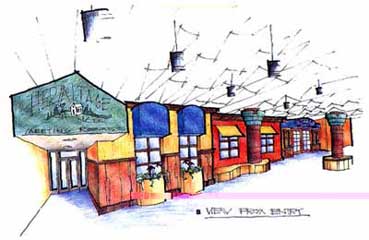 WHLLG conducted feasibility studies and developed theme designs for the renovation and expansion of the center as a family entertainment center that includes the bowling center with a new snack bar, a new grill/lounge and adult entertainment area, and a family entertainment area that includes a separate children's edutainment area.
Sun Mountain Sports, Bend, Oregon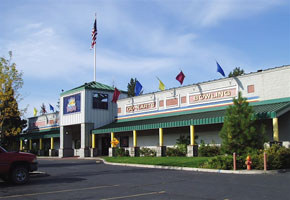 In 1996 WHLLG conducted feasibility studies and developed designs to expand the existing bowling center as a family entertainment center that included both outdoor and indoor attractions and a gameroom. The customer base for the center was about 50 percent residents and 50 percent skiers and campers who visit the area. The center successfully expanded to become a true family destination and the bowling became 100% open play. Then in 2006, the owners again hired WHLLG to evaluate the center and develop plans to renovate the center, including a grill café, and expand the indoor area with additional attractions. Renovations are currently underway.
XPlosions, Caguas, Puerto Rico
WHLLG has completed feasibility studies and developed concept plans for this new 280,000 sq. feet indoor family entertainment center which will feature bowling as one of its anchor attractions.
Greater Washington, DC area
Retained by client for market and financial feasibility and to develop preliminary plans for development of a 70,000 sq. feet indoor, 1.2-acre outdoor family entertainment center featuring bowling as one of its anchor attractions.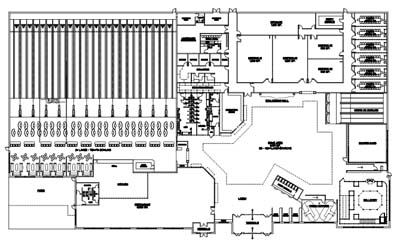 Other bowling clients have included:
Royal Scott Golf & Bowl, Lansing, MI
MBX Bowling Systems, Albuquerque, NM
Aquidneck Lanes, Middletown, RI
Camelot Lanes, Portage, IN
Shirley Bowl, Bay Shore, LI, NY
Los Medanos Bowl, Pittsburg, CA
Caribor S.A. de C.V., Mexico
Brunswick Bowling
Red & Jerry's, Denver, Colorado
Airway Fun Center, Portage, MI
Our services include all aspects for developing and remodeling bowling centers include bowling center feasibility, bowling center design and startup and bowling center audits and evaluations for renovation or expansion.