MWR and MCCS Facilities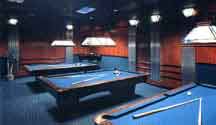 Military Moral, Welfare and Recreational (MWR) and Marine Corps Community Service (MCCS) facilities are facing many of the same challenges as financially self-sustaining commercial leisure, entertainment, recreation and learning operators and institutions. As consumers are offered more and better leisure and learning options in the private sector, consumer demands and expectations are rising. To meet these rising expectations for a totally volunteer military, especially for military families and their children, MWR and MCCS facilities are upgrading and expanding their offerings. This is especially important at overseas bases, as there, the military personnel's family leisure, entertainment and learning options are often limited solely to MWR and MCCS facilities.
The White Hutchinson Leisure & Learning Group has broad-based for-profit and institutional sector experience and expertise with designing and developing family and children oriented leisure, entertainment, recreation and learning facilities. We are uniquely qualified to assist MWR and MCCS facilities with developing renovations and expansions comparable to the best in the private sector that will exceed the expectations of military families and be financially sustaining where required. With our international experience, we understand all the unique considerations of developing facilities overseas.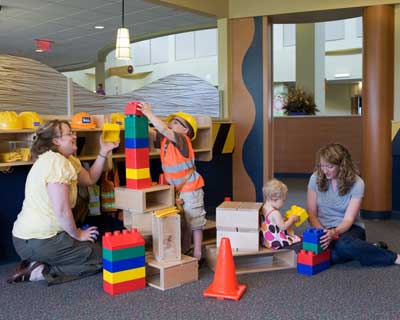 White Hutchinson Leisure & Learning Group Designs US Navy's 1st Family Entertainment Center & Recreation Mall

The White Hutchinson Leisure & Learning Group fully designed, including all interior and exterior design and equipment specifications, the US Navy's 1st family entertainment center (FEC) and recreation mall located at the Naval Air Station (NAS) in Brunswick, Maine. Randy White, CEO of White Hutchinson, said the US military is undertaking an extensive upgrading of all their moral, welfare and recreation (MWR) facilities worldwide. The purpose of the NAS Brunswick project is to help retain military families on the base by offering them leisure amenities specifically tailored to their needs. The center opened in 2002.
The recreation mall was developed as an addition and renovation of the existing bowling center. The facility has over 20,000 square feet of interior space and includes:
a food court with a gourmet coffee café, a pizza shop and an A&W Restaurant with a drive-thru,
a children's edutainment area with soft-contained-play, construction play, art studio, pretend dress-up and a pretend play house,
a games area with redemption games and a redemption prize counter,
a large multi-purpose area that can accommodate birthday parties, movies, meetings and other activities, and
the base's central information, ticket and tours (ITT) office.
In a landscaped plaza area at the entrance to the FEC, there is a patio dining area and a children's zero - depth water playground and spray pad. Two dry playground areas - one for children 2 to 5 years old and one for older children - are planned for later expansion.
Vicki Stoecklin, Education and Child Development Director of WHLLG, said that all the children's play events were designed to follow the highest standards of 'developmentally appropriate practice' to assure that activities are learning-thru-play rather than just amusement like most civilian FECs. The center was developed under the philosophy that military families deserve the best and developmentally appropriate play is the best leisure activity for children. For the children, it is just a blast of fun, while at the same time it is nourishing to their development.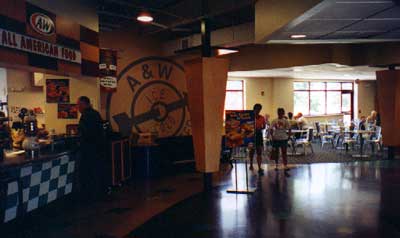 |
"The Recreation Mall is surpassing even our expectations! The Bowling Center is experiencing many new users and is now busy all operating hours. A&W is doing very well as the only burger place on the base. The ITT operation is very busy with on-base programs and unofficial travel. The play area is a SUPER hit with families and kids. The movie theatre is seeing 200% better occupancy than when movies were shown at Niteflite. . . We are very happy with the facility and are bragging about it to all the Navy!
We feel the facility is a success and that the Navy is looking at our facility as a benchmark for other new recreation facilities for combining a number of elements under one roof."
Mark A. Verhey
MWR Business Activities Manager
Brunswick Naval Air Station

The recreation mall was developed under a new experimental military IDIQ (Indefinite Quantity) Program that is a hybrid of fast track and design/build.
Unlike civilian FECs, admission and use of the FEC areas is free.
Mainerd the Moose, the base's official mascot, makes regular appearances at the facility.
Click here to go to the Navy's RecMall web page
Also see the following two articles which discuss adding entertainment to MWR facilities