Children's Edutainment, Play & Entertainment Centers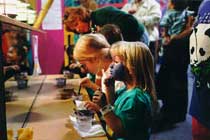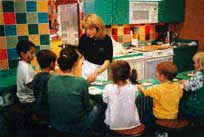 The White Hutchinson Leisure & Learning Group is one of the world's foremost experts on the design, development, management and feasibility of children's edutainment, play and discovery, play cafe, entertainment and play facilities. Our experience includes award-winning projects throughout the world.
The April 30, 2001 issue of Time magazine referred to the children's centers our company produces as the Xanadus of children's edutainment.
Randy White, our CEO, was quoted as an expert on children's edutainment projects in the May 19, 2005 issue of the Wall Street Journal.
In their groundbreaking 1999 book, The Experience Economy, Joseph Pine and James Gilmore used our Bamboola children's edutainment center as an example of a venue that stages edutainment experiences.
The San Jose Mercury News said the following about Bamboola, a 28,000-SF children's edutainment center we produced:
"... Usually the entrepreneurs who create these places and services add value to make it worthwhile. At Bamboola, they add supervision by khaki-clad staffers, a variety of choices for different ages, an educational overlay and a comfortable place for adults... This is where Bamboola's well-crafted design makes it stand out from places with similar activities... Bamboola's designers, White Hutchinson Leisure & Learning Group of Kansas City, create a place where adults can take their kids without being driven crazy by the noise, the dreary "are we having fun yet?" atmosphere and the lack of places to sit down."

"This is smart. This is very smart. They did this through careful attention to basic design."

"On a small scale, Bamboola did what Walt Disney did 42 years ago. Walt Disney took the hopelessly tawdry, sleazy amusement parks of the 1950s and reinvented them as clean, comfortable, wholesome Disneyland. [White Hutchinson] took the tawdry, noisy fun centers of the 1990s, added a dash of the Children's Discovery Museum, and created Bamboola... It has taken the pleasure and comfort of its customers into account with intelligence and care. It uses design to make a better product and a better environment."
Bamboola won the 1998 NewsMaker Award as the best new children's entertainment/edutainment center.
Other recognition our children's projects have received include:
Paradise Park Children's Discovery Play Center
The International Association for the Leisure & Entertainment Industries (IALEI) awarded Paradise Park their 2004 Golden Token Award for being the world's best new/renovated family entertainment center project.
Davis' Farmland, Sterling, Massachusetts, USA
FamilyFun magazine's FamilyFun Vacation Guide: New England, published by Disney Publishing Worldwide, rated Davis' Farmland in Sterling, MA, as a must-see destination for families. Both the Boston Parent and the Rhode Island Parent magazines rated Davis' Farmland as the 'best overall day trip.' For three consecutive years, the Yankee Magazine's Travel Guide to New England has designated Davis' Farmland the "Editor's Pick for Kids".
Dinotropolis, Caracas, Venezuela
1996 NewsMaker Award for the best new children's entertainment center.
Wol-Ha, Cancun Mexico
1994 NewsMaker Award for Best New International FEC.
The types of children's projects we perform market and financial feasibility studies for and design and produce feature children's, discovery play, edutainment, enrichment and entertainment. The venues include children's edutainment centers, children's discovery play centers, children's play and discovery centers, at-home mom play cafés, and children's discovery farms. In addition to the above projects, our other children's project work includes:
Dinotropolis children's entertainment center, Caracas, Venezuela
Wol-Ha children's and family entertainment center, Cancun, Mexico
Bamboola children's edutainment center - San Jose, California
Davis' Farmland children's discovery farm, Sterling, Massachusetts
LouLou Al Dugong's children's edutainment center, Dubai, United Arab Emirates
Brown's Berry Patch children's discovery play area, Waterport, New York
Totter's Otterville children's edutainment center, Covington, Kentucky
Paradise Park children's edutainment center, Lee's Summit, Missouri
Johnson's Corner Farm children's adventure farm, Medford, New Jersey
BellaBoo's children's play & discovery center, Gary, Indiana
Nibbles' At-Home moms' play café, Wheeling, IL
StoneFire Pizza Co., New Berlin, WI (includes a discovery play dining room)
Belvedere Plantation children's discovery farm (design)
Helio Kids children's edutainment center in Helio Center, Da Nang, Vietnam
Club Liko children's edutainment center, Cairo, Egypt
Check the left menu on this page for more information and photos of a number of the centers.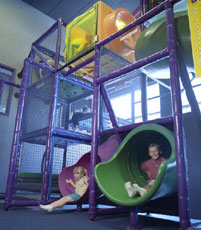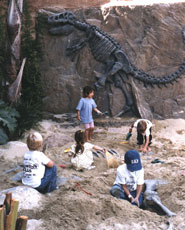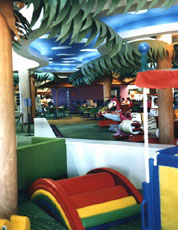 We also design children's drop-in childcare facilities, playgrounds, play areas for malls and stores, children's areas in museums, children's enrichment centers, child care centers and child development centers.
The White Hutchinson Leisure & Learning Group has an experienced child- and family-oriented, multi-disciplinary group of professionals who work as a team to design and oversee the development of high quality and successful children's leisure environments at the most economical construction and operational costs. Our holistic, child- and family-centered design approach includes all disciplines of designing and operating a project, including child development, safety, ADA, theming, name development, mascot design, architecture, interior design, landscape architecture, acoustics, sign design, food service design, field trips, children's play and management.
Designing a quality, developmentally and culturally appropriate environment for children and their families that will create repeat visits and have long term profitability is a highly complex, specialized and unique skill. The physical environment; including its atmospherics, layout, equipment and furnishings; and the management of the facility has a profound impact on children's fun, learning and behavior. Children of different ages have unique needs and interests. Parents' needs must also be met. We understand the importance of having the design of the entire environment, including the building, equipment and outdoors, assist and support, rather than impede children's fun, parents' needs and enjoyment and staff's abilities to accomplish their jobs.