Vol. XVII, No. 8, December 2017
---
---
The marriage of food and entertainment
When American cinemas first opened in the early twentieth century, popcorn was banned from the auditorium as it was considered messy and loud at a time when cinemas were trying to mimic the grand live theaters of the day with their plush carpets and elaborate decorations. Enterprising street vendors started selling popcorn outside the theaters, so soon the cinema owners decided to at least make a little money off of them and began leasing them spaces inside the lobby. Eventually the owners cut out the middleman and opened their own concession stands.
Popcorn is now a quintessential part of the movie experience. In fact, food has become an essential element at any entertainment venue - nine out of ten consumers (93%) purchased food on their last visit to an entertainment or sports venue - eight out of ten consumers (83%) say they purchased food at a venue like a movie theater, stadium, or amusement park because it's part of the experience.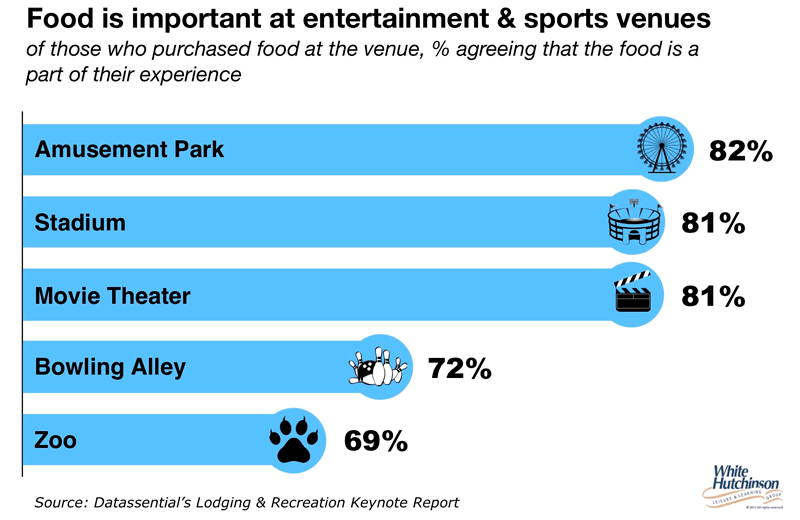 Today the quality of food at entertainment venues has gone far beyond popcorn and funnel cakes with gourmet concepts, local flavors, and Instagramable-worthy dishes.
Today over-the-top creations, chef partnerships, rotating specials, global foods, local brands, and healthier eats are all common at modern stadiums. A number have added signature restaurants and food hall-like areas to keep fans at the venue as long as possible.
A visit to a theme park or a night out at the movies is a special occasion and many consumers prefer to celebrate with iconic foods or specialty items that they can't get anywhere else. 70% of theme park visitors said they love to order foods and beverages they never ate anywhere before. 74% of consumers want U.S. regional foods at entertainment and sports venues.
We can thank Millennials for the importance and quality of food at all types of leisure venues. Millennials have made a significant contribution of the entire foodservice industry - mediocre food is no longer acceptable at any type location and great food - high quality, fresh, innovative - can now be found at almost all locations, from food trucks and pop-ups in nail salons, to retailers, to food festivals, to movie theaters and even some bowling venues. They raised the bar for food and drink quality not just for their generation, but also for all ages.
The foodservice industry is now well aware of the demands of Millennials and other generations. Chief among them are great food and noteworthy experiences. This has led to the rise of what is called the eatertainment segment that combines unique, high-quality food and beverage programs with interactive social entertainment that appeals to an age range of consumers well beyond Millennials.
Concepts from Alamo Drafthouse Cinema and AMC Dine-In to Punch Bowl Social, Topgolf, Pinstripes and Royal Palms Shuffleboard Club combine the demand for great food and the interest in classic entertainment options. These concepts have redefined what a movie theater, bowling alley, bocce court or driving range looks and feels like.
A key difference between these places and older versions of FECs and movie theaters is the role of food. For these eatertainment operators, food is as important as the experience or the entertainment itself. For example, at Punch Bowl Social, between 85% and 90% of total sales are from food and beverage. The food and beverage is far from an afterthought at these operations.
But it would not be accurate to suggest that food and beverages are more important than the entertainment or experience offered. In reality, the true benefit of eatertainment is that the food and beverage offerings and the entertainment enhance each other. Alone, neither may be enticing enough to compete strongly in an increasingly competitive foodservice landscape or comparable entertainment industries. But combined? Great, interesting food options with modern takes on classic entertainment create a unique competitive positioning in both industries.
For the movie theater eatertainment concepts, this model creates fierce competition with the at-home experience that has increasingly cut into traditional movie theater sales. Given the high-quality and low-cost on-demand viewing options now available to consumers at home, coupled with the desire for better food and beverages than what is typically offered at traditional theaters, consumers in growing numbers have chosen to stay home rather than go out to see a movie. Now, with higher quality food, unique beverage programs and high-end theater amenities, movie theater eatertainment operators offer an experience consumers would be hard-pressed to recreate at home.
For eatertainment concepts that focus on other entertainment and activities, one of the greatest benefits is opening those experiences to consumers who may not be within the target market or consider themselves "players." While a non-bowler may shy away from accompanying friends to a traditional bowling alley specifically because they won't be bowling, eatertainment venues with bowling offer these consumers a strong reason to visit: great food and drinks, and a fun, social environment in which to relax. Whether they play or not, the space is designed to facilitate a socializing and a great overall experience.
Yes, entertainment + great food and drink = a very competitive formula in today's out-of-home leisure and entertainment landscape.
Vol. XVII, No. 8, December 2017
---
---