Vol. XVIII, No. 1, January 2018
---
---
Table stakes at restaurants are no longer enough
The restaurant industry and diners' expectations have evolved over the past decade or so and continue to do so at an accelerating pace. The core value of restaurants is well established - serve good food. Many restaurants have mastered the elements that drive that core mission - provide me with the food I want to eat, in a place where I want to eat, at a price I'm willing to pay. Those are the table stakes, diners' basic expectations. However, just table stakes, what worked in the past, is no longer good enough to work into the future. Now guests want more than that. They want experiential elements, they want to feel engaged, empowered, heard, delighted and known. This is a fundamental shift in what it takes to successfully compete with all the meal and drinking options consumers have today.
The following figure represents the restaurant guest experience at sit-down restaurants based on a survey of 2,000 U.S. diners by Deloitte Consulting in the winter of 2016/2017.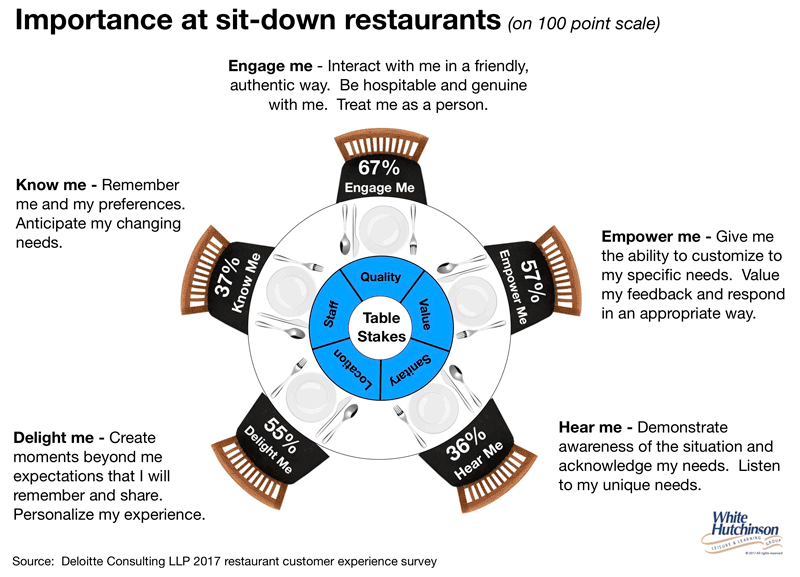 The center of the graphic (the middle of the dining table) shows the five basic fundamentals that all restaurants need to meet to be considered as a choice - quality, value, sanitary, location and staff. Deloitte's survey found that nearly three-quarters of respondents were satisfied across those dimensions. Those are the bare minimum table stakes people want restaurants to meet - serving them food they want to eat, a price they're willing to pay for the food and beverages they receive at a clean, convenient location that has a friendly, helpful staff. This has been the basis for competition in the restaurant industry for many years.
However, Deloitte's research found that those table stakes are no longer enough in terms of delivering the experience that diners want today. What worked in the past will definitely not be enough for the future. There is a fundamental shift in what takes for restaurants to compete. The chairs in the graphic show five differentiating experiential elements that diners are now looking for:
Deloitte's survey respondents stressed another characteristic that is influencing their dining choices, sustainable food products and practices. It was top-of-mind with them and they see it as an opportunity for the restaurants they dine at.
The percentages in the chairs show the amount of restaurant goers who, on average, are satisfied with those elements. The importance of each experiential element was consistent across age groups, income groups, regions and genders. As the percentages show, there is a lot of room for improvement.
60% of guests said a positive experience would cause them to dine at a restaurant more frequently. 39% said a good experience has caused them to spend more.
The restaurants that innovate along the five elements of guest experience that go beyond good food and good service and establish experiential connections with guests - engage me, empower me, hear me, delight me and know me - will be the winners in the future, the ones that consumers choose and remain loyal to.
Implications for CLVs
Food and beverage has now moved to the forefront of attracting guests to community leisure venues (CLVs), including family entertainment centers and adult-focused interactive entertainment social venues. It has now become the differentiator to get guests off their lounge chairs and away from their digital screens. Entertainment is no longer enough.
As the quality of dining and drinking experiences at restaurants improve along the experiential dimensions Deloitte has identified, CLVs will to need to also improve their food and drinking experiences to remain as a viable option.
Source: Through guests eyes | Serving up a great restaurant customer experience
Vol. XVIII, No. 1, January 2018
---
---