Vol. XIV, No. 9, October 2014
---
---
The hybrids are coming
No, you don't have to get your car off the road because a pack hybrid cars are approaching. And if you're into vegetable gardening, we're not talking about a new variety of hybrid tomatoes. What this article discusses is a completely new breed of entertainment center that we believe is the future for community-based entertainment venues.
We are seeing declining participation in most forms of location-based entertainment and recreation. The National Golf Foundation reports golf lost an average of about 500,000 regular American players per year over the past decade. Regular participation in bowling and billiards is down. Per capita attendance at movie theaters is down.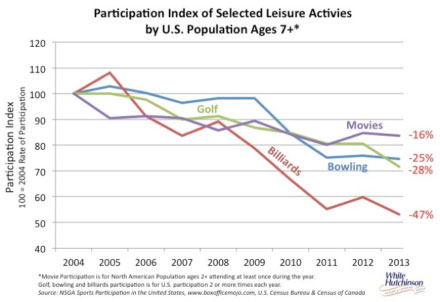 This doesn't bode well for location-based centers that feature these activities. However, a nascent breed of new center is seeing great financial success featuring these activities. The hybrids are coming. Unlike the single activity centers, such as driving ranges, bowling alleys, billiard centers and traditional movie theaters, many of which are experiencing declining attendance and revenues as the market shrinks, the hybrid centers are grouping a number of activities in new combinations, plus great food and beverage and social settings to attract customers, especially the more affluent ones, who are the major market today. Affluents, who can be roughly be defined as households earning $100,000+ per year, have a participation rate in location-based entertainment venues almost twice the average with also the highest participant spending.
Let's first look at golf. Topgolf is opening centers that combine elements of traditional driving ranges and miniature golf with billiards, corporate events, technology such as computerized competition and trendy and socially sharable dishes and beverages in bars, lounges and social gathering spaces to create an atmosphere of merriment. Topgolf understands that they are not simply in the golf business, but rather in the experience business, and a very social one at that.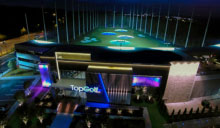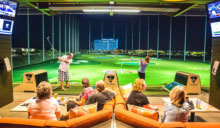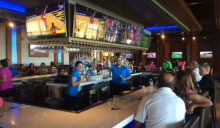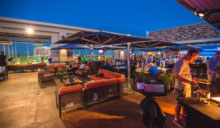 Topgolf
Bowling is getting a hybrid makeover as well. We now have chains like Pinstripes that combine bowling, bocce, a bar, destination dining and social group areas and live music and Punch Bowl Social that combines bowling, billiards, ping pong, arcade games, shuffle board, private karaoke, a bar and gastro dining. Pinewood Social added an outdoor pool to the mix as will Southside Social when it opens in a few months. Other hybrid entertainment centers are going upscale and social, combining bowling with laser tag, game rooms, live performance stages, movie theaters and bars and dining.
Many movie theaters are becoming hybrid entertainment destinations in order to expand their appeal from passive entertainment to a social and dining destination by offering bars, food and beverage both in the theaters as well as in restaurants, as a one-stop destination for an evening out. Some are also adding bowling and true game rooms.
All these hybrids have a number of things in common. They all feature great contemporary food and drink and focus as much, if not more so, on the social aspect of the experience as on the entertainment and recreation part. They understand that they are a social and dining destination, not just an entertainment or recreation center.
What this probably means for the future of community LBEs is that the single attraction center will fast become something of the past, as the new hybrids are so much more appealing, and once someone experiences one of these hybrids, there really is no going back to the old standalone that will then seem so backward and inferior.
Vol. XIV, No. 9, October 2014
---
---