Vol. XIV, No. 9, October 2014
---
---
One-of-a-kind survey of FEC attraction preferences
Last month our company completed a national survey of over 4,000 adults on their participation in major attractions at family entertainment type venues. According to the results, bowling continues to be the most popular attraction for community-based entertainment venues, with over 60 million adults having bowled at least once during the past twelve months.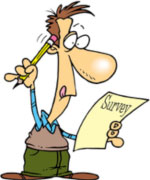 To the best of our knowledge, this is the first national participation survey that has been conducted about the family entertainment center industry in the last decade.
Our survey found that 18- to 24-year-olds showed the highest bowling participation rate. Over three-quarters of participants were occasionally bowlers, having bowled four or less times during the previous past year.
These results are clearly attributable to the fast changing nature of bowling. At one time, league bowlers dominated bowling. Today, the primary customer base is the casual social bowler. Their numbers are growing as old run down alleys are either closing, being renovated and/or replaced by new upscale hybrid entertainment centers with multiple attractions (see article about the hybrids in this issue)
One of our survey's surprise results was that miniature golf came in second as the attraction adults participated in at least once during the past year. We believe that the majority of miniature golf play takes place on vacations rather than at local FECs near people's homes. Billiards came in third as the most popular attraction, followed by go-karts and laser tag.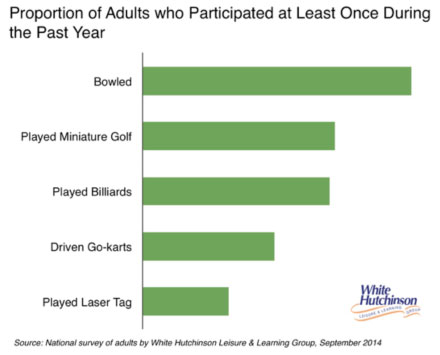 For all the attractions, there was a strong positive correlation between income and participation, with affluent adults in households generally earning $100,000+ annually having the highest participation rates.
In early November we will be running a national survey on participation at fall agritainment facilities that include corn mazes, pumpkin patches, hay rides, petting zoos and u-pick apple orchards. Then after the first of the year, we will be conducting a national survey on laser tag.
Bowling is popular not just in the U.S., but also throughout the world, especially due to its group social dynamic. Our company currently has bowling projects under design in the Puget Sound area of Washington State and in Amman, Jordan and one nearing completion of construction in Da Nang, Vietnam.
Vol. XIV, No. 9, October 2014
---
---