Vol. XIV, No. 9, October 2014
---
---
Will laser tag overtake bowling as the #1 attraction?
The results of our September nationwide survey of adult participation in FEC-type attractions (see article in this issue) showed something that piqued our interest. Of the adults who had participated at least once during the previous year in an attraction, the percent that had played laser tag was 30% of those who had bowled. So you might ask, what is so interesting about that statistic? The answer is that the number of laser tag facilities is less than 20% of the number of bowling centers, so laser tag is a lot less convenient. In fact there are many towns and cities that have no laser tag facilities, or no facilities within a reasonable drivetime, whereas it's hard to find any town of any size or part of the country that doesn't have a near-by bowling alley. Today there are approximately 14 bowling alleys per million population compared to less than three laser tag facilities per million.
Laser tag is seeing a phenomenal growth. The number of laser tag facilities grew 69% since 2008, a 9% compound annual growth rate (CARG).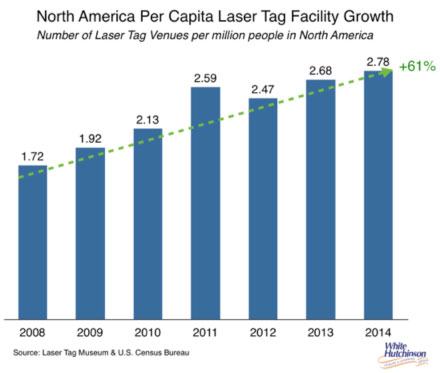 On the other hand, the number of bowling alleys is on a long-term decline. If these trends continue, the number of laser tag facilities will overtake the number of bowling alleys in somewhere between 7 and 18 years.
More importantly, the number of adults who play laser tag at least once a year could well overtake bowling participation well before then with just a doubling or tripling of the number of facilities.
Jim Kessler, owner of the LaserTron Interactive Entertainment Center in Amherst, NY and the Lasertron equipment supplier, told us he guesses "that laser tag will take over bowling as far as people who have played laser tag at least once in the past year. This takeover will happen within the next 10 years."
Erik Guthrie, VP of Zone Laser Tag and curator of the Laser Tag Museum, commented on our projections, "The future of the [laser tag] industry continues to be bright and should continue to grow. Bowling has been a staple of social entertainment for over 100 years and laser tag would be honored if it equals bowling's appeal."
We don't have any historical data on laser tag participation, but we do on bowling, and it is in sync with the declining number of alleys. The percent of the adult population that bowled in 2013 is down by more than one-quarter (-27%) compared to 2008.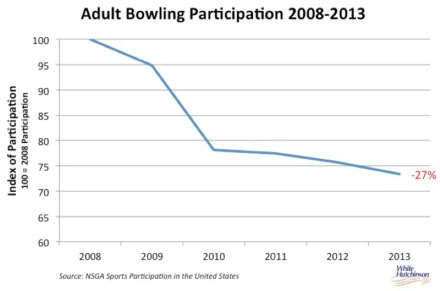 So what's going on? Why is laser tag growing in popularity as an anchor attraction and becoming so popular whereas bowling is experiencing a decline?
When it comes to laser tag, there could be a number of factors for its growing popularity, including: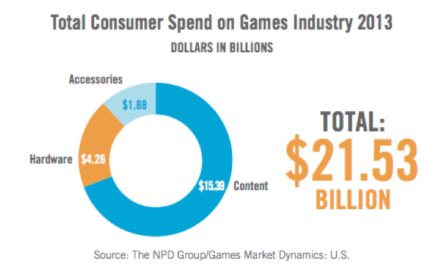 The declining popularity of bowling is due to a number of factors, including:
One trend that should increase participation in both laser tag and bowling is that many of the bowling alleys that are renovating to meet the demands of today's leisure customer are removing bowling lanes and adding laser tag as the second anchor attraction to become hybrid centers. Also, many of the newly constructed upscale hybrid entertainment centers are combining bowling and laser tag (see our article in this issue on the new hybrids). Another factor is that many of these new facilities are being developed to attract the upscale adult market as their primary market, rather than being designed for the family market (they still get families as a secondary market). This expands their appeal, especially for laser tag, since 71% of video game players are adults. So if enough of these hybrid, upscale, and adult-oriented centers come online, more casual social bowlers will be attracted back to bowling and many bowlers will be introduced to laser tag as well. The future looks positive for both attractions.
Vol. XIV, No. 9, October 2014
---
---