Vol. XXI, No. 5, May 2021
---
---
Covid baby bust - 2020 births lowest since 1979
The number of babies born in America in 2020 was the lowest in more than four decades, down 3.8% from 2019. 3.61 million babies were born in 2020 compared to 3.75 million in 2019 - 140,000 less.
The total fertility rate - the average number of babies a woman would have over her lifetime - fell to 1.64, the lowest rate since it started being tracked in the 1930s.
There were 700,000 fewer births in 2020 than the peak year of 2007. If the birthrate hadn't started to decline in 2008, we'd have 7.6 million more children than we do now.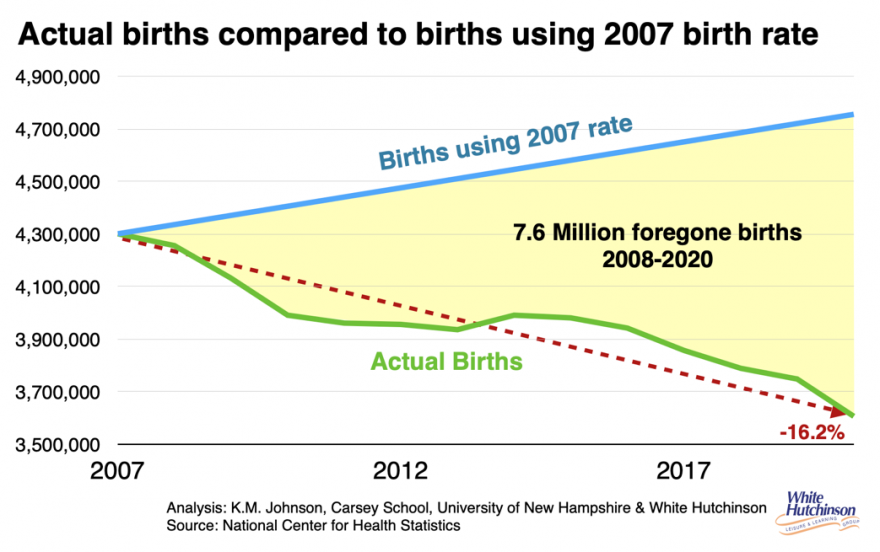 Since the pandemic only emerged in March, the 2020 birth rate doesn't reflect the pandemic's and its economic crisis impact on a woman's decision to get pregnant. Provisionally monthly data from the CDC showed a 7.7% birth decline in December. That indicates the pandemic accelerated the long-term decline that was already underway. We will likely continue to see that rapid a decrease in births compared to 2019 for most of 2021. That could result in approximately 150,000 fewer babies than if the pandemic hadn't occurred, resulting in a total decline in 2021 of nearly 300,000 fewer births.
Vol. XXI, No. 5, May 2021
---
---