Vol. XXI, No. 5, May 2021
---
---
Is the current surge in attendance only a false dawn?
In areas of the country where capacity and time restrictions have been lifted, many restaurants and location-based entertainment venues (LBEs), including family entertainment and eatertainment centers, are experiencing a surge in attendance at levels higher than the same time in 2019 before the pandemic. Does this foreshadow a long-term trend, the beginning of a roaring 2020s, or is it a false dawn?
When we look at a lot of data, the surge doesn't make sense. Morning Consult polls show that only six-in-10 adults currently feel safe going to a restaurant, and less than half feel safe attending a museum, consistently the venue in all surveys considered the safest entertainment or cultural activity.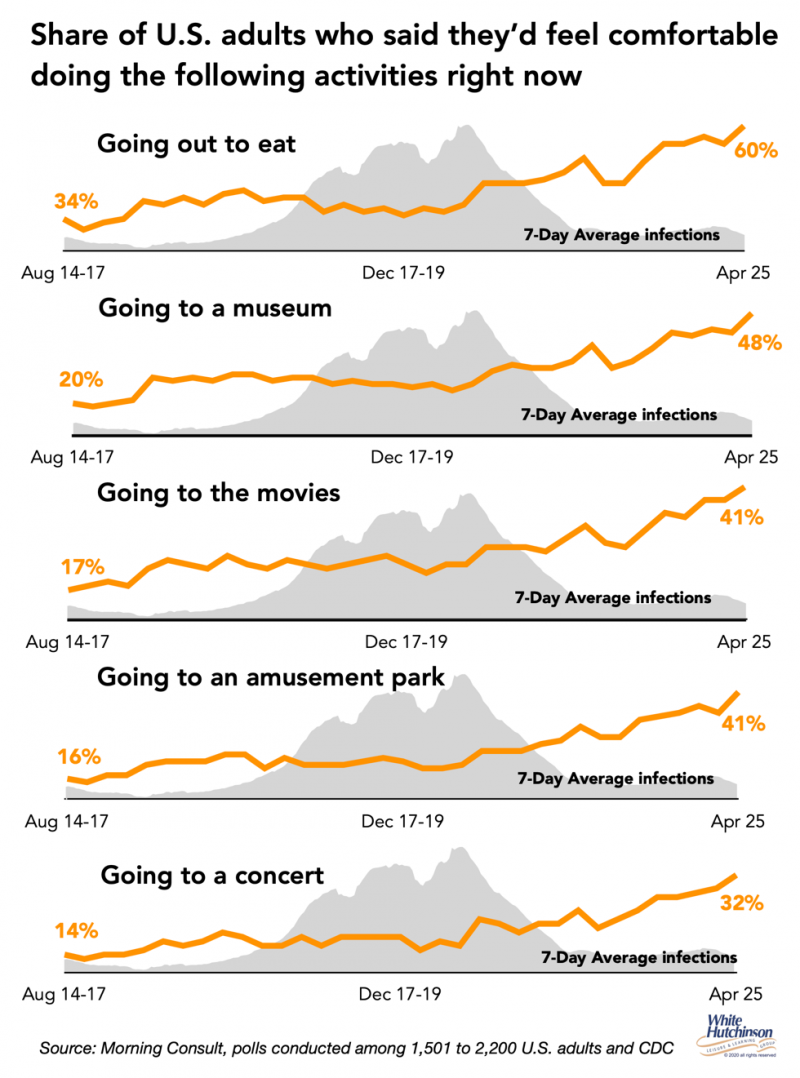 An April 21-26 CNN poll found that 63% of adults say that they'd feel comfortable returning to their regular routine today (or already have) based on what they know about the outbreak in their area. The April 25-May 1 CivicScience polling results found that 62% of adults are comfortable now eating in restaurants and 44% going to a movie theater. The results from all the above polls include vaccinated and unvaccinated people. Many unvaccinated people, especially younger adults and Republicans, feel safe going out. However, there still remains a majority of people who don't feel safe going to any LBE or cultural venue.
The increase in Covid-19 vaccinations, relaxed social-distancing rules, warming weather, Federal stimulus payments to people, and a general desire to get out of the house due to pandemic fatigue are definitely driving increases in out-of-home (OOH) leisure activities. However, if not everyone is yet going to restaurants and location-based leisure venues, how can attendance at many businesses be surging to historic levels?
Yale professor and social epidemiologist Dr. Nicholas Christakis, says that "History has shown us that once they [plagues and pandemics] end, often there is a period in which people seek out extensive social interaction." He says we might see people seeking out more social interactions at nightclubs, bars, music festivals, and sports games, as well as people relentlessly spending the money from stimulus payments or that they saved up during the pandemic.
That is precisely what we see now, a surge of OOH social experiences so missed by those people currently comfortable going out to public places. It's a bit of catch-up. If they used to go bowling approximately every three months, right now, they might be going every month, even initially every few weeks. If they used to have dinner in a restaurant twice a week, right now, they might be going four times a week, catching up with eating at all their favorite restaurants. So, fewer people going out more frequently is temporarily driving high attendance.
But we are not at a post-pandemic normal yet with so many people still hunkered down and staying safe. The current high attendances are most likely a false dawn.
Long term, within a year or two, there are several factors that are likely to result in overall OOH LBE visits ending up lower than pre-pandemic. The impact will not be evenly spread. Some venues will end up winners as they will be a good match for the changed consumers emerging from the pandemic, and others will be losers as they have failed to adapt to consumer changed values, preferences, and needs.
There are multiple factors that will impact the post-Covid OOH landscape and its impact on different LBEs. Many of these have been discussed at length in previous eNewsletters or our CEO's blogs (some are listed at the end of this article for more in-depth reading). Here's a brief summary of many.
Changed socialization preferences
During quarantine and staying home, people had the time and space to take stock of their lives. They experimented with new habits and lifestyles. During the pandemic, they learned new life lessons and made positive changes. There has been a shift in their values and priorities. They realized they don't have to go to a bar, restaurant, or LBE to have fun with their friends. They grew to prefer smaller social gatherings at home or a friend's place. Three-quarters of adults report they're more comfortable drinking at home for the long-term versus going back to bars. Six in ten report they plan to stay in more and find things to do at home to socialize with others.
The Fourth Place
When OOH LBEs became largely inaccessible, if not outright dangerous to health, people turned to the metaverse (video games, video chat, AR & VR), also known as the Fourth Place, to fill time out of boredom, to escape the real world, and for meaningful human connection with people they couldn't socialize with in-person. The Fourth Place allows people to meet many human needs without leaving home. Many people intend to continue using the Fourth Place as a partial replacement for some OOH experiences. This is actually nothing new. For all Americans age 15+, time spent on digital leisure (mostly at home) has increased by 11%, nearly 20 minutes a day, over the 15 years before the coronavirus. The pandemic has only accelerated the trend with its many new options.
New at-home hobbies
People took up many other newly acquired or increased activities during the pandemic that, to some degree, will spill over into their leisure behaviors when the coronavirus is no longer a threat. These include half of Americans taking up new or returning to at-home hobbies, including arts & crafts, gardening, sewing, candle making, jewelry making, calligraphy, even playing a musical instrument. Surveys show most people will stick with those activities long-term to some degree.
Cooking
During the pandemic with restaurants closed for in-person dining, people took up cooking at home, developing their cooking skills, and increasing their confidence in cooking, many discovering a joy of cooking. A recent survey found that most plan to continue cooking more post-Covid. The net difference between people who intend to cook more versus those who intend to cook less post-pandemic is a whopping +67%. Again, this is not a new trend, but rather one that started at least 15 years ago. From 2004 to 2019, people increased the amount of time they spent at home on food and drink preparation by 24%. On a typical day in 2019, one-fifth more people (19%) were preparing meals at home than in 2004. Covid has accelerated the trend. This means fewer visits to restaurants and eatertainment-type LBEs that are dining destinations.
All these new at-home activities, even though their frequency may decline some when people feel comfortable going out in public, should only accelerate the long-term trend of home nesting. One survey found that between 2011 and 2019, the percent of U.S. adults that prefer to say home during the weekend grew from 38% to 49%.
New outdoor activities
When it comes to OOH leisure activities, people took up new outdoor and recreation activities during the pandemic. Many learned the enjoyment of reconnecting with nature. People increased participation in cycling, golf, camping, bird watching, hiking, and walking, to name just a few activities. The appreciation and connection to the outdoors many people discovered for the first time resulted in many people adapting the Norwegian lifestyle concept of "friluftsliv" (pronounced free-loofs-liv, which translates in English as "free air life") an appreciation of being outdoors and incorporating outdoor activities into your life. That appreciation and participation will continue over into the post-pandemic era, replacing some other pre-pandemic leisure and entertainment activities.
Residual fears
When people worry about something long enough, it makes it more likely they will continue to worry about the same thing into the future. Fears that might linger after the pandemic crisis fades include residual fears of physical proximity around strangers and touching communal surfaces. We may have a generation of virus-phobes who avoid OOH public experiences.
There is now a broad consensus among the medical and scientific community that the U.S. will not reach herd immunity. Infections are likely to reduce, but Covid-19 is expected to be around in the background for many years, with possible sporadic regional flare-ups and a potential surge again this coming winter. These are much more likely in the more Republican-leaning areas of the country where vaccination rates are lowest.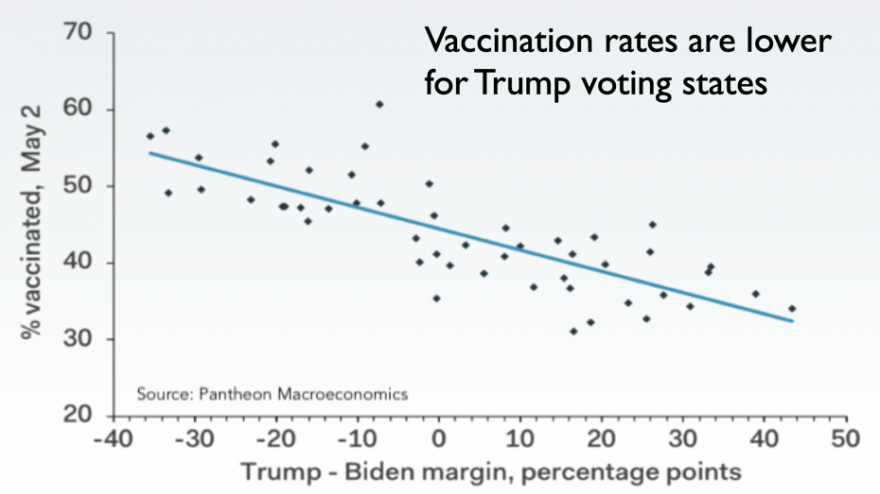 There is also a risk of some new wave of infections due to a Covid-variant. The one thing we know about the pandemic and Covid-19 is that it is not predictable. Such outbreaks or new waves will only reinforce residual fears by many people, suppressing their comfort in visiting public places, including LBEs.
Leisure time is a zero-sum game. People only have so much leisure time. Even if only some people continue their newly acquired at-home and outdoor leisure activities and harbor residual fears of public places, that will leave them with less leisure time to visit LBEs, assuming they even now find them appealing. If you thought the pandemic was a test for the very survival of location-based entertainment, just wait until it's over. With the entire world of people's leisure behaviors forever altered, the true test will take place in the post-pandemic world. The competitive landscape will be different for all types of leisure activities than in pre-Covid times. There will be a permanent redistribution of leisure time and spending. We may get to a roaring 2020s, but more of the activities are likely to take place at home and in the outdoors, to the detriment of LBEs
In-depth reading:
Vol. XXI, No. 5, May 2021
---
---