Vol. XX, No. 1, January 2020
---
---
The growing sober-curious trend
We first wrote about the sober-curious trend in our February 2019 issue . Now international food and restaurant consultants Baum + Whitemanhave singled out no-alcohol and low-alcohol drinks as a major 2020 food trend to watch.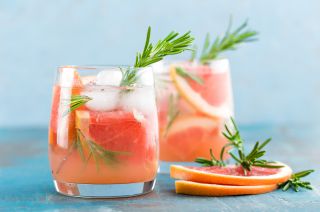 Non-alcoholic cocktail
Nation's Restaurant Newspredicts 2020 will be all about the low-proof cocktail. In a recent survey, they found 47% of respondents over 21 are looking to decrease their alcohol intake. They expect "softer liquors" to grow more popular on restaurant menus, and sherries and port to become ingredients for low-ABV libations.
The sober-curious trend, that includes zero-proof and low-ABV beverages, has been building steam for the past couple of years. It's now showing up in creative and delicious ways across the beverage spectrum at bars, restaurants and eatertainment venues.
The trend is the emergence of a social phenomenon dubbed variously "sober-curious," "new sobriety" or "mindful drinking," Teetotalers, who don't imbibe alcohol at all, make up one subset. There's also a rising number of "sober-curious" drinkers. This relatively new moniker applies to a variety of people - those who have renounced booze as part of a lifestyle choice, those who choose to abstain during month-long challenges like "Dry January" and "Sober September," and those who are occasionally opting out of drinking as part of an overall effort to cut back on booze.
The sober-curious movement is a natural outflow of plant-based eating and lifestyle diets. Consumers are more focused on what is in their food, where it came from and how it benefits their body. The sober-curious movement is no different. The low-ABV and sober trend has taken off, with more consumers challenging themselves to take a break from the booze or reduce its intake, more beverage companies developing no- or low-alcoholic beverages, and more bars and restaurants offering a growing selection of crafted no- and low-alcohol drinks.
According to Nielsen, millennials are driving the mindful drinking movement, with 66% saying they're making efforts this year to reduce their alcohol consumption
What's significant about the "sober-curious" movement is that its followers share their abstinence gleefully. There's no shame in not drinking. There's no asking the bartender to stick a lime wedge in the seltzer to make your friends think you're sipping on a vodka soda. That trend of socializing without imbibing, proudly getting amplified through Instagram, has helped move "sober curious" ideals into modern day culture.
"This isn't as much a trend as a groundswell of changing consumer behavior," says Maeve Webster, president of Menu Matters. "The sober-curious movement, led mostly by younger generations, is seeing a lot of consumers turning away from alcohol. That's driving operators and manufacturers to create unique and appealing nonalcoholic beverages that play at the adult level."
Restaurant and hospitality consultants AF&Co say, "It's essential to offer enticing, highly curated beverage options for those who choose to avoid alcohol but still want to partake in the celebration." Rob Corliss, chef/founder of All Things Epicurean, said, "It is simply that operators should recognize this evolving cultural trend, rebalance their menus and implement a beverage strategy for menuing nonalcoholic creations." Camper English, a San Francisco-based cocktails and spirits writer, recently compiled a list of non-alcoholic spirits . He says. "Leaving off non-alcoholic options from the menu or only offering sodas is just bad hospitality."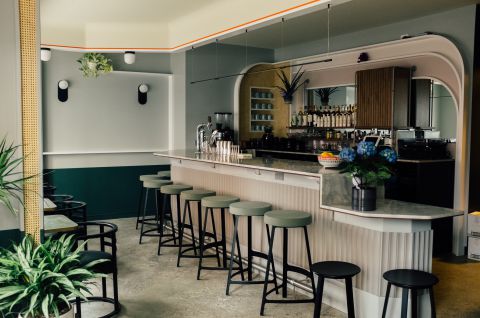 Non-alcohol
Getaway Bar
From New York to Texas, no-alcohol bars are popping up across the country and piquing the interests of "teetotalers," as well as those just wanting a short break from booze. Brooklyn's Getaway Bar, for example, is gaining notoriety for their personal touch on freshly made non-alcoholic cocktails created with interesting ingredients like elderflower syrup and rhubarb shrub. Pop's Blue Moonin St. Louis is featuring "NA Saturdays" pairing live music with well-made NA cocktails. Breweries, such as WellBeing Brewing Co., have learned how to make zero-proof craft beer that is as flavorful as the alcoholic beer by using vacuum distillation. Kombucha, a fermented tea, is also growing in popularity as a non-alcoholic drink alternative.
Diageo's start-up investment unit, Distill Ventures, released its Non-Alcoholic Drinks: A Growth Storywhite paper following eight months of research. The report looks at the potential of the non-alcoholic category, with a focus on the UK and US markets. It found six in ten adults want better choices when it comes to non-alcoholic drinks (61%) and nearly six in ten are drinking more no- or low-ABV drinks than the previous year (58%).
As more and more people choose to lower their consumption or totally abstain from alcohol, the once barren landscape of low and nonalcoholic options will evolve and expectations will rise. A large segment of consumers are now demanding sophisticated beverages that deliver the flavor, nuance and creativity of their alcoholic counterparts. It's no longer an option to only offer alcoholic drinks and sodas. Consumers are looking beyond simple juices and soft drinks as alcohol-free alternatives. They're looking for new drink concoctions, as sophisticated and tasty as alcoholic cocktails, to satisfy their elevated palates.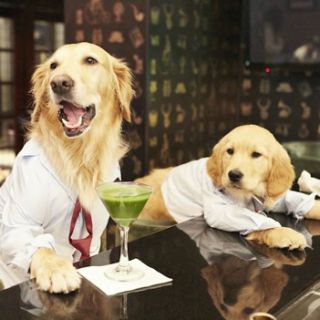 Now even dogs are enjoying non-alcoholic dogtails.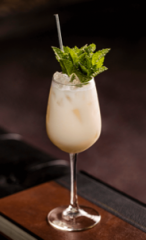 Consider this drink, served at The Roosevelt Roomin Austin, Texas. It's called The Castaway with coconut cream, lime juice, cucumber, ginger beer, and a sweetgrass tincture made with mint and vanilla cinnamon, designed in the style of a refreshing, crisp daiquiri.
We're not sure whether this is considered part of the sober-curious trend, but a few bars are now catering to customers' dogs with creative dog-mocktails, such as the Smith & Whistle bar in London. One of their dogtails is named Bubbly Bow Wow and is a "Pawsecco" herbal infusion using elderflower, linden blossom and ginseng topped with a blackberry.
Vol. XX, No. 1, January 2020
---
---