Vol. XX, No. 2, February 2020
---
---
New social eatertainment concepts coming to Chicago
Chicago seems to be a preferred testing location for many new location-based concepts, especially ones coming out of London. We've already seen the firstFlight Club featuring social darts crossing the Big Pond to Chicago. This introduced the social dart eatertainment concept to the U.S. and was soon followed in Chicago by the American version Point & Feather.
Now one of the hottest social eatertainment concepts in London, Puttshack, a social indoor cocktails and mini golf venue, is planning to open in Chicago. Puttshack opened its first London location in 2018 and is a newcomer to the growing sector of social entertainment venues offering meals and drinks along with interactive social games such as bowling, shuffleboard and axe throwing. The company has three venues in London, with a fourth set to open this year.
Puttshack has leased 25,000 square feet in the Oak Brook Center mall located in the Chicago suburbs where it plans to open later this year. The company also expects to finalize a lease for a space in or near downtown Chicago soon, and eventually plans to expand to other Chicago suburbs. They expect to open at least four other locations in 2021 and 10 or more in 2022, before eventually opening at least one per month throughout the country. Each U.S. space is expected to have annual revenue topping $10 million, according to CEO Joe Vrankin.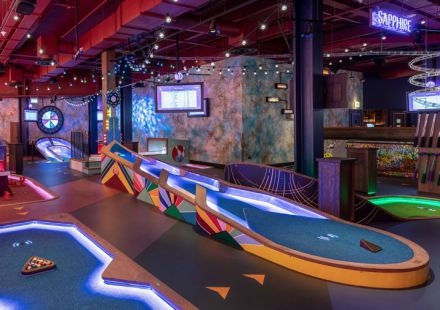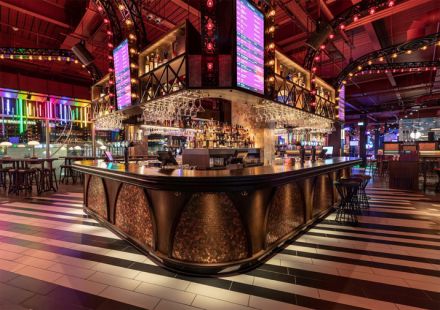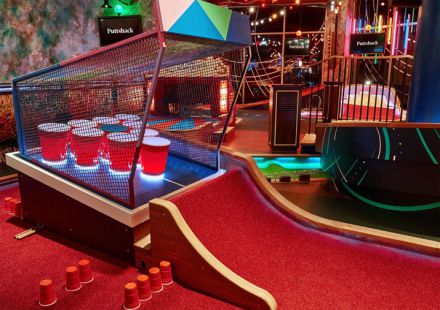 Puttshack, London
"It's a market that has continued to grow and evolve pretty strongly over the past seven or eight years, and I don't expect that trend is going to change anytime soon," said Vrankin. "What we're seeing is people are looking for ways that they can be engaged in activities, as opposed to being static. If they can eat and drink and do something, that seems to be resonating."
Puttshack venues have automated scoring and the miniature golf holes have themes such as beer pong and Trivial Pursuit, many of which are designed for appeal to its core demographic of young professionals.
Ace Bounce , a ping pong bar and restaurant concept from London can also be found in downtown Chicago.
Although not a London concept, indoor golf simulator concepts are coming to Chicago. New York-based Five Iron Golf has opened what it believes is the largest urban indoor golf and entertainment venue in the country in Chicago.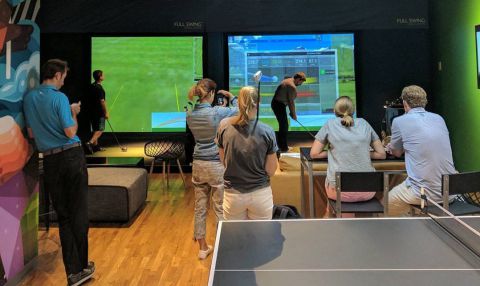 "You're going to see simulators and other experiential concepts taking over urban markets in the next several years," said Jared Solomon, CEO and co- founder of Five Iron Golf. "The younger generation gets bored just going to a bar."
Five Iron Golf is located in 11,000 square feet of retail space at the base of the 60-story Millennium Centre residential tower on Dearborn Street. The space is nearly twice the size of the company's two New York locations. With 12 simulator stations, it is believed to be the largest indoor golf simulator facility in the country by both total size and number of simulators. Five Iron also offers flexible event spaces, a full bar, a food menu, ping pong and other games and widescreen TVs
Five Iron Golf charges $65 per hour for groups of four during peak hours in New York. Memberships, which include unlimited use of simulators during off-peak hours, cost $260 a month. Pricing is expected to be similar in Chicago, and kids programs will be offered, Solomon said.
A competitor of Five Iron, Topgolf plans to open two of its golf-simulator Topgolf Swing Suites in Chicago.
Vol. XX, No. 2, February 2020
---
---