Vol. XVIII, No. 5, May-June 2018
---
---
The demise of repeat appeal
PGAV also found that attendance at FECs had declined by 2.2% between 2016 and 2017, probably as a result of the decline in repeat business.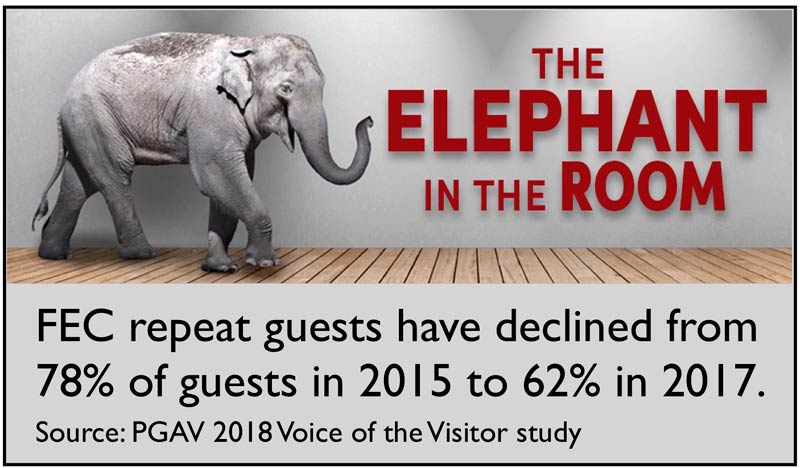 For FECs, part of the broader category of community leisure venues (CLVs), repeat appeal has historically been an essential ingredient for success, as their trade area populations are far smaller than for regional attractions such as theme parks. So, since FECs only attract a limited percentage for the trade area populations as guests, getting those guests to come a number of times a year is necessary to achieve the attendance and revenues needed to be financially viable.
But things have changed; repeat appeal for the traditional formula FEC is on the decline. There's a number of reasons this is happening:
Satiation
The concept of satiation is the process whereby consumers enjoy an activity less and their perception of its quality decreases as they engage in it more often. Even with a favorite experience where the level of enjoyment is initially high, people can ultimately become satiated when the experience is repeated too often or for too long a period.
One thing that keeps watching sports like football, baseball and others popular is that they are seasonal. If they were played all year, viewers would become satiated and bored.
Today, based on some factors described below, satiation is occurring faster than in the past.
Hedonic adaptation
Related to satiation, hedonic adaptation refers to the enjoyment of an experience, the satisfaction with it, which decreases after the experience is repeated. The first time you experience something new is far more exciting than the tenth time.
The more consumers become satiated with a particular experience and hedonic adaptation sets in, the more likely they are to seek a new experience to enjoy.
Increased out-of-home options
As satiation and hedonic adaptation set in for one CLV experience, today's consumers have an ever-increasing selection of out-of-home leisure experience options to take its place both in terms of their leisure time and discretionary spending. Here's just a few of the many out-of-home options that consumers have today:
It's already an overly crowded CLV situation in many markets. All the entertainment-oriented venues are competing for the 7.2 minutes of leisure time a day, only 50 minutes a week, the average American age 15+ spends away-from-home traveling to and from and attending arts, entertainment and sports viewing venues.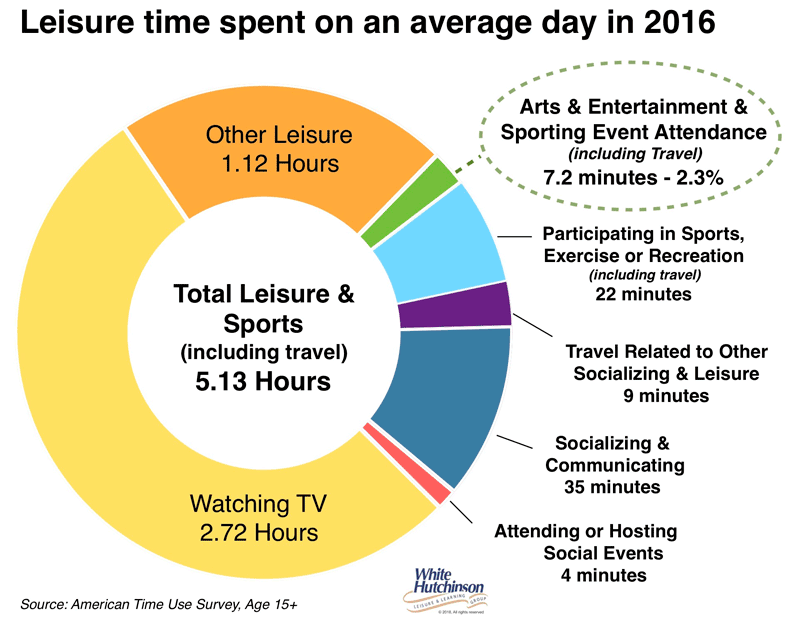 Restaurants
The character of restaurant visits has dramatically changed in the past few years. Many visits to restaurants are now considered as more than dining. They are now considered as entertainment, now competing for the time that was previously owned exclusively by entertainment venues. This of course has a lot to do with the foodie revolution.
Research by YPulse has found that the vast majority (62%) of adult millennials (basically twenty- and thirty-somethings), the prime target market for most entertainment venues, consider a good night out as more about the food than the entertainment. And when we look at those with the most discretionary spending, millennials with $50,000 and above incomes, 26% prefer to spend their extra money on dining out, while only 10% prefer to spend it on entertainment out (drinks, concerts, movies, etc.)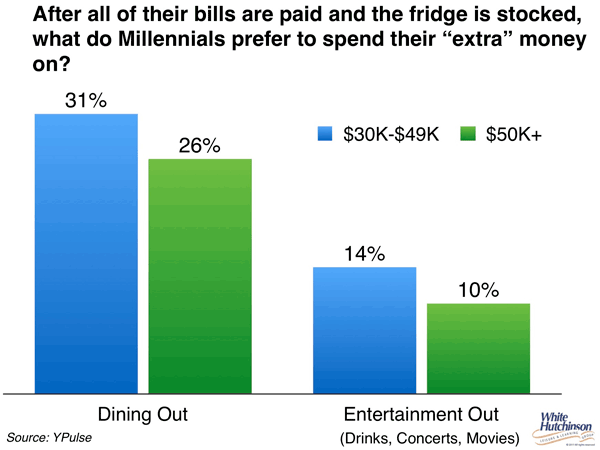 At-home entertainment options
Technology and the digital world have brought us many attractive entertainment options we now enjoy at home, including all types of video games, some we can socially share with friends while they are in their own homes, and high definition screens we can stream movies and sports on and enjoy binge-watching shows. And now, we have emerging VR and AR options, which in a few years will reach mass appeal status.
As a result of all these options, we have shifted some of both our leisure time and leisure spending to these at home options. Today, people are just staying home more than in the past.
Permanxiety
Permanxiety is the near-constant state of anxiety that exists today. We endure a barrage of worries about terrorism, security, neo-isolationism, racial tension, Trumpism, technology and its adverse role, the widening economic gap, culture wars, climate change, and other geopolitical and local issues.
The state of Permanxiety is exacerbated by our hyper-connectiveness using social platforms that creates a state of permanent frenzy on all of the above issues. "It is difficult to tell where your anxiety disorder ends and where actual news begins," read a recent New York Times essay.
Permanxiety leads to the trend that futurist Faith Popcorn and her BrainReserve company describes as "bunkering," uber-cocooning at home. She sees Americans seeking safety and escape from much of Permanxiety by retreating into the seclusion and safety of their homes.
Experiential CV & variety seeking
American culture has always been about novelty seeking the pursuit of the new. Now, in today's experience economy, we no longer collect new stuff. We now collect new and memorable experiences to add to our Experiential CVs that we share on social media to reflect who we are and to gain social capital and bragging rights. The vast majority of Americans now have the desire for adventure and discovery when it comes to experiences. With so many out-of-home leisure options, we quickly move on to new ones to add to our Experiential CVs.
PGAV's Voice of the Industry report said that 2017 marked the "Year of the New" for many attraction guests. The study found a marked uptick in the percentage of visitors looking for new experiences. They rated friendly staff members as the most important quality of visiting an attraction. In four other areas, they rated the uniqueness and quality of the experience more important in 2017 than they did in 2015.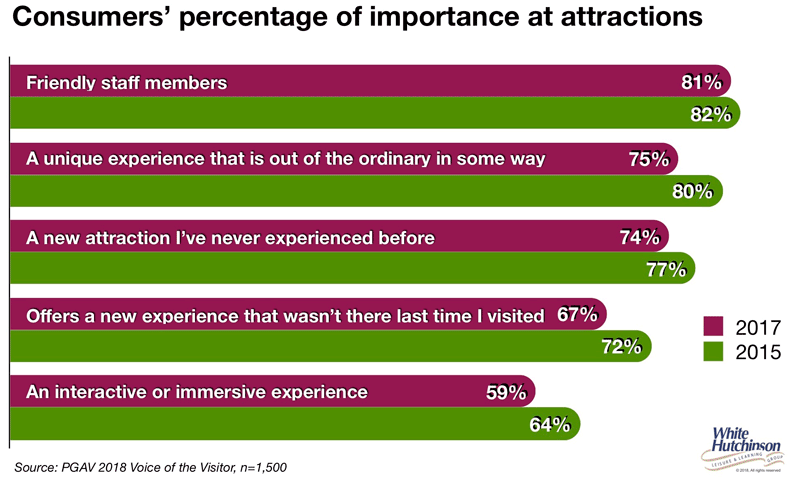 Peoples' desire to collect a variety of experiences is also driven by their desire to feel productive, as checking off items on their experiential check list creates the feeling that they used their leisure time productively.
Implications for FECs and CLVs
The classic FEC business model based upon repeat business has been totally disrupted by both at-home entertainment options, bunkering and the desire to continually enjoy new experiences, including restaurant visits now considered entertainment, and the desire to grow our Experiential CVs. Rather than repeat an experience - been there, done that - we're moving on to new ones, and there's a never ending and growing choice of options. Today, for the out-of-home leisure and entertainment industry, it's a completely new ball game with a new set of rules.
Strategies
To succeed in today's highly competitive entertainment landscape requires new strategies. Offering one or a combination of entertainment attractions and counting on consumers' desires to repeat the experience, whether is it bowling, go-karts, laser tag, or whatever, and no matter how good the quality of the experience might, is no longer a sustainable formula for success.
The first new rule is that the experience needs to constantly change and/or there needs to be new ones to get people to return. The concept that an attraction can drive repeat visits for multiple years no longer works. One way to drive repeat visits is with special limited-time events, no different that the LTOs that restaurants now use to drive visits from regulars as well as new customers.
The concept that an attraction can drive repeat visits for multiple years no longer works.
Live events offer another solution. Research by EventBrite shows that Americans are attending more live events than ever before, from entertainment-focused experiences like music concerts and beer festivals, to more cause-related events like marches and rallies. EventBrite says the increased preferences for live experiences is being driven by a strong desire to connect with people, the community and the world. Their research found that 4 in 5 American's (78%) attended a live event in the 12 months ended May 2017. For millennials, the participation rate was 90%, an increase from 82% just three years earlier. And half said they attended a live event so they had something to share online (building their Experiential CVs and social capital). Live events also are limited time offerings, harnessing the power of FOMO (fear of mission out) and giving them social media bragging rights.
The 2nd rule is that that you have to be best, in fact great, at more than one thing. It used to be you could be successful by being best at something and good enough at everything else. The traditional FEC formula was to offer some entertainment attraction that was best in its trade area, and then everything else offered, whether it was birthday parties or snack bar food and beverage only had to be good enough, which often meant, not terrible.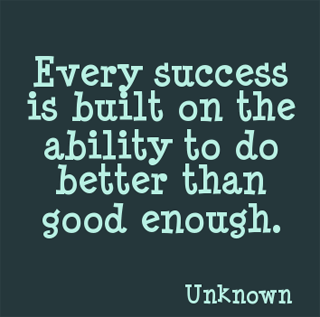 That formula no longer works, even to get people for their first visit, let alone repeat visits. With all the reviews on social media, consumers now have all the information they need to curate which new experiences they want to visit. With all the competition today for people's leisure time and money, you have to be great at more than one thing. And by great, that doesn't mean best in your trade area, but rather great based on consumers' expectations that are formed by everywhere and every type business they interact with, including when traveling and on vacation. Today the bar on everything is so much higher than in the past.
Some of the most successful new school entertainment-oriented venues today are great at not just the entertainment, but also their food and beverage, to the level where the food and beverage offerings are in fact anchor attractions generating more revenue than the entertainment. Top quality destination-worthy food and beverage also offers the opportunity for food and bar LTOs as well as a changing menu that offers new dining and drinking experiences.
These new school CLVs are great at both the entertainment and the food and beverage, but even more so at offering a great interactive social experience. This combination of great makes them not only more competitive than traditional entertainment venues and FECs, but also competitive with restaurants that don't offer a combined eatertainment experience.
There's a fast emerging 3rd rule that would make this article too long, so we will take it up in depth in a future issue. It's what you might call brand social responsibility. Consumers are making purchase decisions based on the good of a business in terms of the good they are doing for their employees, their community, the environment and the world. This is a consideration that goes beyond just quality of the product and/or the experience and can be a purchase determinate despite offering a great product and/or experience.
The formula for success in the CLV industry is dramatically different than a decade or so ago. Don't be a prisoner of the past following yesterday's paradigms.
Additional reading: The lore of LTOs
Vol. XVIII, No. 5, May-June 2018
---
---