Vol. XVIII, No. 5, May-June 2018
---
---
There's a dark storm brewing on the horizon
Even before the Great Recession and the growth of e-commerce, the U.S. retail industry was overstored. Today the U.S. has approximately 24 square feet of retail store space per person. Compare that with Canada which has one-third less at 16.8 SF per person and with other Western countries which have even fewer square feet, some as little as a tenth of the U.S. average.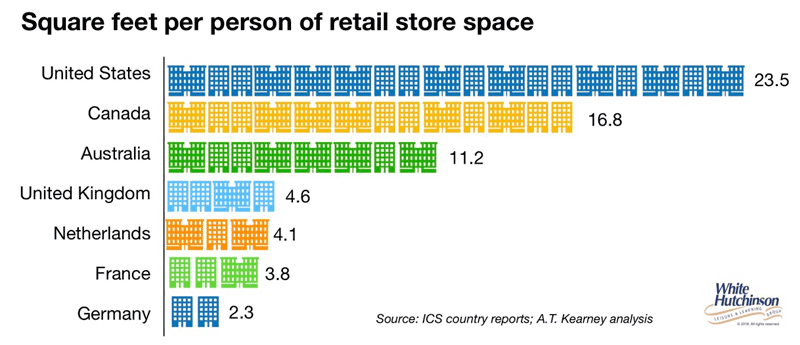 E-commerce is rapidly cutting into brick-and-mortar's retail sales. Excluding groceries, gasoline and restaurants, we calculate that e-commerce now accounts for one-sixth of all retail sales and its growing every year. And now we have home delivery of both groceries and restaurant meals, reducing demand at those physical store locations as well.
We're sure you've seen the articles about the impact e-commerce is having on retail stores - massive closings. Some articles describe it as the retail apocalypse. In 2017, over 7,000 stores with 105 million square feet closed their doors. Many of the closings have been to big box stores such as JC Penney, Sears, Kmart, Macy's, Gander Mountain and Staples. Now in 2018 we have many more big box stores closing including 735 Toys R Us stores, 256 Bon-Tons, a number of Lord & Taylors, at least 166 more Sears and Kmarts, more J.C. Penney's and Macys, 63 Sam's Clubs and 250 Best Buys, with more to almost certainly to be announced. With some 95 million square feet of store closures already announced less than half-way through this year, it's sure to surpass last year's record number.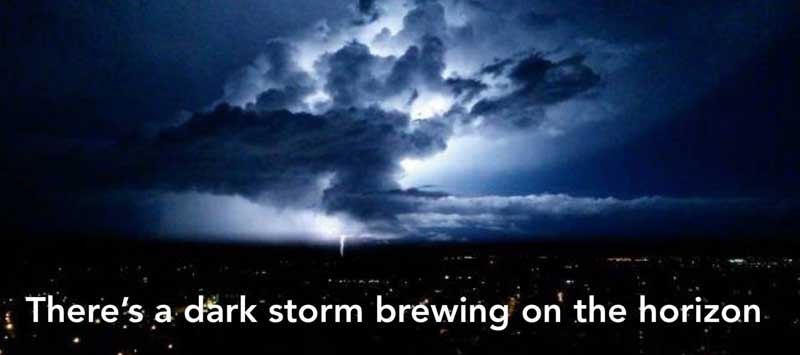 Among many other factors (read The demise of repeat appeal in this issue), the availability of all this vacant large store space is setting the stage for a really dark storm that is already brewing on the horizon - a community leisure venue (CLV) bubble. Here's why.
First, with few retail replacement options for the many stores that were anchors for their shopping centers and malls, landlords are hungrily looking for replacement anchor uses, and this includes restaurants, entertainment and eatertainment that can drive traffic to the remaining stores. A study of malls that have renovated since 2014 by Jones Lang LaSalle found that the most popular strategy (41%) was adding and upgrading food and beverage options followed by adding entertainment (29%). To attract these leisure uses for their vacant spaces, retail landlords are offering attractive rents and often generous tenant improvement (TI) allowances.
Secondly, financing for developers of leisure venues is much more available than just a few years ago. So, there is a bit of a stampede of entrepreneurs renting these stores to turn them into different types of entertainment and CLV venues.
Our company is already seeing it from the many inquiries we're getting from prospective CLV and FEC developers; eager entrepreneurs rushing to fill these empty store spaces, no matter their size or location, with entertainment.
Here's the problem. The market, the demand for CLVs, including FECs and children's centers, is only so large. And it's not all that large to begin with. The market size is limited by the amount of leisure time people have to spend away from home at arts and entertainment venues and watching sports. In 2016, adults had a little over five hours of leisure time on the average day. Of that time, only 7.2 minutes, only 2.4% of that leisure time was spent at different arts, entertainment and sports venues (including travel to and from them). Even more alarming is that the amount of time is on the decline. For adults age 25+, the amount of time has declined by 1/3 from 2006 to 2016.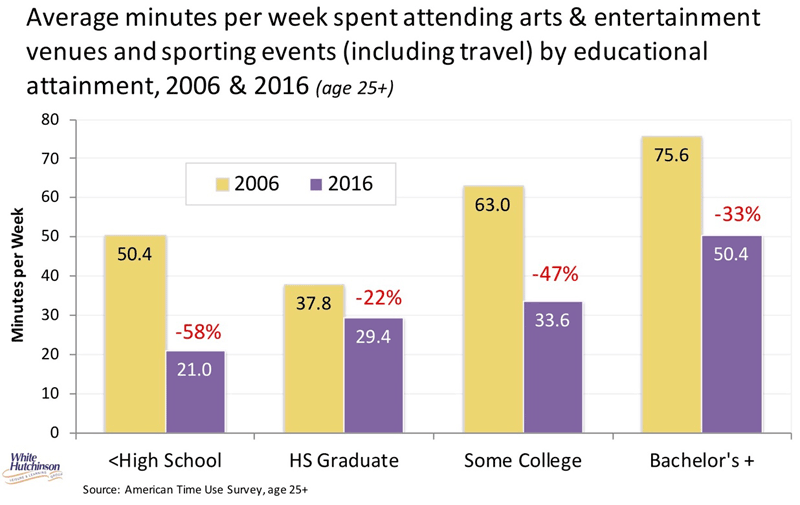 Adding more square feet of CLV venues to a market doesn't increase people's leisure time nor overall attendance at leisure venues (with the possible exception of some markets where there is no similar competition). And the reason many of those markets don't have CLV offerings is really simple; they aren't large enough in population with the required socioeconomics to support them. Having vacant store space available to rent on attractive terms doesn't change that.
We see a CLV bubble growing that is going to burst in the next few years, no different than what has occurred with retail. Too many square feet of offerings and not enough demand, so many will go out of business.
Yes, there are still opportunities to open and operate successful CLVs. But it's only in select markets, and only with high quality, High Fidelity offerings that can compete with the 100's of other things people can do with their leisure time. This includes just staying home comfortably in their lounge chairs and spending time with their digital screens, something that they're doing more of in recent years. And soon they'll be wearing augmented reality glasses or virtual reality headsets for even more enhanced at-home entertainment experiences. Today, to attract people to a CLV venue also requires top quality, often foodie quality, food and beverage offerings in addition to the entertainment offerings. The CLV industry is no longer a place for average or mediocrity.
Don't let the siren call of empty retail space seduce you into developing a CVL that won't be successful.
Also, check out The demise of repeat appeal in this issue.
Vol. XVIII, No. 5, May-June 2018
---
---