Vol. XVIII, No. 5, May-June 2018
---
---
Ocean5 and Table 47 holding grand opening celebration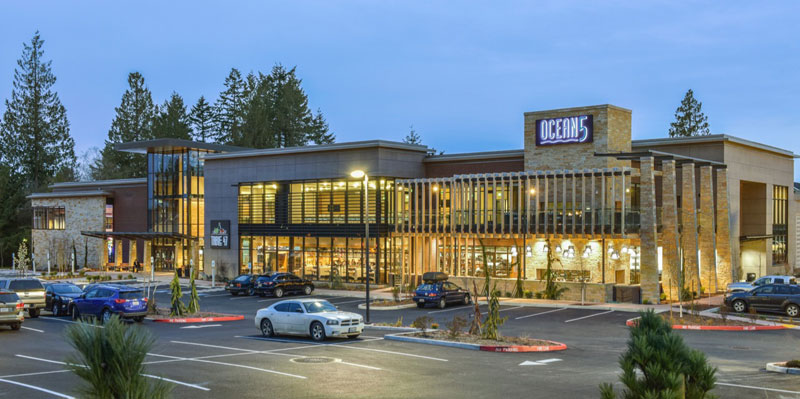 Although it officially opened to the public on May 8th, Ocean5 and its Table 47 restaurant, the industry's newest and most cutting-edge eatertainment center, waited until June to hold their grand opening celebrations. May was the soft opening period to work out opening bugs and to give staff experience. Each week during June has a different theme with different special events and food, drink and entertainment specials as part of the opening celebration.
The center, located in the South Puget Sound area south of Seattle, had its birth eleven years ago, when Troy Alstead, Ocean5's owner and the former operation officer for Starbucks, was sitting in a hotel room in Shanghai, China where he was working on setting up new Starbucks stores. With time on his hands in the evenings, he started formulating the business plan for the project.
Shortly thereafter, on January 7, 2008 to be precise, he contacted our company about conducting a feasibility study for the project. To make an over-a-decade-long story short, we determined that a location in the planned Olympic Towne Center shopping center in Gig Harbor would be ideal. We began work on Ocean5's design. As a result of the Great Recession, the center's landlord lost the anchor supermarket, so there was a delay while a new anchor was obtained. The lease negotiations then dragged on for years. Next there were several years of zoning approvals and appeals by neighbors, followed by long delays in obtaining building permits due to the large volume of construction in the area and the City's limited resources to review plans. Finally, Ocean5 broke ground on July 19, 2016.
So why did the project take 22 months to construct and open? There were multiple reasons. When ground was broken, the project only had a shell building permit. It took another seven months for the tenant improvement building permit to be issued.
There was also the notorious Seattle winter weather. When the steel framing and exterior was being constructed during the winter of 2016-2017, the area had one of its most continuous and wettest rainy periods on record, delaying work.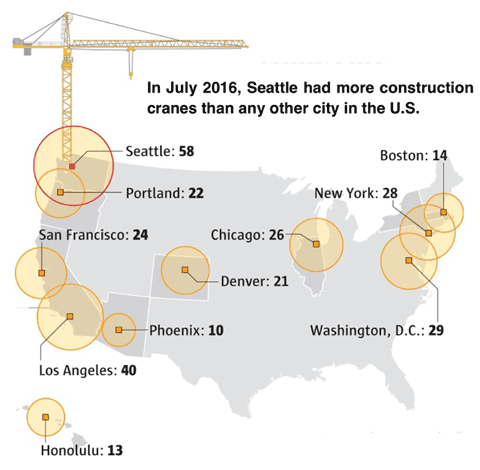 Then there was a serious construction worker shortage. The economy of the greater Seattle area was booming. The many tech companies there, including Amazon, Microsoft, as well as many support and other companies headquartered there, were rapidly expanding. As a result, office, retail and housing construction was booming as well. Our CEO would jokingly tell people that Seattle had a new city bird, the construction crane. In July 2016, Seattle had 58 construction cranes, more than any other city in the country. Even this past January, they still had 45 cranes. As a result, the project's general contractor couldn't get the number of needed construction workers, resulting in construction going much slower than normal.
In a sense, Ocean5's development and construction experienced a perfect storm of problems and delays.
Troy Alstead explains his inspiration for the project this way. "I have always been inspired by gathering places all around the world, whether it's the kitchen table at home, a coffee shop, pub, restaurant or sports arena, the places where people socialize, connect and have fun. I saw the opportunity to create a very unique social place, like nothing that exists in the state. A venue that would be a fantastic place to work, a great part of the community, and respectful of the environment and oceans."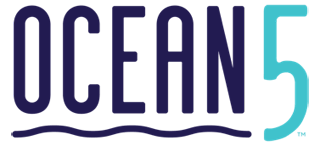 Troy's love of the oceans not only inspired the name and logo for the project (all 5 of the oceans are connected and Ocean5 is all about connections between people), but also how the company was to be run. Troy describes it this way. "We will use the platform of the business to drive awareness and inspire action to improve the health of the oceans and seas, starting with Puget Sound. We will tell stories about how we are responsibly sourcing our ingredients, how we constructed the building to be gentle on the environment, how we use geothermal wells around the building to reduce our energy consumption."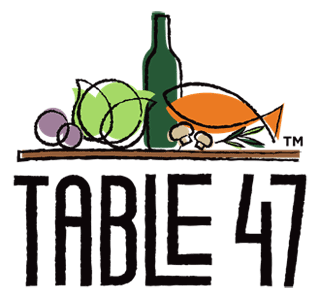 The restaurant's name - Table 47 - is also symbolic. "Traditionally, the table is where people come together," Troy says. "All over the world, people gather around the table, whether it's to share meals or have conversations or even hold a business meeting. The table is the gathering place and '47' is because Gig Harbor is on the 47th parallel."
The 57,000-square-foot project includes the destination restaurant, Table 47, 22-lanes of bowling including 2 VIP bowling suites, a two-story laser challenge arena that can hold 40 players, a redemption gameroom, and multiple multipurpose function/meeting spaces that can accommodate anything from small birthday parties and business meetings to wedding receptions for up to 400 people. The mezzanine meeting rooms have an outdoor lanai and there is even a bride's changing room. There are five fireplaces, including a circular one in the fireplace lounge.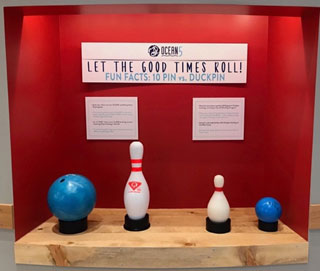 12 of the bowling lanes feature duckpin bowling, the first in the western U.S. Duckpin bowling is played on regular size lanes, but the ball is smaller than in 10 pin bowling. It is about the size of a grapefruit, doesn't have finger holes and only weighs about 3.5 pounds, so it is palmed. The pins are also smaller. And you get three throws on each frame instead of the two in 10 pin (read more about duckpin bowling).
One unique feature of the eatertainment project is that the polished casual Table 47 farm-&-sea-to-table restaurant is separated from the entertainment with its own unique brand identity, its own entrance off the grand lobby and a separate website. However, its food and beverage are served throughout the entire facility. The restaurant was designed with a very casual, comfortable feel that appeals to adults, but where families feel they can also bring the kids.
Table 47 has seating for 188 including the bar area plus a 28-seat coffee café and a 100-seat patio. The exhibition kitchen lets guest see all the cooking action and allows kitchen staff to interact with guests. One unique feature is the 12-seat chef's counter that looks into the kitchen, where special themed demonstration dinners will be held. The dining room features a large 2-sided see-thru corner fireplace that also serves the patio. The coffee café offers premium coffee from a small-batch Seattle roaster, Fundamental Coffee Co. (no, not Starbucks).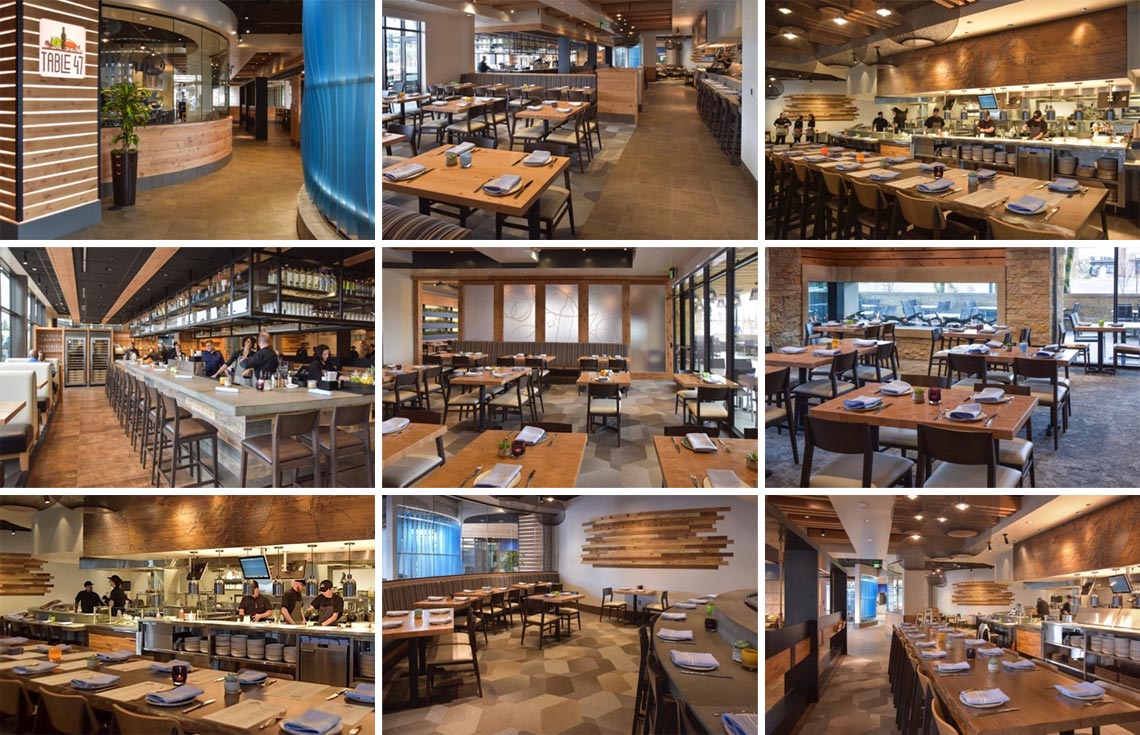 The food and beverage sourcing is different than at most restaurants. In addition to seasonal sourcing from as many local farmers, ranchers and fisherman as possible, the bar is sourcing its liquor based on three criteria - local, sustainable and taste. As a result, many of the big-name alcohol brands will not be found, but rather equal or better tasting ones from local and sustainable producers. Wine selections are mainly on tap in kegs from 14 predominantly local wineries. Beers also are locally sourced with 22 on tap. Both the wines and beers on tap are offered in two different pours; 6oz or 9oz for wine and 16oz or 20oz for beer. Wine is also available in a half or full liter size. (click to check out the current beverage menu)
Although you might expect to find Coke or Pepsi products, you won't find them at Table 47. They offer the local Seattle Soda cola and a selection of 100% natural sodas from Rocky Mountain Soda Co.
Local sourcing goes further than just offering it on the menu and at the bar. Table 47 holds special events for guest to meet with the local farmers and purveyors at the heart of the craft food and drink they serve. For example, on June 21st they held their first free Meet the Makers Event where guests could eat, sip and meet with:
Environmental sustainability was a major focus for our design of the facility. The heating and cooling system is operated by 72 geothermal wells that total 3.6-miles in length. The geothermal system even heats the restaurant's patio and the meeting room lanai. Most of the carpeting is made from recycled fishing nets. Daylight harvesting was incorporated wherever practical including the use of solar tubes in the bowling area. As a result, large areas of the building do not require electric lighting during the daytime. And all the lighting is highly efficient, almost totally LED. Even the laser tag arena is low energy, using exclusively LED lighting and the bowling pinsetters were selected due to their energy efficiency. The building is 40% more efficient that a typical building. The energy saved is equivalent to what 36 typical homes use.
All the wood used in the décor was harvested within 200 miles. Since the local county's composting program won't accept paper, there is a worm farm in the basement to compost all the paper towels from the restrooms plus any preproduction vegetable waste from the kitchen, although waste minimization is a major emphasis for the restaurant. The project currently has a Silver LEED Certification pending for approval.
One important design criteria our company pays close attention to on every project we design is acoustics, designing an environment where people can comfortably talk and socialize. We were pleased when the first review of Table 47 by Sue Kidd at The News Tribune said, "For years, I've heard valid diner complaints. The first is that modern restaurant design bounces too much noise. My ears concur. The second is a more complex question/complaint: 'Why won't restaurants serve me something smaller and charge me less for it?' Diners, Table 47 has your back in both regards. [Table 47] takes the mantra of smaller portions for a smaller price to the degree I've yet to see in the area. Kudos for that... Did I mention the restaurant is actually tolerable in the noise department."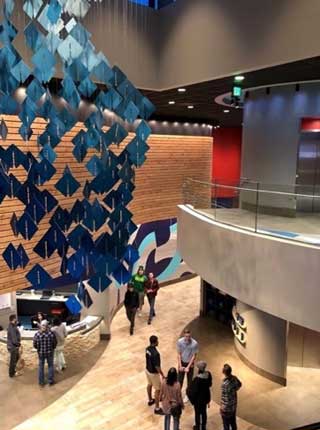 The lobby features an artwork mobile named REEF that was inspired by Troy's vision of sustainability and environmental awareness. The aluminum used in its creation is recycled aluminum waste from other projects by its artist, Brian W. Brush. "REEF diverts material that would have either gone to a landfill or been reprocessed using high-energy manufacturing methods," Brush explained. "It's a perfect example of repurposing and reusing with reduced waste and embodied energy."
The food menu is unique in that it offers a wide selection of small plates in both taste and share sizes. Typical entrée items are offered in at least two sizes. For example, the Seared Ling Cod is available in a 3oz or 6oz size and the steaks can be purchased in 4oz, 6oz or 8oz portions.
On May 31st, the facilities were closed for a private VIP Event for over 300 of the people involved in the project's design, development, construction and operations start-up. Besides incredible entertainment, including an aerialist who poured Champaign for arriving guests and an incredible selection of Table 47's farm-&-sea-to-table foods, one highlight was a short talk by Troy Alstead, where he explained the two pillars for the project's development and operations - connection and sustainability.

Our company was involved in just about every aspect of the Ocean5's and Table 47's design and development from its start all the way through its opening. We designed the center and acted as overall project managers. Our work even included developing the menu manifesto and working with our team of executive chefs to develop the menu and recipes, including some unique cocktails, which was then handed off to Table 47's executive chef and kitchen and bar team to evolve based upon sourcing and guest input. We brought in several of our alliance members who worked closely with management to set up management, hiring, training and marketing programs.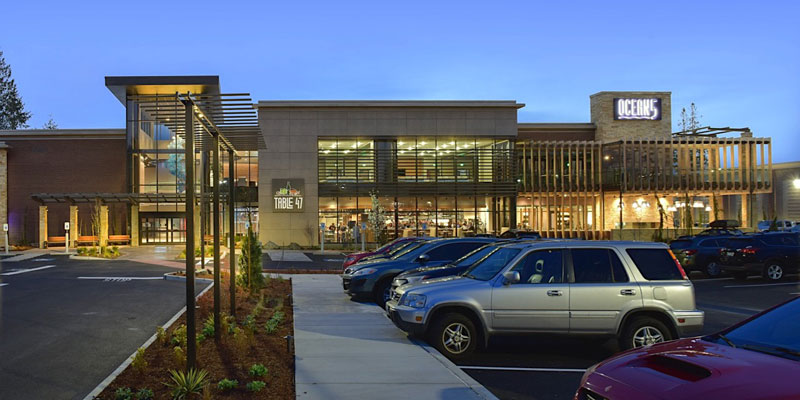 It was a true honor to work with Troy and his management team to make his dream come true.
In a recent newspaper interview, Troy had this to say for aspiring entrepreneurs. "Never quit. If what you are dreaming about is the right thing for you and your family and community, whether that dream is starting a new business or a nonprofit or something else, then overcome whatever challenges you might face."
Vol. XVIII, No. 5, May-June 2018
---
---