Vol. XIV, No. 8, September 2014
---
---
Randy's travelogue - Amman, Jordan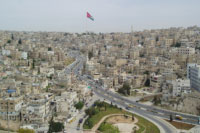 Earlier this month I traveled to Amman, Jordan to begin work on the repositioning and rebranding of a shopping mall with new restaurants and feasibility and design of a 50,000 square feet of new family entertainment center.
The Kingdom of Jordan, a constitutional monarchy, has a population of approximately 8.2 million, of which approximately 3.0 million live in the Capital City of Amman. Amman is hilly with predominately lower rise buildings. The city is experiencing rapid growth that is reshaping this ancient city that dates back to the 13th century BC into a commercial hub. In the past few years, some skyscrapers have gone under construction, including in the new mixed-use Abdali Downtown Project.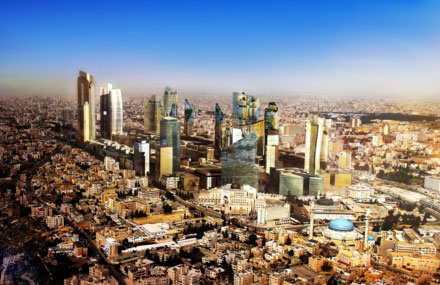 Rendering of Abdali Downtown Project when it is competed
East Amman is the historic city center, more traditional and older than the newer West Amman. It is the hub for the capital's historic sites and cultural activities.  Small shops and single-family houses are dominant in East Amman.
West Amman, where our client's mall is located, is the current economic city center and a modern, stylish extension of the city. It has a strong Western influence with modern large malls, shopping centres, expensive hotels bars and international restaurants.
Jordan is considered one of the most stable and safest countries in that region of the world, so it is attracting many immigrants from the surrounding war torn countries. It has become a haven for immigrants from Iraq, Syria and Palestine. It is estimated that about half the population are Palestinian refugees, most of whom are Jordanian citizens.
My first stop in Amman was to get my falafel fix at one of Amman's most famous, oldest (48 years) and popular falafel shops, Al Quds Falafel on Rainbow Street. The shop is all of 100 square feet and all they sell is falafel sandwiches. You can choose from a regular falafel sandwich or a falafel sandwich served on sesame bread. Either will cost you less than one dollar. It's great falafel, but nothing fancy, as you either pull up to curb in your car and run in for carry-out or eat you sandwich on one of the street benches next to the shop as I did.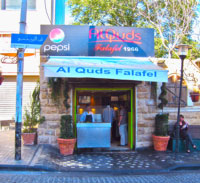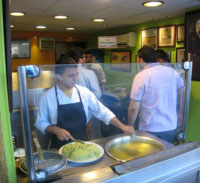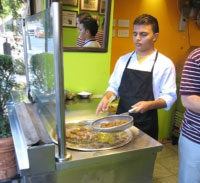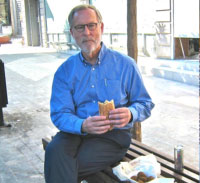 There's a 4-minute video on YouTube that shows the process of cooking the falafel at Al Quds (click to view video). It's definitely what you can call an exhibition kitchen and food entertainment.
When I travel to other countries and cultures, I make it a point to never eat American food. I want to experience the local foods and cuisines, which are always a good reflection of the local culture. So it was off with my client the next night to Sufra Restaurant that features traditional homemade Jordanian cuisine. The restaurant is located in one of the 1930s-era homes that originally housed one of Jordan's old aristocratic families on the busy and happening Rainbow Street, the same street Al Quads Falafel in on, near the center of downtown Amman. The restaurant has a great outdoor patio area where we, and everyone else that night, dined due to Amman's great weather. Learn about Jordanian food at the Sufra Restaurant at the Eat Everywhere blog.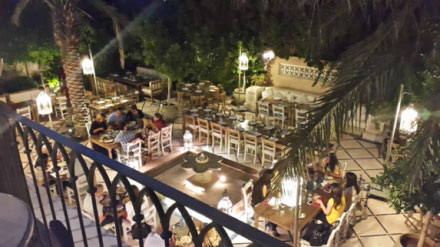 Outdoor dining at Sufra Restaurant, Amman, Jordan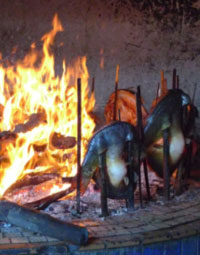 With Jordan and Amman's ethnic diversity comes a wide variety of cuisines. So, to experience the cuisine of Iraq, my Iraqi client took me to Zad El Khair, a traditional Iraqi restaurant, where I enjoyed a unique dining experience—Masgouf—seasoned grilled carp that is considered the national dish of Iraq. The carp is partially scaled, gutted and cut in two identical halves from the belly up while leaving the back intact, opening the fish into the shape of a big symmetrical circle. Then the inside of the fish is generously basted with a marinade of olive oil, rock salt, tamarind and ground turmeric. The fish is then cooked on its side next to a fire consisting of apricot tree logs on a fire alter, which is a raised podium-like sandbox. The cooking takes between one and three hours depending on the size of the fish until most of the fish's fat is rendered out. When the fish is well cooked and crispy on the outside, it is then laid out and served on a large tray. When served, the fish looks similar to an upside down horseshoe crab (below is my first foodie photo). The fish, as well as the lamb dish we had, was delicious.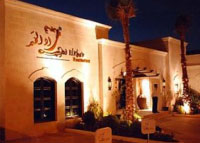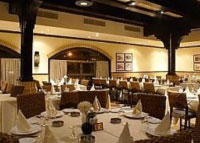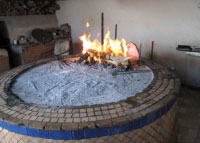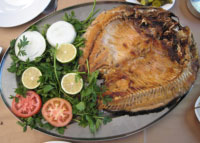 Top - Zad El Khair restaurant. Bottom - Masgouf fire pit and final table top presentation
I hope to give you more information in future issues on our work with the Amman mall and its FEC project as it progresses.
Two of our other international projects are nearing completion for opening this year. Our landscape designer just returned from Cairo, Egypt where she supervised the installation of the discovery play garden (naturalized outdoor playground) at Club Liko, a children's edutainment (play & discovery) center. The below photo shows construction underway for the outdoor children's boating river (left) and the bumper boat pond (right) and the interior at Helio Center in DaNang, Vietnam.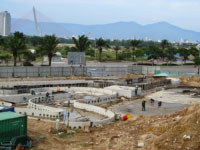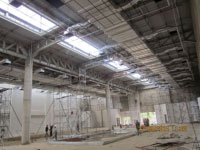 Construction progress at Helio Center, Da Nang, Vietnam
Don't forget to register and make your flight and hotel reservations for IAAPA in Orlando. It's just around the corner in mid-November. I'll be presenting as part of a seminar on Growing Your Revenue with Adults – A New Approach to FECs on Thursday morning. I hope to see you at IAAPA. Contact me if you would like to meet up.
Coming in next month's issue will be some results from the national survey our company just completed on participation in anchor attractions found in family entertainment centers. You won't want to miss out on that issue.

Vol. XIV, No. 8, September 2014
---
---