Vol. XIV, No. 8, September 2014
---
---
Staycation or no vacation?
A lot has been written about the staycation trend, that rather than taking a vacation trip, people are taking their vacations at home. Our analysis of entertainment spending on trips appears to support the staycation phenomena, as it shows a definite decline in average household entertainment spending while on trips (28% inflation-adjusted decline over the last decade). However, when we look at entertainment spending when people are at home (non-trip), we don't find an increase that supports the staycation theory that people are shifting their vacation spending to when they stay home.
Now a new survey by Skift raises further doubts about whether there is really a staycation trend. The survey appears to indicate that instead of staycation, the true trend is no vacation - people are neither traveling nor staying home to vacation, but rather not taking any vacation time at all.
This September 3-6, Skift conducted a national survey and asked Americans, "Now that the summer is over, how many days of vacation did you take this summer?" It turns out that close to one-half (42.8%) of Americans said they did not take a single day of vacation this summer. 10.1% said they took 1-2 days, 20.5% took 3-7 days and 26.5% took more than one week.
When the data is sorted by income, it is quite apparent there is a positive correlation between higher incomes and taking a vacation. In other words, lower socioeconomic Americans are taking the least trips.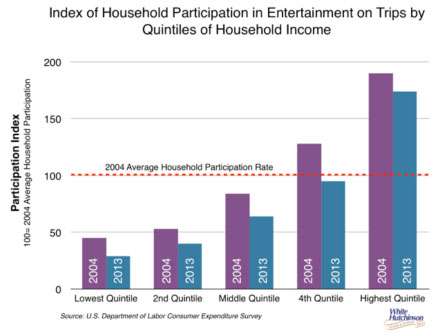 As the above graph shows, the participation rate for spending on entertainment on trips and vacations rises with income and has dropped proportionally the most during the last decade for lower income households. In 2013, the participation rate for households with the lowest 20% of incomes declined by over one-third, the next highest 60% of income households (2nd - 4th quintiles) declined by one-quarter, while the households with the highest quintile of incomes participation rate dropped at the lowest rate, by one-fifth. A greater and greater share of the market for entertainment on trips and vacations is shifting to the highest income, affluent households.
However, that shift to a more affluent customer is not offsetting the overall average household declining spending rate, as even average spending for those households that are participating in entertainment on trips is also declining.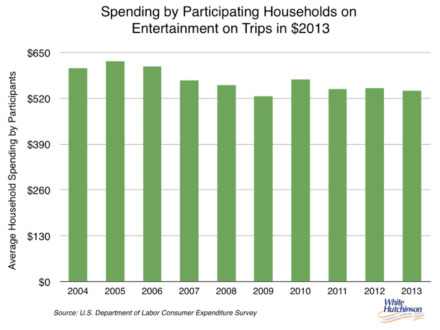 Data on driving appears to support that people are taking less trips and vacations away from home. When looking at miles driven per capita, there has been a 9% decline from its peak in 2004 to miles driven in 2013. Each person in America age 16 and older drove 1,184 less miles in 2013 compared to 2004.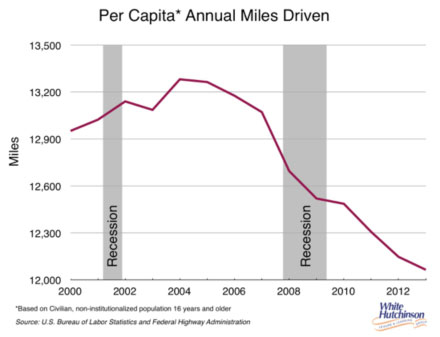 Less miles driven appears to correlate with the long-term downward trend we are seeing in household participation for entertainment during trips (which would include vacations). In 2013, average household participation on entertainment during trips was down by 20% compared to 2004.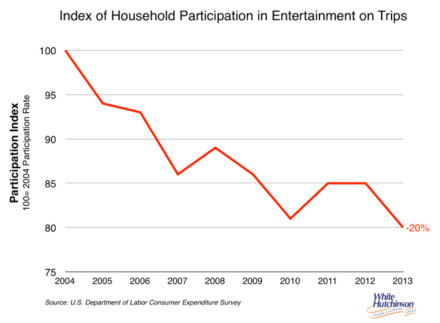 So if you have a location-based entertainment center that relies on day-trippers or vacationers what can you do? Besides catering to a higher socioeconomic, you can tap into the psychological motivations for vacation choices. How? TripAdvisor just announced the results of their biannual TripBarometer study of 5,900 Americans this July and August and it has some answers.
When Americans were asked what they want out of a vacation, the top priority for two-thirds was to have unique and interesting experiences followed by enjoying special moments together with loved ones.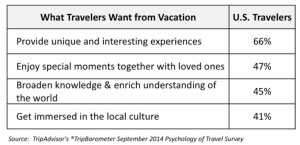 By offering highly social, unique and interesting experiences (what we call social-tainment), trip-based LBEs can definitely attract vacationers. It is interesting how important food is to those experiences, as when the study asked vacationers what the return from a vacation is most likely to prompt them to do, 55% of Americans answered, "introduce new food into diet." So unique dining experiences offering new flavor profiles and cuisines is obviously an important component of offering unique experiences that have adventure component of discovering new things.
The study also examined the emotions of the travel lifecycle for U.S. travelers, as feelings will ebb and flow throughout various stages of travel. Here's what it found.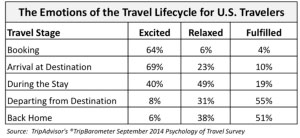 The TripBarometer study was primarily conducted for the hotel industry. Here's what Marc Charron, president, TripAdvisor for Business concluded for hoteliers:
"The results of the TripBarometer highlight that hoteliers can stand out from the competition by providing unique and enriching experiences. And while it's no surprise that travelers tend to be excited when they book and prepare for a trip, hoteliers are missing an opportunity to capitalize on that excitement and begin building a lasting relationship with their guests. Only a minority of hotels is currently making this a priority, but those who do also tend to receive more repeat guests."
LBEs and FECs should take this advise to heart when they are making their initial contacts with potential guests. That is the time to start building a relationship with guests, not wait until they first show up at the door.
Vol. XIV, No. 8, September 2014
---
---