Vol. XIV, No. 8, September 2014
---
---
Digical world or digital Darwinism?
No, digical is not a typo. It's a new word first coined by Harvard Business Review in recent issue to describe the digital-physical mash up, the fusion of the real and virtual worlds.
Unfortunately, many people in the location-based entertainment (LBE) and family entertainment center (FEC) industries continue to believe that they can only use digital technology to enhance the guest experiences in their venues or as a management tool. They don't yet comprehend how the digital revolution has changed consumers. Consumers now weave the digital and physical worlds tightly together throughout the day. To consumers, it is a continuum of one experience, not two separate types of experiences.
There is a digital disruption under way in every industry out there. Look at how the digital revolution toppled Tower Records, Blockbuster, Borders, Virgin Megastores, and Circuit City to just name a few. Their markets moved to their corresponding digital alternatives. And the disruption is not over. As the revolution progresses and consumers find more and better alternatives in the digital world, many more companies who stay stuck in the physical world will follow in their footsteps, and that could include many LBEs and FECs.
Our company's research has documented how the disruption of the Triple Revolution (internet, social media and mobile devices) has already caused entertainment dollars and time to migrate from LBEs to the virtual world. Out-of-home bricks-and-mortar entertainment venues are slowly losing market share to the digital world. And the digital competition is sure to become even more intense as technology evolves. To survive and prosper in the 21st century, entertainment venues, and especially community-based ones, need to transform their brands into digital-physical (digical) fusions that offer social-tainment experiences across both worlds. To stay relevant to consumers and competitive with the many digital entertainment and social alternatives, consumers need to be able to access the LBE's brand experience 24/7.
Today, consumers want their entertainment options anywhere at anytime. They no longer want to be confined to physical entertainment venues at some fixed time. In a sense, they want the same control over their entertainment that the DVR and now mobile devices give them for viewing television shows.
In the FEC industry, it's a children's venue that is innovating with the beginning of a digical transformation, although still in a bit of a primitive manner. Now you can experience Chuck E. Cheese's without going to an actual CEC, pizza not included. The company's first effort, released in April 2012 and offered online on their website, was Chuck E. Cheese's Arcade Room, which recreated the experience of being at CEC by offering a number of games where you can win tickets redeemable at CEC.
Then earlier this year CEC added a new online game called Chuck E. Rocks, featuring the new rock star mouse and his guitar. Players catch flying musical notes as Chuck E. plays to win redemption tickets.
Now this July, CEC has moved the digical fusion of their redemption game play to mobile screens with their free smartphone app Skate Universe that lets gamers help Chuck E. hop, duck and dodge obstacles at various skate parks.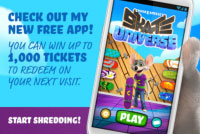 "Skate Universe is just one piece of a long-term strategy to bring together the best family entertainment anywhere with the technology today's parents and kids want," said Roger Cardinale, president of CEC Entertainment, Inc. "It's the next example of our dedication to using technology to further enhance our customer's experience and relationship with Chuck E. Cheese's."
Skate Universe features two skate parks, a jungle theme and candy theme, which gamers navigate. Along the way, gamers collect special treasures and multipliers, which enhance Chuck E.'s skate gear and speed, plus points that can earn tickets. Players can win up to 1,000 tickets to redeem at a store for prizes. There is even a leaderboard to compare your score with some game superstars.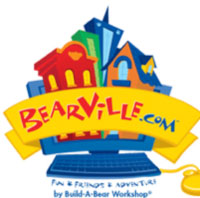 CEC is really smart to make the game available as an app on mobile devices. Common Sense Media's research shows that in 2013, 75% of children age 0 to 8 had mobile devices in their homes and 72% had used mobile devices such as a smartphone or tablet and spent an average 15 minutes a day on the devices. Children age 5 to 8, part of CEC's target market age group, spent an average of 12 minutes a day on mobile devices playing games.
One of the early digical innovators in the bricks-and-mortar retail world is Build-a-Bear Workshop, which created an online 24/7 extension of the in-store experience with Bearville.com. When a child births a bear, they get a birth certificate. The child can then go online at Bearville.com to register their bear using its birth certificate number. An equivalent virtual bear is then created. The child can also create her own avatar. The website is a virtual world where the child can hangout with their friends, explore with their avatar and virtual bear and play many games.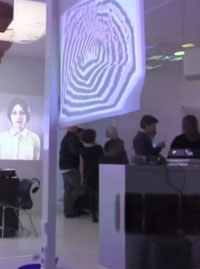 And just to get you thinking about the possibilities for digical mash ups, here's a example where the digical is coming to the venue. BYOB used to mean a party where you bring your own booze. Well, in Brooklyn, New York art galleries, a new meaning for the acronym has emerged, bring your own beamer. By beamer it means beaming images from a projector. People are bringing their digital content to gallery parties and beaming their own digital content - gifs, YouTube videos, their personal art, whatever - on the walls. Some parties have themes and some have curated content. There are usually multiple projectors running at one time.
Here's some insight from Faith Popcorn at the BrainReserve about these new BYOB parities:
Think of it as a modern-day twist on the Cocooning Trend: As we move from the warmth of our computer screens at home into less predictable public spaces, we're staying safe by showering ourselves in familiar imagery. We're continually blurring the lines between digital and "real."
To survive and prosper in the 21st century, LBE and FEC venues of all types need to make digical transformations to fuse their existing physical brand experience with the virtual world so consumers can have a digical experience 24/7. Otherwise, they may well suffer the fate of Digital Darwinism, the phenomenon when technology and society evolve faster than an organization (in this case LBEs and FECs) can adapt.

HBR.org offers a short 2-minute thought provoking video on marketing myopia that addresses the issue of companies not understanding the true business they are in and being blind to the future of competitive alternatives, so they don't evolve, and often die, or as we say in the LBE industry, become road kill. It's well worth watching (click here to view).
Vol. XIV, No. 8, September 2014
---
---