Vol. XI, No. 4, July-August 2011
---
---
Eatertainment, its growth and new concepts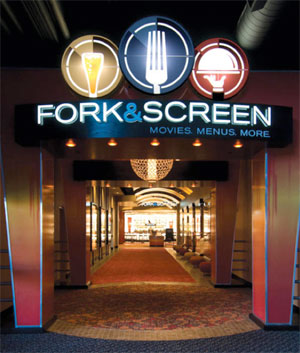 Eatertainment (restaurant-entertainment) is not a new concept. We can trace its beginnings back at least 30 years with the beginnings of Dave & Buster's and Chuck E. Cheese's. Basically eatertainment is where entertainment accounts for 50% of sales (±10%) and food and beverage accounts for the other 50% of sales (±10%) after group sales are allocated to the two categories. Interestingly, of the many community-based entertainment formulas, those concepts that have lasted the longest with little change are eatertainment - Dave & Buster's (56+ units) and Chuck E. Cheese's (550+ units). Both's revenues break down to approximately 50-50.
Eatertainment is a much more successful concept than community-based, predominately entertainment-venues like many family entertainment centers that only feature a snack bar or concession stand that generates a low percentage of overall facility revenues. With destination dining, meaning a venue you consider going to for a meal, eatertainment venues achieve far higher attendance and two to three times the revenue per square foot of entertainment-only ones. This is due to destination dining driving a higher frequency of repeat visits and the combination of food and fun creating higher per capita sales.
The eatertainment category is a hybrid and does not have an industry of its own. It's half in the restaurant industry and half in the family entertainment center industry. In a sense, it is a bit of an orphan concept and as such, has a low profile.
During the past decade eatertainment has been an expanding concept. One of the newer eatertainment concepts that emerged is the family pizza buffet-entertainment center. Its sales are 50:50. There are five national chains – John's Incredible Pizza, America's Incredible Pizza (mainly a franchise), IT'Z, GattiTown and Amazing Jakes. There are also a number of single owner concepts such as StoneFire Pizza Co. and The Amazing Pizza Machine.
Another expanding eatertainment concept is dinner and a movie and the cinema 'dine in-restaurant-bar concepts'. The National Association of Theatre Owners estimates there are now over 400 theaters that offer a restaurant and bar service. Dinner and movie chains including Movie Tavern, Alamo Drafthouse, Studio Movie Grill and iPic (formerly the Gold Coast chain) offer upscale dining options. The larger cinema chains are now adding food to both be consumed in a restaurant or in the theater. AMC is expanding its Fork & Spoon restaurant/bar concept to over 50 locations. Its AMC Mainstreet Theater in downtown Kansas City MO has a two-level Bistro 5 restaurant as well as dine-in-theatre options. Cobb Theaters is expanding its CinéBistro concept.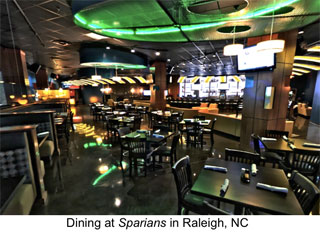 Another expanding eatertainment concept is found in the bowling industry. The industry has moved simultaneously in two different directions – adult-oriented bowling lounges and boutique concepts such as Lucky Strike, Splitsville, King Pinz and Sparians Bowling Boutique & Bistro to broader-appeal hybrid bowling or bowling-entertainment centers that have other attractions and games, such as Amazing Dave's and The Clubhouse. All feature quality food and beverage in various formats.
In the children's entertainment center space, in addition to children's edutainment (play & discovery) centers with their cafés, we now have play cafés, which target at-home mothers (and some dads) with their preschool children with cafés where moms can hang out and socialize while their children play during the weekday.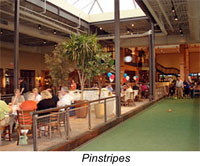 A nascent emerging concept is bocce-restaurants that combines destination restaurants, often Italian, with both indoor and outdoor bocce. Two examples are Campo di Bocce with two locations in California and Palazzo di Bocce located in Lake Orion, MI. Pinstripes is a restaurant-bar-bocce-bowling combination with two locations.
Americans love their dining out. As the growth of eatertainment venues shows, when you combine food and drink with entertainment options, it has great appeal.
Our company recognized the strength of the eatertainment concept in our very first years when we incorporated Charlie's Diner in the Olathe Lanes East bowling center, which we designed in the early 1990s. We have been using the eatertainment formula in all our client's projects since.
Olathe lanes


Charlie's Diner at Olathe Lanes East, home of the Tromp L'oeil special.
Vol. XI, No. 4, July-August 2011
---
---