Vol. XXII, No. 11, November 2022
---
---
Surprises from the 'baby bump'
In this year's July issue, we reported a slight baby boom in 2021, the first time since 2007 that the number of babies born in the U.S. has increased. Now researchers at the National Bureau of Economic Research have dug into birth data and come up with some surprising findings.
Their first finding is that although the birth rate declined in 2020, the reductions resulted from a decline in childbearing among foreign-born mothers who stopped coming to the U.S. to give birth due to the pandemic. Foreign-born mothers accounted for 23% of all U.S. births in 2019. For example, U.S. births to mothers born in China who visited the U.S. to give birth declined by almost 60% in 2020. Overall reductions in U.S. childbearing for 2020-2021 reflect 91,000 missing births from foreign-born mothers compared to historical trends.
The research found a significant baby bump among U.S.-born mothers in 2021, far greater than the overall birth increase of 45,642. For U.S.-born mothers, the birth rate in 2021 increased by 6.2%, by 59,702, and was large enough to reverse two years of declining births for that group of mothers. Based on historical trends, The baby bump was most pronounced among first births and among women under 25, suggesting the pandemic led many women to start their families sooner. The baby bump was also significant for women 30-34 and those 25-44 with a college degree or more.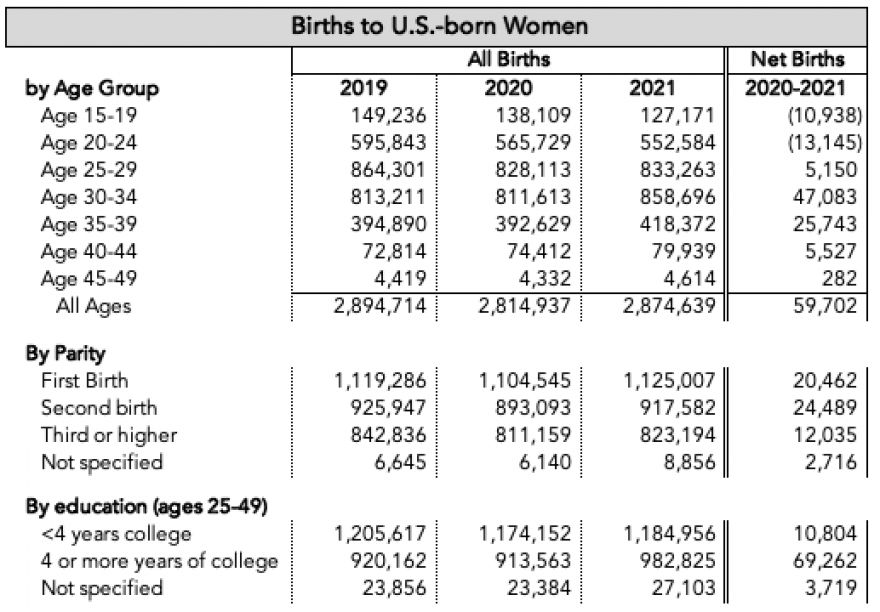 The net increase in births among U.S.-born mothers was 46,000 children between 2019 and 2021. The researchers looked at 2022 California birth data that closely tracks the overall U.S. data. It suggests that births have remained elevated at a level similar to 2021 through the 3rd quarter of this year.
Vol. XXII, No. 11, November 2022
---
---