Vol. XVII, No. 2, February 2017
---
---
Staying in is the new going out; welcome to Generation Homebody
We've moved into the digital age in what is almost a blink of the eye. And whether you call it digital disruption, digital transformation, digital evolution or digital Darwinism, the digital age has brought with it transformative changes to consumers' lifestyle values, attitudes and behaviors that have upended every consumer industry.
With the digital age there are major cultural trends underway in how people socialize, entertain themselves and have fun that has disrupted the more limited options that people pursued as recently as the end of the 20th Century.
Several recent studies in both the U.S. and the U.K. have brought to light the impact of these changes on consumers' out-of-home leisure activities, including visits to restaurants and entertainment venues.
One of many recent studies is from the U.K. by Research Now, a market research firm. They examined the differences in behavior and attitudes of 16- to 21-year-olds (post-Millennials) compared to other generations.
What they found is that almost three-quarters (73%) of this age group prefer staying home to going out; they forgo regular nights out for nights in watching TV, streaming media and saving money for a big night out and special events.
However, their research found this trend is not limited to that young age group. It is also true for the general population - 69% have the same preference for staying home, with the preference declining with age to 45% for over age 65. For post-Millennials, going out is an event, so they stay in so they can save up to afford to go to the one-off big events or festivals.
Although this young age group may like to stay in, they are still socializing, but in a different way than previous generations. Over 40% consider their 'online' friends as important as 'real' friends (compared to 23% of the general population).
Another recent U.K. survey of 2,000 adults by Deliveroo, an on-demand meal delivery service, found that half of Brits would rather stay home than go out. Amazingly, they also found that one in three lie or make up bizarre excuses to avoid going out, as they do not want to own up to preferring the comfort of their couch to a pub or nightclub. Many don't want to offend their friends by saying "no" when asked to go out, so they say "yes" and later come up with excuses to cancel by claiming such things as looking after a sick pet to 'we're trying for a baby.' Reasons for staying home range from saving money, cutting down on drinking and the increased choices for home entertainment. And it isn't just restricted to older adults. The survey found that almost three-quarters (72%) of 18- to 24-year-olds say they often prefer to stay in than go out.
Dan Warne from Deliveroo said that instead of FOMO - fear of missing out - Brits are celebrating JOMO- the joy of missing out.
Another survey by The Guardian British newspaper found that 2/3s of Millennials said a night in was now preferable to a night out at a nightclub.
These trends are just as true in America as confirmed by research by Ypulse, a firm that specializes in research on Millennials. They found that almost three-quarters (72%) of Millennials would rather stay in on the weekends than go out at night. On a Saturday night, over half (52%) say they would rather watch Netflix and chill out at home than go out with others.

MaryLeigh Bliss, Trends Editor & Strategic Consultant at Ypulse, said, "Though partying hard may have been a hallmark of youth for generations, Millennials are less intent on pushing boundaries than they are living in the Netflix-and-chill zone. This generation is redefining what a good night looks like—and more than ever it's more about food and couch time than going out on the town."
Ypulse found that for Millennials binge watching as a group now counts as a very good night.
Millennials are watching their wallets and looking for ways to spend less. They are also watching their spending on frequent nights out to save for some bigger and better special experience.
"They're the greatest generation of couch potatoes," is how the New York Post described Millennials in an article last year.
And when adult Millennials do go out, Ypulse found 55% usually go out to eat good food at a restaurant compared to 25% who go out to drink alcohol.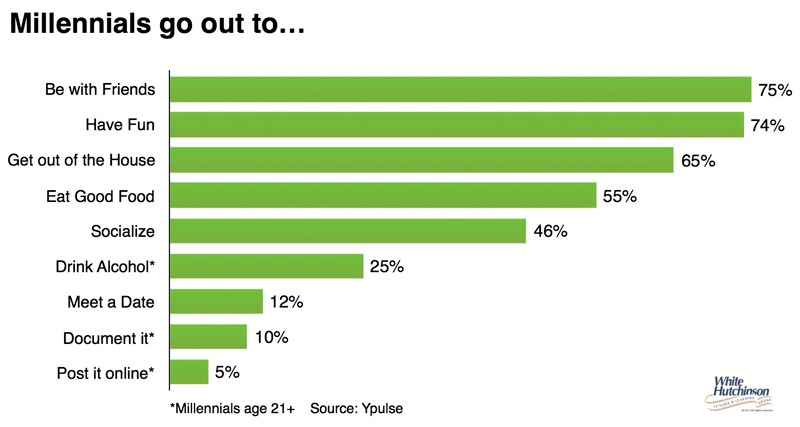 78% prefer to go out to a restaurant more than anywhere else. Ypulse found that Millennials largely favor more relaxed and group-oriented settings during a night out.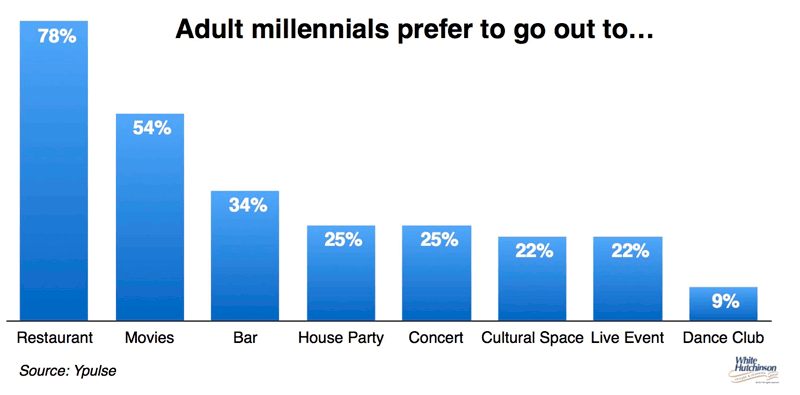 A survey by wine app Vivino found a similar stay-at-home trend when it came to drinking. Almost half of Millennials and 61% of GenX and Boomers would rather drink wine at home than at social gatherings, restaurants or wineries. Only 3% named bars as their favorite place to drink wine.
Countless studies show young adults are no longer opting to go to nightclubs anymore when contemplating the value of a night out. Those who go to nightclubs say they mostly go for special occasions, like bachelor/bachelorette parties, viewing a specific DJ, attending a celebrity event, or going out to explore party capitals like NYC and Las Vegas.
Today compared to the past, people are venturing out less often from their homes. This trend is partly attributable to social media. It is now becoming the norm to be more engaged with people on the many online communities, what could be called digital togetherness, than with people in the physical world.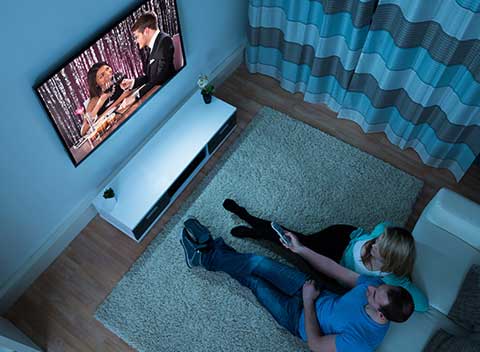 Futurist Faith Popcorn says there is now a new lifestyle trend of people Bunkering, seeking safety and escape from reality by retreating to the seclusion of their homes, a more intensive staying at home trend than the cocooning trend she previously identified.
The New York Times recently ran a story titled, Is Staying In the New Going Out?Last year there was a blog on the Huffington Post, Staying in Is the New Going Out: Forget FOMO. Another acronym has emerged, JOSH, the joy of staying home. Welcome to Generation Homebody.
People still go out, but just not as often. And when they do go out for entertainment, it's more and more for one-off special events rather then some regular habit.
Our company's research on consumer leisure time, spending and participation on out-of-home entertainment clearly confirms this stay-at-home cultural trend. Participation, time and spending at entertainment venues is down, but spending is up per occasion, indicating a trend towards more premium and more expensive experiences, what are know has High Fidelity experiences.
Implications for community leisure venues
All this research clearly points to a major entertainment cultural shift that community leisure venues (CLVs), including what are broadly known as family entertainment centers* (FECs), need to take serious note of if they want to be successful in the coming years:
* Our company really hates the common usage of the term "family entertainment center" (FEC) for all the many different types of CLVs and for the industry as a whole. Many venues are for adults or for children; they are not for "families". That's why we have adopted use of the term community leisure venues to describe the much boarder category of venue types rather than the misleading FEC.
Vol. XVII, No. 2, February 2017
---
---