---
Editor's corner
This month we have a rather diverse collection of articles covering many facets of developing and operating location-based entertainment-oriented projects. Many of the articles discuss societal and culture changes that are impacting the industry. We live in a time when changes can sneak up on us faster than in the past. That is why our company spends so much time researching trends, many still nascent that are and will continue to affect the entertainment venue industry. We share our research findings that are not proprietary to our clients and the projects we work on with you in our Leisure eNewsletter, my blog and my Twitter tweets.
Our international projects in Vietnam, Egypt and India are progressing. And just to keep things exciting, in Cairo, Egypt where our Club Liko project is located, in addition to the ongoing political revolution there, it snowed the other day for the first time in 112 years, what the Washington Post described as a Biblical snowstorm. And as you can see, they don't have any snowplows there.
In the U.S. we are continuing with our design work for the Gold LEED-certified upscale bowling, laser tag and 4-star restaurant social-tainment project in the Puget Sound region of Washington State.
One of our newest projects is development of an expansion master plan for Tuttle Orchards, a successful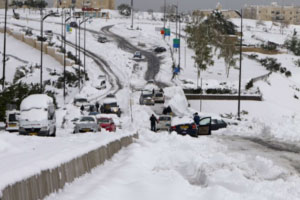 farm store, u-pick orchard and agritainment facility located in eastern Indianapolis metro area. The 80+-year-old agritainment operation is where Roy Tuttle developed and patented the Stark Supreme Staymen Winesap apple. Today the majority of Winesap apples grown in the US are Tuttle's patented strain.
And speaking of our agritainment-agritourism work, I will be presenting at the NAFDMA (North American Farmer's Direct Marketing Association) annual convention called Making Hay in the Heartland January 1 - February 5.
I am also pleased to have been awarded a CRX (Certified Retail Property Executive) certification from the ICSC (International Council of Shopping Centers). ICSC awards the CRX credential to certify that industry professionals have mastered a comprehensive body of retailing and retail property knowledge related to the performance, profitability and executive leadership of industry organizations. Many of our readers may not be aware I started in the shopping center industry as a developer and that our company continues to work extensively with shopping centers and malls on master planning and how to integrate entertainment into their projects to maximize the center's appeal to its target market and its footfall.
So to close, I hope you have a wonderful and joyous holiday season.

---