---
Raising the bar on grilled cheese sandwiches
Not many people grow out of their love for grilled cheese sandwiches. They just add more complex ingredients to the comfort staple.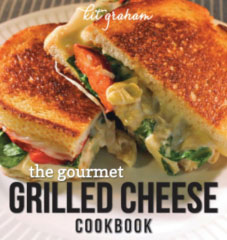 Kit Graham's new book, The Gourmet Grilled Cheese Cookbook, is a creative exploration of America's favorite comfort food and a great way for any foodservice operation to raise the bar on this classic staple. Kit's book includes 20 recipes for grilled cheese that transform the humble sandwich into a gourmet meal. Each recipe is beautifully photographed and has easy to follow step-by-step instructions. Recipes for Vegetarian, Meat, and Seafood grilled cheeses featured in The Gourmet Grilled Cheese Cookbook include: The Jalapeño Popper Grilled Cheese, which turns the popular appetizer into a spicy sandwich with a creamy blend of melted cheeses. The Hanna is a sweet and savory grilled cheese with prosciutto, Gorgonzola, mozzarella, and honey roasted walnuts. The Lobster Grilled Cheese is made with butter and white wine poached lobster that is drown in a cheese sauce and then grilled to perfection.
Author Kit Graham writes the popular food site theKittchen.com, which has been named one of Refinery 29's top 9 food blogs to watch, and has been featured on Eater, The Urbaness, CheekyChicago, Career Girl Network, One Woman Shop, Break Thru Radio, and The Frisky.
---