Vol. XII, No. 7, October-November 2012
---
---
Resource for global cuisine and street food recipes
Today throughout America and other countries, global cuisine and street food is growing in popularity.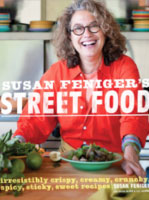 Hear the words "street food" and most of us think of food trucks, fusion taco waffles, and San Francisco, CA. But for Susan Feniger, eating street food is the quintessential cultural dining experience. Susan has continually found inspiration for her renowned cooking from food she has sampled around the world. Susan originally made her name as one of the original Food Network stars, appearing on Top Chef Masters and cooking Latin American dishes at the venerable Border Grill, but these days she is taking on a world of global roadside fare at herrestaurant STREET.
Suzan features 83 of her restaurant's most popular dishes in her new cookbook, Susan Feniger's Street Food. The book covers quite an array of cuisine types, recipes rooted everywhere from Malaysia and Vietnam to Scandinavia and Eastern Europe. The book is bright, eclectic, and full of international cooking techniques and can be a departure point for introducing street food to your menu.
Vol. XII, No. 7, October-November 2012
---
---