Vol. XI, No. 2, February-March 2011
---
---
Editor's corner
It's been an interesting two months for us since our last eNewsletter.
We've become involved in evaluating a number of indoor sport centers that are losing money or experiencing marginal performance. There are apparently a large number of troubled multisport and recreation centers scattered across the U.S. Among the root causes are that some failed to have professional feasibility studies, most are overbuilt in size, some have poor management and some did not properly structure their financing. Two of the centers we have consulted on had four-acres of indoor space; yes, you read that right, four-acres!
Our evaluations have looked at the feasibility of capturing part of the space to add family entertainment type attractions, upgraded food and beverage and birthday party and group areas. The economics of entertainment is far better than sports. By carefully selecting the compatible target market that works for both the entertainment and sports, there can be great synergies and increases in the center's profitability.
Our work on the ladies' club and children's edutainment center in the new city of 6th of October just east of Cairo, Egypt continues. Life has returned to somewhat normal in Egypt, and other than a nighttime curfew, business is basically back to normal. The project now has a name, Club Liko. Liko in Arabic means 'you,' so the project's name as a combination of English and Arabic translates to 'Club You.'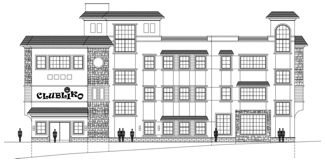 Club Liko is perhaps the most challenging project we have ever designed. The entire center is a little over 23,000 square feet in size. The zoning regulations only allowed the ground floor to be 6,400 square feet, so the center will have three floors, a garage/basement area and a roof top party area. To allow adequate space for children's play on the ground floor, we split the restaurant's kitchen in two parts, half on the ground floor and half in the basement. There will be two indoor restaurant seating areas, one on the ground floor and one on the 1st floor (called 2nd floor in America). There will be a dual dumbwaiter system to move food and dirty dishes between the kitchen areas, the upper level restaurant seating area and the large party/group meeting room on the 2nd floor (3rd floor in American). There are two outdoor patio seating areas, one that will overlook the children's naturalized adventure playground. The roof will have an indoor party area and large outdoor terrace with great views. Of course, there will be a large variety of children's hands-on and interactive play activities and children's enrichment workshops. We'll tell you more about Club Liko in upcoming eNewsletters.
We have a number of great stories and news items for you in this eNewsletter. Enjoy!
Randy White, Editor
Vol. XI, No. 2, February-March 2011
---
---