Vol. XI, No. 3, April-June 2011
---
---
Editor's corner – National Restaurant Association Show experience
Everyone in the location-based entertainment (LBE) industry knows about the big IAAPA trade show held each November in Orlando, Florida. Unfortunately, few LBE developers and operators know about or attend the big National Restaurant Association Show held each year in Chicago. It's unfortunate, as food has become such an essential part of creating compelling and repeatable entertainment venues. The NRA Show is where you can really learn about food.
I just returned from 4 days at the NRA Show. It's really big and takes about 4 days to properly cover, allowing for time for your feet to rest. This year's attendance was 58,000. The trade show had 1,900 exhibitors covering 515,000-square-feet. It is the world's largest smorgasbord, as all the food and drink suppliers offer samples. The problem is that with all the sweet samples, it's hard to keep a balanced diet as you munch your way down the aisles with all the dessert samples.
I didn't attend in 2010, but did in 2009. Here's my unscientific observation of nascent and new more mainstream trends based on the exhibitors I saw this year versus in 2009:
Tea is hot. More than 50 companies were offering tea and tea-making equipment, mostly ice tea
Recycling
Organic and natural foods
Gluten-free foods
Flat bread
Bamboo serving ware
Asian
Frozen yogurt in non-traditional flavors
Using social media – Google, Groupon and LivingSocial all had major booths as well as many other social media companies
Food trucks – there was a whole area with different food truck offerings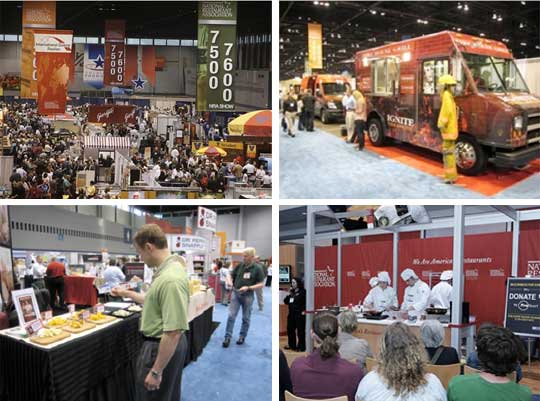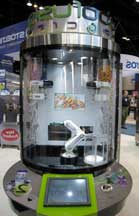 Here's some interesting new products I found:
ServiceLight – a tabletop device that lets customers let servers know they are ready to order, need a refill or are ready to pay the check.
Now there's two vending-type ice cream machines that let customers customize their selection – RoboFusion and MooBella
How about a vending hair styler for women's restrooms by Beauty Brigade
Misting fans for the outdoors to cool the temperature by Joape
Palazzolo's offers artisan gelato and sorbetto in ready-to-serve containers for the display gelato freezer with a 6-month shelf life
Straws that flavor white milk to become chocolate, cookies & cream, strawberry or strawberry-banana milk that is low calorie and sugar/gluten-free by Magic Straws.
Randy White, Editor
Vol. XI, No. 3, April-June 2011
---
---