Vol. VII, No. 4, July-August 2007
---
---
Kids dining out is not child's play
The significance of the market
Families with children spend a significant amount of money dining out. In fact, families with children living at home accounted for 42% of all food away-from-home expenditures in 2005. Research by Simmons, An Experian Company, a market research firm, found that 21% of restaurant diners are people eating with children under the age of 12, and another 12% eat with children age 12-17. Married couples with the oldest child 6 or older spend more per year on food away-from-home than any other category of households. In 2005, they spent 57% more than the average household. The following chart shows the index of spending by types of households (an index of 100 is the average, an index of 68 means 68% of average, an index of 157 means 157% of average).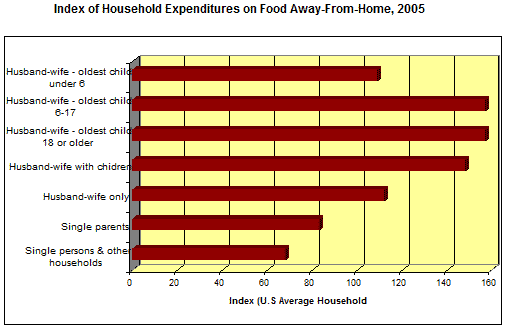 Who makes the decision?
Families with children are so significant to the dining-out market that it is important to understand who makes the decision on where to dine. Most food service marketing mavens agreed that kids have a strong influence on the dining dollars and where the family will eat.
Research by Crest/NPD Foodworld found that 70% of family meal decisions are heavily influenced by kids under 18. The New American Diner Study by Restaurants & Institutions found that children 5 or younger are most likely to frequently influence restaurant visits, while children 6 to 18 are more likely to have occasional influence. The study found that children 18 or younger influence their households' restaurant choices:
frequently, 23%
occasionally, 50%
rarely, 18%
never, less than 10%
Women, Gen-Xers, Asian-American, and Midwestern diners most often say children frequently influence which restaurants they visit, according to the study.
Data from San Diego-based Claritas' PRIZM NE Restaurant Audit Profiles shows that socio-economics and lifestyles have an impact on when kids are most likely to influence restaurant choice. Research shows children in wealthy and upscale married-couple families living in suburban and small satellite cities are most likely to have the greatest influence.
Christie Nordhielm, clinical associate professor of marketing at the University of Michigan's Stephen M. Ross School of Business, says that children's impact on which restaurant to visit may be determined by the nature of the occasion. She says, "The child is a stronger influencer if there's guilt happening, or if it's an event," such as a family deciding to go out to dinner, versus just stopping to grab something fast to eat. She explains that guilt can be related to the parents not spending enough time with their children or not cooking at home. She goes on to say, "I think guilt is a big factor. Certainly kids are going to be greater and greater influencers the more time-constrained the parents are."
What appeals to parents?
When it comes to a parent's part of the decision-making equation on where to dine, there are multiple considerations that come into play. According to Technomics research, time constraints, lower-priced meals and entertainment options play a role. Convenient and child-friendly are other key considerations. Nordhielm says, "When you talk about kid-friendly restaurants, it's not about children, it's about parents." She says parents naturally gravitate to places that keep their kids happy and quiet.
Technomics research found that nearly 80% of parents cite the existence of a children's menu as an important factor in choosing a limited-service restaurant. For parents with children 3 to 8 years old, this figure approached 90%.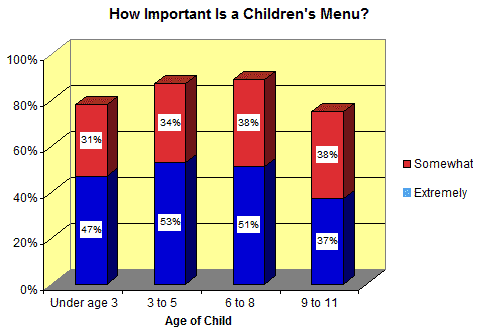 Angel Morales, a child and family marketing expert, says that a kids menu alone doesn't guarantee repeat visits. "Parents look at the overall appearance of the restaurant, how clean it is, location and parking, and most importantly, the friendliness and overall appearance of the staff." In fact, research by NPD/Crest found that family atmosphere is very important to Hispanic diners. When parents were asked, "What would make you more likely to visit any restaurant?," 28% of Hispanics rated 'makes children feel welcome' important compared with only 10% of non-Hispanic parents.
Parents are also interested in things that strengthen the family bond. Research by Reach Advisors, a marketing strategy company, shows that parents are less likely to make decisions 100% for their children or for themselves, but more willing to spend money on family-focused experiences, which can include restaurant visits.
Koala Bear Kare, a supplier of restroom diaper changing tables and high chairs, conducted an independent national survey of 350 parents with children younger than 6 to measure parental levels of patronage and loyalty toward family businesses. The research found that parents are more loyal, visit more often and spend more money at establishments that provide child-related amenities. Specific findings included that 75% of parents deliberately seek out places that have child amenities. Nearly 66% mentioned booster seats, high chairs and baby changing stations as amenities they seek out. In fact, the study found that high chairs, booster seats and baby changing stations are equal in importance to children's meals and second only in importance to having a child-friendly staff.
Nutrition and education also are becoming important considerations in parents' restaurant choices. Parents are often looking for children's menu options that include healthy choices. Many fast food restaurants have moved in this direction by offering milk as a replacement for sodas and fruits or vegetables as an alternative for French fries. Panera Bread now offers Panera Kids, a natural child menu option. All their sandwiches feature a brilliant white whole-grain bread, since children don't tend to like darker whole-grain breads. Their PB&J sandwich features all-natural peanut butter. Both the kids' grilled cheese and deli sandwiches feature organic American cheese. And each sandwich comes with squeezable organic yogurt and a drink choice of organic milk, soy milk, reduced-fat chocolate milk or organic apple juice. Panera Bread was awarded Restaurant Hospitality magazine's Best Kids Menu 2007 in the fast casual restaurant category.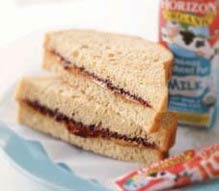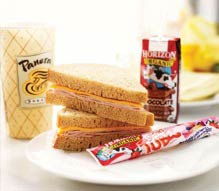 Panera Bread is not the only food purveyor recognizing parents' health concerns for their children and offering healthy options for children's meals. Last fall, Walt Disney Co.'s domestic park and resort group made changes to all kids' menus. They replaced French fries with unsweetened applesauce, fresh fruit or baby carrots; sodas with low-fat milk, juice or water. Many other restaurants are jumping on the healthy kids' meal bandwagon.
Up to one in 13 young children have a food allergy. Some foods can cause a life-threatening allergic reaction (anaphylaxis) that can constrict airways in the lungs, severely lower blood pressure and cause suffocation when the tongue or throat swells. Anaphylaxis causes 30,000 emergency room visits and the death of an estimated 150 Americans each year.
The most common food allergies for children are milk, eggs and peanuts. About 85% of children outgrow their milk allergy by age 5.
Any parent with a child with food allergies is very concerned about preventing their children from eating the wrong foods. Parents with allergic children appreciate restaurants that make information available on all the food ingredients and have informed staff. Restaurants such as P.F. Chang's China Bistro put staff members through special training on food allergies and are taught to answer questions on ingredients.
Of course, children are not the only ones with food allergies. About 2% of adults also have allergies. The most common ones are shellfish, peanuts, tree nuts, sesame seeds, fish and eggs.
Anne Furlong, CEO of The Food Allergy & Anaphylaxis Network, says it's good business to cater to customers with food allergies. "This is a large population. For every one individual that has the allergy, the entire family avoids it," she says. "What they tend to do is become very loyal to a restaurant they know and trust. And they will bring their business and ask friends and family to eat at that restaurant with them."
Parents today also appreciate restaurants that aren't just giving away toys with children's meals, but offering educational toys that help their children learn.
Some of parents' concerns may account for Chuck E. Cheese's low rating for customer loyalty. The Restaurant Marketing Group, a research and consulting firm, conducts an annual Leaky Bucket Study. The firm's 2007 study surveyed 2,200 U.S. consumers ages 18 to 55 about their restaurant dining. Diners who are less than 50% certain they will be back are termed a chain's "leaky bucket." Of all the chains evaluated, Chuck E. Cheese's rated lowest with three-quarters of the adult customers "less than 50% sure they'll return". Interestingly, McDonald's had the least leaks, with 27%, followed by Subway, 27% (just slightly lower, percentages are rounded), Wendy's, 29%, and Panera Bread, 31%).
Being part of the pizza restaurant category may explain part of CEC's low percentage of loyalty with adults. Pizza chains have the most fickle customers. This is why pizza purveyors are constantly running price promotions, said Arjun Sen, president of the Restaurant Marketing Group. "Those in the pizza category have to hammer consumers every day with advertising, because consumers have a totally open mindset as to who they're going to order from."
That is probably one of the reasons Chuck E. Cheese's runs so many coupon promotions, including these coupons recently offered on the website: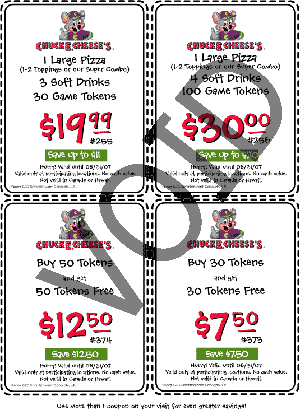 The survey, of course, did not include children. We have a sneaking feeling that children's loyalty to CEC would have been the total opposite of that of the adults -- that their bucket would not have leaked.
What appeals to kids?
quot;Most restaurants are not doing enough to attract kids, and they are missing out on thousands and thousands of dollars in sales," according to Joel Cohen of the Restaurant Marketing Group.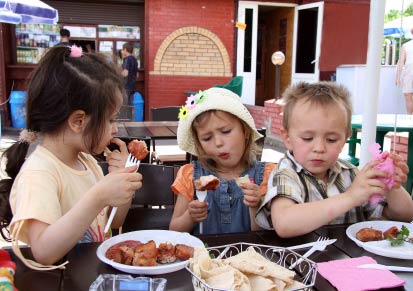 When families decide where to eat, the common scenario goes like this: Parents think about which restaurants are convenient and child-friendly; kids think about which are fun.
But exactly what does fun mean to children? A recent study by Just Kid Inc., a children's marketing firm, of 3,230 6- to 12-year-old kids and moms of 2- to 5-year-olds looked at what is fun when it comes to food - from a kid's point of view.
"Despite the critical correlation of fun to eating habits, little is known about what fun means to kids in the world of food and beverages," said Dr. Michelle Poris, a child psychologist at Just Kid Inc. She added, "While there are major age differences in what defines a fun attribute for food and beverages, there are several that are common across the three age groups of kids - 2-5, 6-8 and 9-12.
The study found that most children 2-12 agree on a number of key things that make food and drinks fun to consume. These include the ability to eat it with your fingers and the ability to 'dip or scoop it.' Adding things to a product, such as sprinkles, sauce, or toppings, was another important fun point for kids.
Most children said they liked foods with filling or frosting and ones with a fun shape or colors. Finally, kids said they liked to be able to take things with them.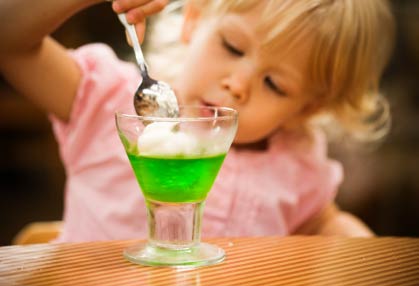 The study's findings suggest that while food service establishments are trying to keep parents happy by making their offerings healthier, they may be overlooking what really appeals to children. "The key to getting kids to eat more nutritious meals is to inject the same levels of taste and fun they experience when consuming less healthy snacks," said George Carey, president of
Just Kids Inc.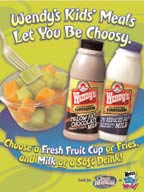 A number of fast food chains have been able to use the above children/fun principles and apply them to have kids choose healthier foods at their restaurants. The conventional wisdom has been that younger children prefer sodas and French fries. Well, the munchkins are proving that wrong in restaurants that have turned that wisdom on its head. Not that long ago, both McDonald's and Wendy's did away with those boring paper milk containers and replaced them with jazzy, colorful 8-ounce plastic bottles, sometimes called grab-and-go containers. The pint-size customers responded by producing the most dramatic sales increase of any non-discounted item in fast-food history. Milk sales at Wendy's increased 15-fold from 65,000 containers a week to over 1 million a week. At McDonald's, milk sales doubled.
Repackaged milk arrived about the same time McDonald's introduced Apple Dippers, slices of apples with a caramel dipping sauce, as an alternative for French fries in Happy Meals. McDonald's has now become the largest apple purchaser in the food service industry - 50,000 Gala apples a day. That's over 18 million apples a year. Wendy's has introduced sectioned Mandarin oranges as an alternative to French fries with kids' meals, and the chain is now selling 425,000 cups a week.
Research last year by Ypulse of children grades 3 through 5 found that the biggest factors influencing their choice of restaurant are good food, cited by 71%, and healthy food, 56%. And 60% claimed parental influence and peer pressure did not have much influence in their restaurant preferences, while 75% said they choose their own meals instead of what their parents recommended.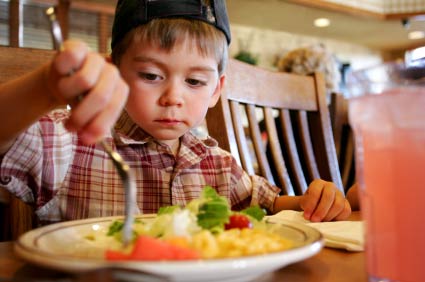 Another factor to consider when designing a menu to appeal to children is they aspire upward. They see themselves as grown up enough to order adult food, even though their portion is smaller. The Ypulse survey of children age 8 to 11 found that two-thirds preferred the choices on the adult menu to those on the kids' menu.
Mary-Ellen Callahan, youth marketing analyst for International Flavors & Fragrances (IFF), says this about kids' upward aspirational desires, "Kids today want to be older than they truly are. This trend is being labeled the Kids Growing Older Younger, or KGOY. In relation to flavor preferences, kids aspire to older-sounding flavors, but still it must be something that appeals to their palate. In general, flavors must taste good and be fun.
Red Lobster and other restaurants now go beyond the traditional five standard children's meals to provide children's menus that feature the same food choices their parents have. They offer children options not only for the main dish, but the side dishes, as well.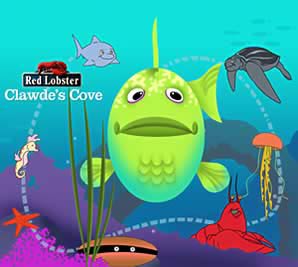 Restaurants also are responding to an increased sophistication in children's tastes. The standard choices of hamburger, chicken fingers, hot dogs, macaroni and cheese or pizza are becoming passé with some younger diners. "Young people today have increasingly sophisticated palates," Red Lobster executive chef Keith Keogh said about the chain's new Clawde's Cove kids' menu. The young diners at Red Lobster now get a free appetizer of applesauce or carrot sticks and cucumbers with ranch dipping sauce. The new entrees include snow crab legs, grilled mahi-mahi and grilled chicken, all with steamed vegetables (a parent-pleasing nutritional plus). However, Red Lobster has not deleted traditional children's favorites like fried popcorn shrimp, breaded chicken tenders and macaroni and cheese. Keogh says it makes good sense to mix the familiar with the trendy. "It gives children a chance to self-select food just like adults do, choosing what they crave at that particular meal."
Roy's Restaurants based in Tampa, Florida, caters to more gastronomically adventurous children with a menu at many of their locations that includes sushi, teriyaki-grilled salmon and steamed vegetables, braised short ribs and penne with cheese butter sauce. At the downtown New York City location, the $12 kids meal starts with a choice of crudités or a grilled cheese quesadilla, followed by a choice of five entrées, with a sundae for dessert.
Chili's has a children's Pepper Pals menu in its 900 restaurants, which allows kids to select from 11 entrees, seven side vegetables and eight drinks. This gives children a chance to feel a bit more grown up by making their own meal choices and customizing them. "With the abundant entree, side item and beverage options, there are hundreds of different ways to order a kids' meal at Chili's," said Wilson Craft, president of Chili's.
Denny's has rolled out a new children's D-Zone menu with an outer space theme that includes moon- and star-shaped chicken nuggets and pancakes that look like aliens. In addition to its appeal to kids, the menu was designed to get parental approval by including healthy additions such applesauce, fruit medleys, and baked snack crackers. Peter Gibbons, vice president of product development at Denny's, says. "Encouraging fun, family interaction and providing children with nutritional food options have always been top priorities for us."
When it comes to beverages, Mary-Ellen Callahan says, "Blended flavors and fantasy offer kids a more sophisticated flavor experience."
Kids also crave zero-proof (non-alcoholic) versions of beverage drinks their parents enjoy in the form of what is known as mocktails or kiddie cocktails (but don't market it as "kiddie" to children, or it will be a flop). Making kiddie cocktails even fruitier can add to their appeal.
Sometimes it's hard to predict what kids will prefer. Ann Marie Krautheim, M.A., R.D., senior vice president, nutrition affairs, National Dairy Council, says, "Intuitively, you'd think that the sweeter the product is, the more children would like it. We've found through our research that amongst elementary school age children, sweeter does not necessarily mean that children like it better. There has actually been some lower-sugar flavored milk that kids preferred to the high-sugar comparisons."
We know kids will drink more milk if it's flavored," says Gail Barnes, vice president of business development, fluid innovation, Dairy Management Inc. "A survey of kids 8 to13, for example, has shown that 39% would drink more milk if it was chocolate. Forty-five percent agreed they would drink more milk if more flavors were offered."
When it comes to juice, it is important to know the target age group. Children younger than 6 prefer basic, low-flavor, sweet beverages, according to Bill Haddad, vice president, technical services, American Fruit Processors, Pacoima, California. For ages 6-12, he suggests flavors with more character and variety, marketed with cool names and graphics. "We would need to create beverages that are more trendy. Blends do better in this age group than single-fruit type flavors," he says.
Choice has great appeal to children, as it empowers them. The 520-unit Friendly's restaurant chain recently surveyed 500 children to help upgrade the 10-year-old children's menu. The children's panel played a major role in the company's decision to segment the children's menu into 'I'm hungry' and 'I'm really hungry' offerings. Nancy Polak, marketing manager of Friendly's, said, "We made the distinction that on some days kids can say, 'I'm not all that hungry' … and sometimes they might be coming off the soccer field and they are starving. We wanted to give the child the chance to decide where their appetite was, and parents like that." She also says parents like the idea of having two different price points. A redesigned My Friendly/My Meals/Kid Menu and the different portion options led to a 7% increase in Friendly's kids' menu sales. Friendly's won Restaurant Hospitality magazine's Best Kids Menu 2007 for the family restaurant category.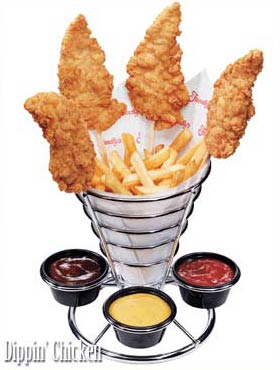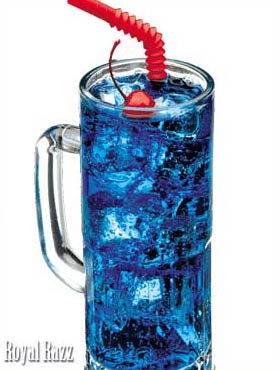 Friendly's Dippin Chicken and Royal Razz are featured on their new kids menu.

Fun foods are also a way to appeal to kids. Some of the IHOP restaurant chain's popular kids' menu items include Funny Face Pancakes - chocolate chip pancakes topped with a whipped cream smiley face- and Pigs in Blankets -two pork sausage links rolled in buttermilk pancakes and served with hash browns.
Angel Morales, a child and family marketing expert, points out that besides food offerings, there are other opportunities to appeal to kids. The easiest is to treat kids as little adult customers. "Talk to them directly, ask them questions directly. Children have their own points of view and they notice those things."
Adding entertainment
When it comes to fun, nothing can ante up the equation as much for both children and parents as adding entertainment. Entertainment can come in many forms. It can be more passive, such as at the Rain Forest Café or T-Rex. It can be a show, such as at Medieval Times, what you might call a family dinner theater. It can be slightly interactive, like Fritz's Railroad Restaurant in Kansas City, Missouri, where food is delivered by a miniature train. It can include children's play, such as McDonald's PlayPlaces and the play areas in other fast-food restaurants.
When the entertainment is participatory and represents 40% or more of the revenue, you have what is called 'eatertainment.' It's sometimes referred to as 'restaurant-entertainment,' a hybrid category that doesn't totally belong to either the restaurant or the location-based entertainment industries.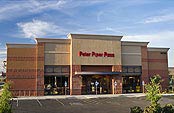 Some forms of eatertainment have for decades attracted families with children. The oldest category of family eatertainment is pizza and games, which dates back at least to 1973, when the first Peter Piper Pizza restaurant opened with token-operated games and pizza. The chain has now grown to over 140 units. Then in May 1977, Nolan Bushnell ratcheted up the entertainment and created Chuck E. Cheese's Pizza Time Theatre that combined kiddie rides, redemption games, a robotic animatronic show and pizza. Later, Chuck E. Cheese's Pizza Time Theatre merged with Showbiz Pizza Place (its direct competitor) and became just Chuck E. Cheese's, now with more than 520 units. Other pizza and games chains include Eatza Pizza and Shakey's Pizza Parlor, which has launched a new Shakey's Pizza & Grill concept.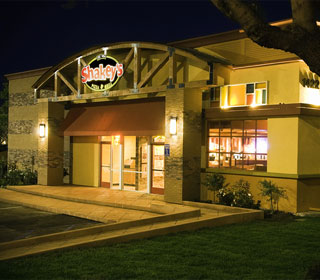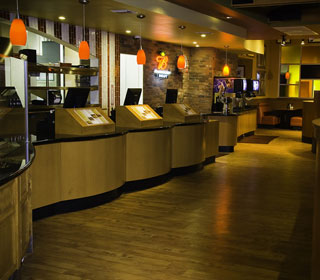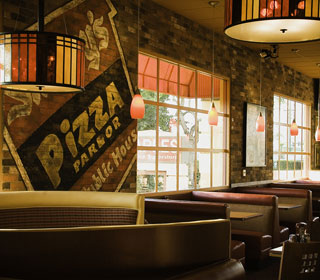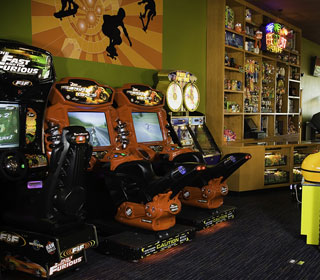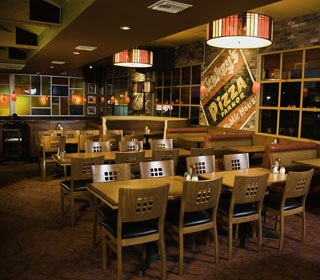 The new Skakey's Pizza & Grill concept
In recent years, a new form of family eatertainment has emerged and is growing rapidly. Known as pizza buffet/family entertainment centers or family buffet/entertainment centers (FBEC), this concept greatly expands the menu selection beyond pizza and games to offer a one price, all-you-can-eat buffet with a wide selection of salads, pastas, pizzas, soups, desserts and drinks to eat in four or more differently themed dining rooms. The entertainment selection is also expanded to include not just coin-operated games, but many other forms of family entertainment such as bumper cars, rides, bowling, miniature golf, rock climbing and go-karts. FBECs are much larger than pizza-and-games restaurants, which max out at about 12,000 square feet. Some FBECs approach 700 seats and 80,000 square feet.
The appeal of FBECs is not only the food and entertainment selections, but also how child-friendly they are. There is no waiting to order or for the delivery of food. Children are empowered to pick their own selections, just like the adults. FBECs have great appeal to time-constrained parents: in the time it takes to dine in many restaurants, you can both dine at a reasonable price and get some family entertainment in, as well. For quilt-ridden parents, it is the perfect solution for a fun family experience together.
As any industry grows, niche players emerge. With eatertainment, the latest niche concept in the family arena is the stay-at-home moms' play café, more politically correctly called at-home moms' play cafés, as they not only attract stay-at-home mothers with preschool children, but mothers who work out of their homes or work part time and have preschool children. Play cafés target mothers during the week. The better ones offer an upscale coffeehouse-café setting for mothers and play for their children. Playcafés are different than what are called open-play or pay-for-play centers, as playcafés are a dining destination as much as a children's play destination. Although many open-play and pay-for-play centers offer some food and beverage options, those sales are not as significant, and the facilties are not thought of as a dining destination. (For more on play cafes and children's centers, see our last issue's story, Is history repeating itself? Location-based children's centers.)
The White Hutchinson Leisure & Learning Group is very active with the design and development of both family buffet-entertainment centers and at-home moms' play cafés, and has been introducing many innovations to the industry. We designed and produced the first upscale New Luxury FBEC, StoneFire Pizza Co., in Milwaukee, Wisconsin. We are currently working on the feasibility and design of four additional pizza buffet-entertainment centers, including the second StoneFire Pizza Co. and one in the Middle East. The Nibbles' Play Café is about to begin construction in the greater Chicago area, and we are working with four other clients on site selection, feasibility and design of play cafés.
Vol. VII, No. 4, July-August 2007
---
---