StoneFire Pizza Co. New Berlin, Wisconsin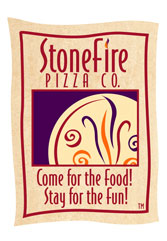 StoneFire Pizza Co., a family pizza buffet-entertainment center, opened November 10, 2006 in New Berlin, Wisconsin, a Milwaukee suburb.
The 37,000 square foot center seats 460 people in four differently themed dining rooms in its all-you-can eat buffet area:
Northern Woods, a quiet dining room
The Fan Club, sports-themed with nine television screens showing ESPN sports
Toon City showing children's cartoons
Discovery Play, a dining room with children's pretend play activities
Additionally, there are eight private birthday rooms. Including the party rooms, there is total seating for over 620 people. The family entertainment area occupies half of the center and features bumper cars, a Bouldering wall, a three-level interactive foam ball play Ballocity unit, four lanes of mini-bowling, a children's Frog Hopper ride, 90 redemption and ride-simulator games and a redemption prize store.
The all-you-can-eat buffet features an extensive selection of foods, including a salad bar, soups, 16 different pizza selections, Asian and Italian foods, a children's buffet area, desserts and an extensive selection of drinks.
Randy White, CEO of the White Hutchinson Leisure & Learning Group, designers and producers of the project, said, "StoneFire Pizza Co. includes a number in innovations for this fast evolving form of eatertainment (restaurant-entertainment) facility. StoneFire Pizza Co. is the first family pizza buffet-entertainment center to include an Asian wok station, a specialty coffee station and to cook pizzas in a gas-fired, stone hearth style Wood Stone pizza oven. The Wood Stone oven is the largest double-sided oven the Wood Stone company has ever produced, weighs 5 tons and can produce over 200 pizzas an hour."
"As part of our overall brand imaging of the business, we not only designed the facility, but also developed the name, the logo and the costumed mascot, Mel T. Designing a facility like StoneFire Pizza Co. requires a totally coordinated effort to assure a consistent brand image. It's really all about developing a brand, not just designing a facility. The brand not only includes the exterior and interior building design (known as the trade dress), but a logo that coordinates with the trade dress and conveys the look and feel of the business. The overall branded design along with the upscale buffet features where developed to position StoneFire Pizza Co. as a new luxury offering to attract its targeted white-collar market."
"The Discovery Play Dining Room is also a first for the industry with play areas designed specially for children eight years and younger with its train table, watertable, do-it-yourself face painting, pretend pizza restaurant, block play and soft-modular-play structure. The Discovery Play Dining Room offers parents with younger children the opportunity to dine and socialize without concern that their children will become bored and restless. It also offers a great respite for at-home moms to meet during weekdays, normally a slow daypart for family pizza buffet-entertainment centers. We developed the Discovery Play Dining Room based upon our extensive experience with designing children's edutainment centers."
StoneFire Pizza Co. is located at the intersection of interstate I-43 and Moorland Road adjoining the 20-screen Marcus Ridge Cinema on a 10-acre site, of which half is a dedicated wetland. The center operates seven days a week, from 9 to 10 Monday-Thursday, 9 to 11 on Fridays, 11:30 to 11 on Saturdays and 11:30 to 9 on Sundays. Website: www.stonefirepizzaco.com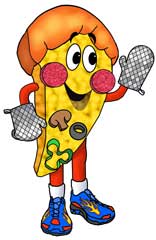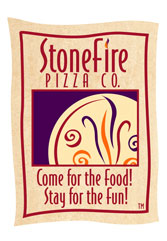 Mel. T mascot character developed by White Hutchinson for the StoneFire Pizza, Co.
StoneFire Pizza Co., Kenosha, Wisconsin
We have completed full architectural, interior, kitchen and site design for the 2nd StoneFire Pizza Co. facility to be located in Kenosha, Wisconsin that is currently under construction. We are now working on procurement of all furniture and equipment. This upscale family pizza buffet-entertainment center will be located in a 54,000 square foot building with five dining rooms with seating for 740 guests, dedicated birthday party rooms, seven major indoor attractions and outdoor attractions including miniature golf and a discovery play garden. Opening late 2008/early 2009.