Vol. VII, No. 3, May-June 2007
---
---
Is history repeating itself? Location-based children's centers
It wasn't all that long ago that we saw the pay-for-play center bubble burst. Back in 1989, Ron Matsch and Al Fong, with backgrounds in physical fitness, opened Discovery Zone (DZ) in Kansas City, Missouri: the first children's pay-for-play entertainment centers anchored by soft-contained-play (SCP) units. The original DZs were around 9,000 to 11,000 square feet and later grew to as large as 18,000 square feet. McDonald's soon entered the scene with Leaps 'N' Bounds, legitimizing the industry with its better-executed concept.
On the verge of bankruptcy after a few years, DZ was acquired by a group of moneyed investors associated with Waste Management, and it was soon merged into Blockbuster. Blockbuster then bought the Leaps 'N' Bounds chain from McDonald's to eliminate its main competitor, converted them to DZs and expanded worldwide to a chain of more than 300 centers. Simultaneously, there was a rapid emergence of many wannabe and small chain knock-offs throughout the U.S. and Canada. Entrepreneurs were excited by the belief that total development cost would be $500,000 or less. Low start-up cost seems to bring entrepreneurs out of the woodwork. Some of those entrepreneurs succeeded in developing centers and keep them in operation for several years. At the height of what became known as the pay-for-play industry, there might have been as many as 500 units. Unfortunately, the concept of a pay-for-play center with a large SCP unit as an anchor, some games, a snack bar and party rooms didn't have legs (read Is soft contained play dead? to learn why).
What many entrepreneurs who where the DZ and Leaps 'N' Bounds wannabes failed to realize was that affordability to open a center does not equate to business success. Yes, when the cost is in the $500,000 range, it makes it possible for many people to secure the financing to open. Unfortunately, the zeal to open their own businesses often blinds entrepreneurs to the realities of what really works business-wise. Or to put it another way, the ability to open a business does not mean the business will stay open long term.
In March 1996, DZ filed for Chapter XI bankruptcy and was purchased by a new owner for about 10 cents on the dollar. A number of the stores were closed. The new owner retrofitted the remaining centers with laser tag, an art studio, a toddler play area and made other upgrades, including introducing branded food to the snack stand. But the new formula still didn't work.
DZ filed bankruptcy in 1999 for the second time, this time Chapter X. The company was liquidated and all stores were closed. A few entrepreneurs purchased some of the locations, tried different formulas, including adding rides, but to the best of our knowledge, none are still operating. Chuck E. Cheese's purchased approximately 15 of DZ's locations for conversion to its concept. DZ, the knock-off operators and the SCP pay-for-play industry basically became history. Maybe 1% of the DZ knock-offs survived long term. A completely different concept, known as children's edutainment or discovery play centers, emerged in the mid-1990s and continues to prosper.
So here we are some 18 years after SCP centers emerged and 8 years after DZ's final demise, and what is happening? Entrepreneurs attracted to the cost of $500,000 or less to open a center are coming out of the woodwork again. This time all the excitement has been brought on by what we have identified as six basic concepts of small children's centers:
Dedicated birthday party centers, such as the franchised Pump It Up, Bounce U, The Play Factory, Oogles n Googles, Little Scoops and Monkey Joe's chainsand the licensed Heroes The Party Experience concept.
Facilities focused on preschool children's movement and developmental gymnastic classes, including what are called mommy-and-me sessions. There are a large number of franchised operations, including Gymboree Play & Music, Rolly Pollies, J.W. Tumbles, The Little Gym, Jump' n Play Gym, Gym Rompers, and My Gym, as well as many independent centers.
Centers focused on tutoring and advancing children academically. These include the franchises such as FasTracKids, Mathnasium, The Tutoring Club, Huntington Learning Centers, LearningRX, JEI Self Learning Centers and CompuChild.
Children's enrichment classes for everything from art to music to cooking. There are a large number of franchises popping up focused on this enrichment angle for young children. Examples include Abrakadoodle, Young Rembrandts, Kids 'n' Clay, Kidz Art, Viva The Chef, Young Chefs Academy, and Batter Up Kids.
Pay-for-play centersthat offer general admission all week long. Most of these centers rely on soft-contained-play equipment as their major play components. These centers offer birthday parties and usually offer some food, as well.
A new variety of centers often called open-play or at-home moms play cafés (stay-at-home moms is no longer a politically correct term, as many mothers at home have home businesses, work part time or job-share). These range in size from about 2,500 to 8,000 square feet and include a large variety of play components, often in an open room. Some have food. Usually they are closed to the general public on weekends, when they offer birthday parties. We have identified about 30 of this type of center throughout the U.S. As the most nascent category, these centers have not evolved into any consistent formula of offerings or design.
Not all the new centers clearly fall into these six center categories. Some are combinations, while others may be predominately one category, but also have elements of one or more other types.
No different than in the early 1990s, entrepreneurs are chasing after these many concepts, some proven and others unproven. (Our company's observation is that any new concept needs a minimum of a three-year proven track record to be considered a viable business model.) Some are purchasing franchises, and others are trying to develop their own concepts on a shoe-string budget. Centers are sprouting up across the country at a breath-taking pace.
Here's a more in-depth look at these concepts:
Dedicated birthday party centers
Since the early 1990s, commercial out-of-home birthday parties have been a big market. Some family and children's entertainment centers have held more than 100 parties a week. Mass produced birthday parties have always been a key component of Chuck E. Cheese's success.
What is different with these new dedicated birthday party facilities is that rather than offer parties as part of a primary entertainment destination, the facilities are designed predominately for parties and not for walk-in entertainment customers. Many of the facilities are located in low-rent, office-warehouse flex-type buildings, rather than in retail locations, and they generally operate only on Friday nights, Saturdays and Sundays when everyone wants to hold birthday parties. Some centers have open-play sessions during limited weekday hours or host private events to try to supplement their incomes. Most of the facilities rely on inflatables as a key play component, contributing to a low entry cost, which probably accounts for this industry segment's rapid growth.
We haven't studied these dedicated birthday party facilities in great depth. We know that success will depend a lot on the skill of the operators to pick good locations and offer a great party experience, especially for the birthday party child. Inflatables and other play equipment do not translate into a memorable birthday party experience. It's the people who facilitate the party who really make the difference. Being an entrepreneur does not necessarily translate into being a great party facilitator. With the market becoming crowded, and with a business model that depends on being open only about 20 hours a week, we have our doubts as to how many of these centers will prove to be truly profitable long term -- and not just a part-time job or hobby for their owners.
Movement and developmental gymnastic type centers
Years ago Gymboree proved there was a market for young children's movement classes and mommy-and-me sessions. However, the early business model did not rely on a dedicated business location. Rather, franchisees held classes in church basements and recreation centers, which made for very low overhead. Now Gymboree, Little Gym and the other franchises and independents are renting store space for the centers. To help cover the higher fixed overhead, they have broadened their offerings to include additional types of classes, including dance, Karate, cheerleading, children's yoga, art and sports skills. Some have incorporated baby signing into the class curriculums (young children can learn basic signing before they can learn to talk). All also offer birthday parties at limited times when classes are not being held. Some have a parents' night out, or what Gymboree calls a parents' survival night, where parents can drop off their children. If you haven't seen one of these facilities, click here to see a virtual tour of a Little Gym.
Tutoring and academic advancement centers
Some children have always required tutoring to help them with school. However, today's parents are increasingly concerned that their children succeed in school so they will be accepted by top colleges. Other parents, as part of the trend of our modern culture to pursue self-actualization, want to give their children every opportunity to achieve their full potential. This has lead to the increased demand for centers that tutor and help children advance academically, acquire other life skills and pursue interests, such as in children's enrichment centers described below.
Children's enrichment classes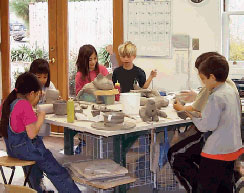 These centers generally focus on one type of activity, such as art or cooking, and are located in small stores. Their popularity has grown due to the cut-back in many school art and extracurricular programs and children's increasing interest in learning to cook. This interest is fueled by both the new food flavor profiles that children are experiencing in restaurants and the star status of many chefs, especially on the Food Network and other culinary TV shows that many children watch.
SCP pay-for-play centers
Some entrepreneurs are opening pay-for-play centers, many similar to the Discovery Zone and pay-for-play centers from the early 1990s, though typically smaller in size, less well-executed and minus the games. The ones we've seen have even less finishes than DZ had back in the 1990s. Some are little more than a painted warehouse space with a large SCP unit, maybe some toddler toys and a bunch of tables and chairs in the middle of the large open space, plus a snack bar.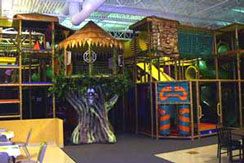 So what explains this phenomena, this groundswell of entrepreneurs who believe they are on the road to riches, especially the ones developing variations on pay-for-play centers? Unfortunately, history does tend to repeat itself. We call it 'industry amnesia' – failing to learn from the lessons of the past. These entrepreneurs are younger and were not part of the industry during the era of DZ's demise. Some of these entrepreneurs are former at-home mothers who experienced a need for a place for moms to visit with their children. They recognized a market, but executed a concept based upon their limited business experience, and perhaps the encouragement of a SCP supplier who saw a potential sale (there are actually some very ethical SCP suppliers who advise against such concepts). Like many things in the location-based entertainment industry that are counter-intuitive, what can seem logical to a novice is actually not what works, and in this case, add a strong dose of industry amnesia.
What has changed in the ensuing years that would suddenly make a proven flawed concept viable today? There has been a slight increase in the number of young children since the early 1990s, but the increase is only about 8%, not sizable enough to make that much difference in the economics. Several factors that are probably fueling young children's participation in enrichment classes, the movement/gymnastic type sessions and open-play and play café type centers are:
Recent brain research has substantiated the importance of a child's brain development in the first three years.
Mothers today are more educated, which affects their desire to see their children participate in enriching and educational type activities.
The emergence of what USA Today has labeled Alpha Moms - educated, tech-savvy, Type A moms with a common goal: mommy excellence. They are kid-centric and view motherhood as a job that can be mastered with diligent research.
However, these trends do not support the viability of SCP centers. Hopefully, not as many entrepreneurs will get burned this go-round compared to the large number who lost it all in the early 1990s.
Open-play centers and play cafés
What is interesting is that some of these market savvy former at-home moms have started new versions of facilities catering predominately during the weekday to at-home moms with their pre-grade school children rather than to the wider age range of children up to about eight years old that the SCP centers target. These more focused facilities have many different names including open-play centers, play cafés or playcafés, parent-and-child cafés, playspaces and family lifestyle clubs (a strange name that evolved in New York City, but then again, many things in New York City are strange unless, of course, you live there). They are appearing in various sizes with different combinations of offerings including large open areas with play and riding toys, sometimes some soft-contained-play equipment, a small inflatable ball pit, pretend areas, horizontal climbing walls, mommy-and-me type movement sessions, creative play sessions, multiple types of enrichment classes and party rooms. Food and beverage offerings vary from none to snack bars with coffee, sandwiches and wraps to organic food restaurant areas.
The following photos will give you an idea of what many of the pay-for-play, open-play and playcafé centers look like. We have not included the names of the centers to protect the guilty.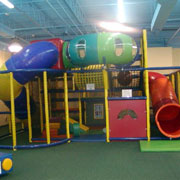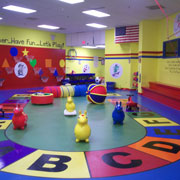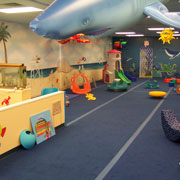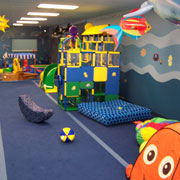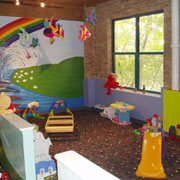 Where we believe many of the new entrepreneurs are getting themselves into trouble is by trying to produce centers on low budgets of several hundred thousand dollars. For that price, you just can't produce the quality facility that today's consumers, and especially most at-home moms, expect.
One thing that has changed since the 1990s is that today's parents, and especially at-home moms, are much more sophisticated in their tastes and discriminating than in the past. Women today are postponing having children until much later and life, many to pursue professional careers. So when they do have children and stay home, they are seeking the previous opportunities they had to interact intellectually and socially with their peers. They have been exposed to much more sophisticated life outside the home, including the coffeehouses, cafés and restaurants they frequented. They now want to continue to enjoy many of those same opportunities, but need to take their children with them.
Putting some play equipment in an open floor area in a warehouse finished space with some inexpensive furniture just doesn't cut it today. The bar has been raised quite high, along with moms' expectation levels fueled by quality restaurants, including quick-casual options such as Panera Bread, Atlanta Bread Company and Corner Bakery Cafe, and retailers, hotels, even airports. Even fast food restaurants have dramatically upgraded their interiors and finishes compared to the way they looked in the 1990s to retain and attract today's customers.
Our experience is that to develop the quality facility that will attract at-home moms, and especially the upscale white-collar family moms who have the most disposable income, costs somewhere between $150 and $250 per square foot turn-key in a rented space (total investment required to open the doors). This includes a kitchen that can produce a good variety of café-type foods, including soups, salads and sandwiches, including hot selections, and specialty coffees and teas.
Our company is designing and producing play cafés for our clients based upon the proven and successful children's edutainment center model we have perfected over the past 12 years. Our play café model is basically a reduced-size children's edutainment center, with developmentally appropriate children's play activities for kids five and younger, offering a quality café ambiance and selection of food and beverages. The playcafés are open for walk-in business from early morning to late afternoon. On weekends, they offer only private birthday parties. These playcafés cost in the range of $200 per square foot. Our research shows that in the right locations, there is a more than adequate market of at-home moms of children five and younger in families with adequate disposable incomes to produce adequate business revenues to support that size investment.
Being able to open a business and having it succeed long term are two different issues. No, we believe the odds are extremely slim that centers can succeed at a cost of around $50 to $100 per square foot, or $200,000 to $400,000 total for a 4,000-square-foot facility.
Some of the concepts will prosper, some will barely survive, and many, unfortunately, will close. We are already seeing over expansion in some East Coast markets, with many of the open-play centers closing or being offered for sale. These entrepreneurs are all well-intentioned, but unfortunately, many don't understand the essentials of developing commercial play areas and learning concepts for children. They have no experience concerning the requirements of creating a destination that appeals to both today's mothers and their children and one that will have high repeat appeal to generate the per capita sales necessary to earn a market rate return on the investment. Many hope to create a successful business model at minimal cost, not understanding that with modern moms' high expectations, it takes a higher caliber and more expensive facility to be successful in such a competitive market place. Today, under-spending on the quality of a center is riskier than over-spending (see more in our recent article, Finding the investment sweet spot). Some are over-estimating market potential and the size of the slice of the pie they can get. Others don't understand both design and operational issues necessary to get maximum utilization from the space.
With the market becoming so crowded with facilities targeting children and at-home moms, only time will tell who will survive. One thing is for sure: many won't.
Vol. VII, No. 3, May-June 2007
---
---