Now that states are starting to allow businesses to open and the lockdown is winding down, will people return to out-of-home (OOH) entertainment and cultural experiences? Our company has access to a large number of national U.S. polls with very current data. So, I dug into the data of some of them to see what people are saying.
It is important to look at what the polls are indicating not only about peoples' intent to return to OOH entertainment and cultural activities, but it is their views on returning to dine-in restaurants. Our reasoning for this is based on the following: all the polls have consistently indicated that people miss restaurants the most; recently younger generations are considering dining out as a form of entertainment; and many entertainment venues are actually a combination of a restaurant and entertainment, known as eatertainment, with half or more of their revenues coming from the food and drink. Therefore, people may be considering returning to eatertainment venues as much as for the restaurant experience as a visit for entertainment. So, restaurant data will have relevance.
There is no difference across the generations of what people are looking forward to. Socializing with family and friends that people have been isolated from and visiting a restaurant/bar are the most desired. Baby Boomers are most looking forward to those activities. Visiting culture and entertainment venues and going to the movies are ranked much lower.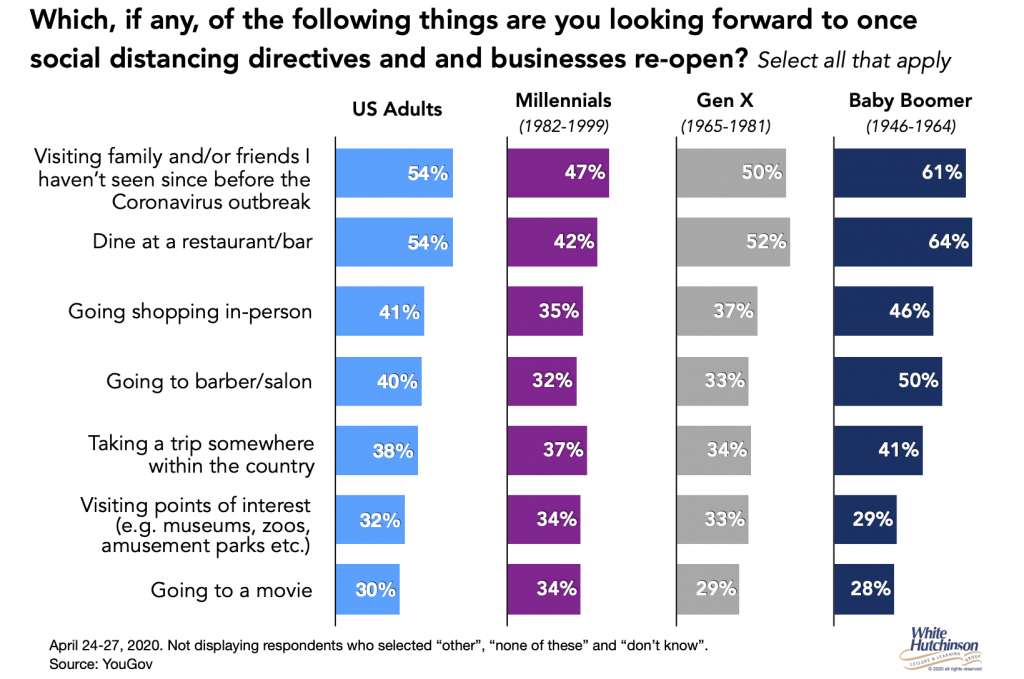 A Washington Post-University of Maryland April 28-May 3 poll found that "Regardless of current restrictions in your area," 22% of people said they would "feel comfortable eating out in restaurant at this time."
An Ipsos April 29-30 poll found a similar propensity to return to eating at a restaurant.
It is interesting that the likelihood to return to bowling ranked low, the same as moviegoing or attending a sporting event in a large stadium (all three were within the statistical margin of error).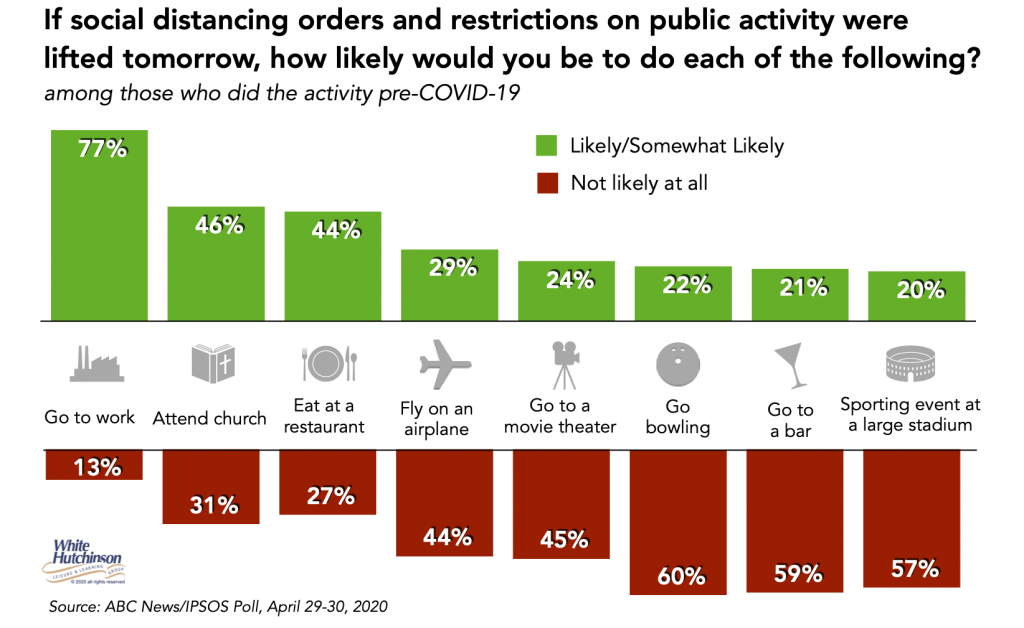 AmusementAdvantage, a secret shopper consultancy for the OOH cultural and entertainment industry, just released results from an April 23-29 poll of 2,117 of their secret shoppers age 18-65 (70% female). They found that people are more likely to return within three months to non-profit cultural institutions (zoos, aquariums, museums and cultural attractions), considerably more so than to bowling centers and family entertainment centers. 15% of respondents indicated they were least likely to visit a museum or zoo within three months of reopening, while 32% said they were least likely to visit a family entertainment or bowling center within three months. The percent of people saying they were likely to visit a bowling center was identical to the Ipsos polls findings. Respondents said they were least likely to return to trampoline parks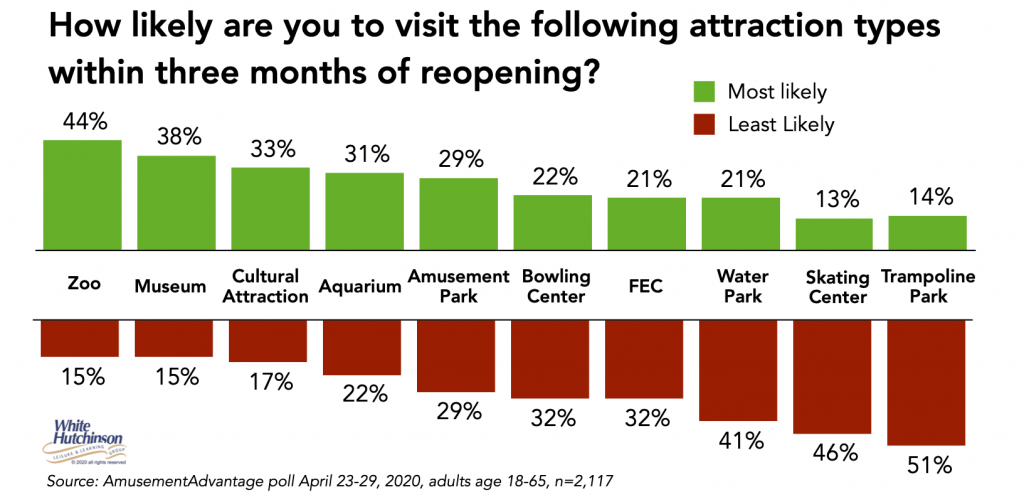 With the ranking of the cultural institutions, with zoos being ranked highest, AmusementAdvantage hypothesized, "that primarily outdoor attractions with more space for guests to physically distance are more appealing than facilities with less available space." It is also interesting that the higher ranked cultural attractions are less interactive than the entertainment ones. The percentages of survey respondents indicating they were least likely and most likely to return to an amusement park fell exactly midway between the cultural institutions and all the other entertainment venues. This ranking might be explained as amusement park are a hybrid, both outdoors and interactive (most and least desired).
IMPACTS Research and Development has been surveying how likely people are to visit particular cultural attractions compared to their pre-Covid normal behaviors after the current coronavirus-related restrictions are removed and they are able to resume your normal activities. In their March 24th, April 6th and April 20th surveys, public parks, botanical gardens, zoos and public beaches were rated as more likely to be visited than usual followed by aquariums and art and history museums. Least likely to be visited as normal were movie theaters, performing arts (live theater, dance), concert halls and science centers/museums. Colleen Dilenschneider, who reported the IMPACTS research on her website, says the data shows that "demand to revisit cultural organizations is being redistributed toward some kinds of entities and away from others." She believes the research indicates:  
Cultural experiences that allow for a visitor's relative freedom of movement – and particularly those that feature outdoor spaces – will likely benefit from increased demand. (This category of experiences includes outdoor historic sites, parks, zoos, botanic gardens, etc.)
 
"Experiences involving enclosed spaces with minimal visitor movement – such as performing arts enterprise – indicate lessened demand. 
"Entities perceptually offering tactile experiences – such as science centers – are also at risk in terms of immediately re-engaging their typical visitor volume. 
"How susceptible people believe they are to the virus may play an important role in their attendance decisions. (For instance, symphony and orchestra audiences tend to be older and thus may be more concerned about contracting the virus.)" 
Colleen's conclusion on what type OOH experiences will be preferred closely matches what AmusementAdventures concluded.
I dug into some more granular survey data to see if there were age and generational differences, as I've heard a lot of industry speculation that younger adults, a prime market for many OOH entertainment activities, are more likely to return sooner and in larger numbers.
An April 22-26 Gallup poll shows that it is middle age adults who are most likely to immediately return to normal OOH activities after there are no government restrictions. The youngest age group was least likely to return along with age 65+.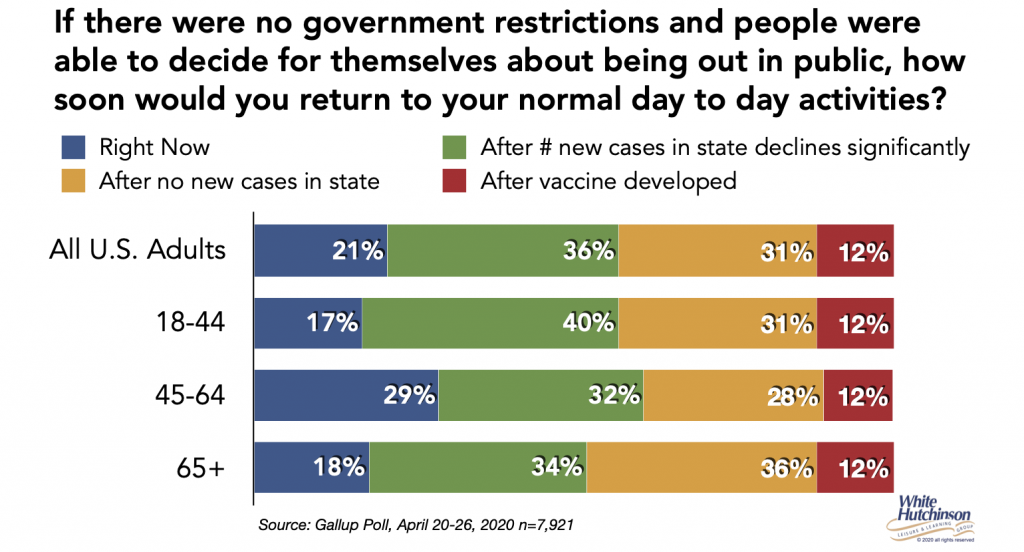 A Morning Consult April 29-30 poll shows that it is Millennials and Gen X who are more comfortable returning to activities than Gen Z (with the exception of a party or social event). And Gen X ranks right up there with Millennials.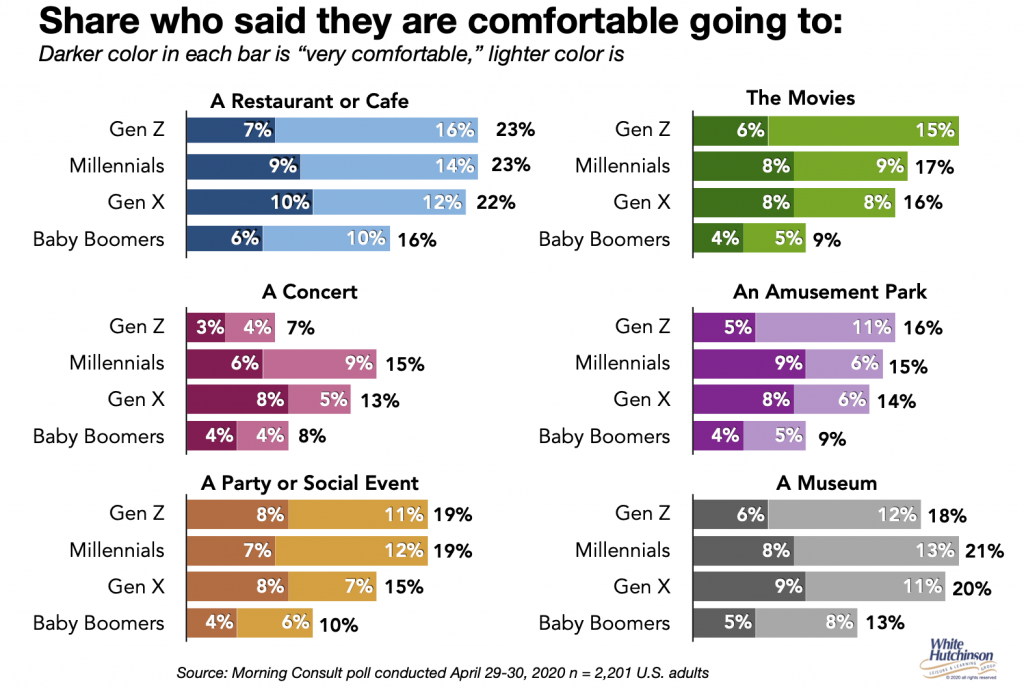 Interestingly, or perhaps what might be expected in the politically divided U.S., is that there is a major partisan divide in who is most comfortable returning to OOH cultural and entertainment activities. Those venues in a highly Republican market appear to have an advantage when they reopen, as Republicans are most comfortable resuming normal activities as the below Morning Consult April 29-30 poll indicates. I'm not sure if this has to do with what network and internet news people follow or if it is a basic cultural difference due to nature and nurture. I'll leave that up to others to research and explain.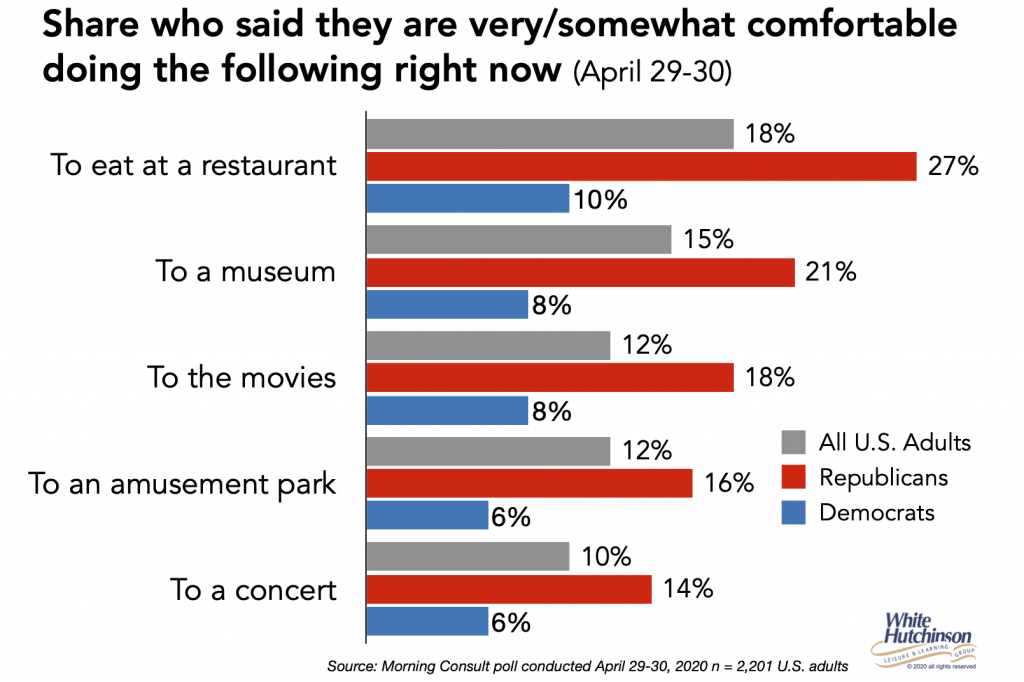 He's some of my thoughts based on the above:
Not everyone is ready to return to OOH cultural and entertainment attractions. However, do to social-distancing restrictions that will limit the capacity of most venues, the initial demand may well match capacity. Of course, none of the attractions are financially sustainable at those volumes.
Whether a facility is also thought of as a food and beverage dining and bar destination will impact the speed of its ramp-up
Outdoor venues will be favored over indoor ones
Less crowded venues are preferred
Less interactive and low touch venues will be favored
Republicans will be showing up in higher numbers than Democrats
Younger adults are no more likely to return sooner and in larger proportion than middle age adults
Our company will be following and digging into the data of future polls to see if there is a shift in any of these forecasted behaviors. Keep following my blog to keep up on where things are headed.