It was first back in 2015 in our company's Leisure eNewsletter that we wrote about the growing trend of the digitalization of place – that the internet and digital technology is making it possible to acquire things or to have experiences at-home that once required us to leave home. The at-home digital world is making home the new place, the digital cocoon where anything can happen.
The coronavirus has suddenly put the digitalization of place into hyperdrive. It has accelerated the future. With the stay-at-home lockdown preventing us from leaving home and many people choosing to self-isolated afterwards, businesses and the technology world quickly ramped up existing and developed new digital technologies that can deliver just about anything to people in their homes. Any resistance people had to such a complete digital change suddenly evaporated. Out of necessity, people quickly learned and adapted to living an at-home digitally-connected life. As a result of the pandemic, our lives have been transformed in ways that we could not possibly have imagined.
The nascent use of some digital technologies, such as online grocery delivery, telemedicine, and online education, went mainstream. New uses of technology quickly evolved, including video chat, virtual concert experiences, virtual wine tastings, even virtual nightclubs.
A time of crisis is also a time of opportunity. The Peloton bike with its available virtual spin and workout classes has been a sell-out. The skyrocketing demand for at-home digital alternatives is accelerating innovation. People have joined yoga and spin classes on Instagram live. The newest innovation to replace the gym visit is the Firenow AI Home Gym, an AI-powered interactive home workout experience with hundreds of classes from top-notch trainers. Using state-of-the-art motion capture and 3D sensing technology, Firenow will track up to 100 essential body points and send the corrective instructions real-time to ensure the user makes the right moves. There's no longer a need for a gym/health club membership, a fitness trainer and spending the time to travel to one. 

Group video interactivity, including chat/hangout technology for social interaction, is in high demand. Facebook rushed out their new Messenger Rooms to compete with Zoom, Google Hangouts, and many others. Welcome to Generation Z(oom). Now with Houseparty we can play games together while chatting simultaneously. With Netflix Party, we can watch their streaming content while simultaneously chatting (better than at the cinema where you can be physically together, but you can't talk). We're even seeing a rush to develop contactless robotic delivery. These just scratch the surface of the digital innovations that are transforming our lives.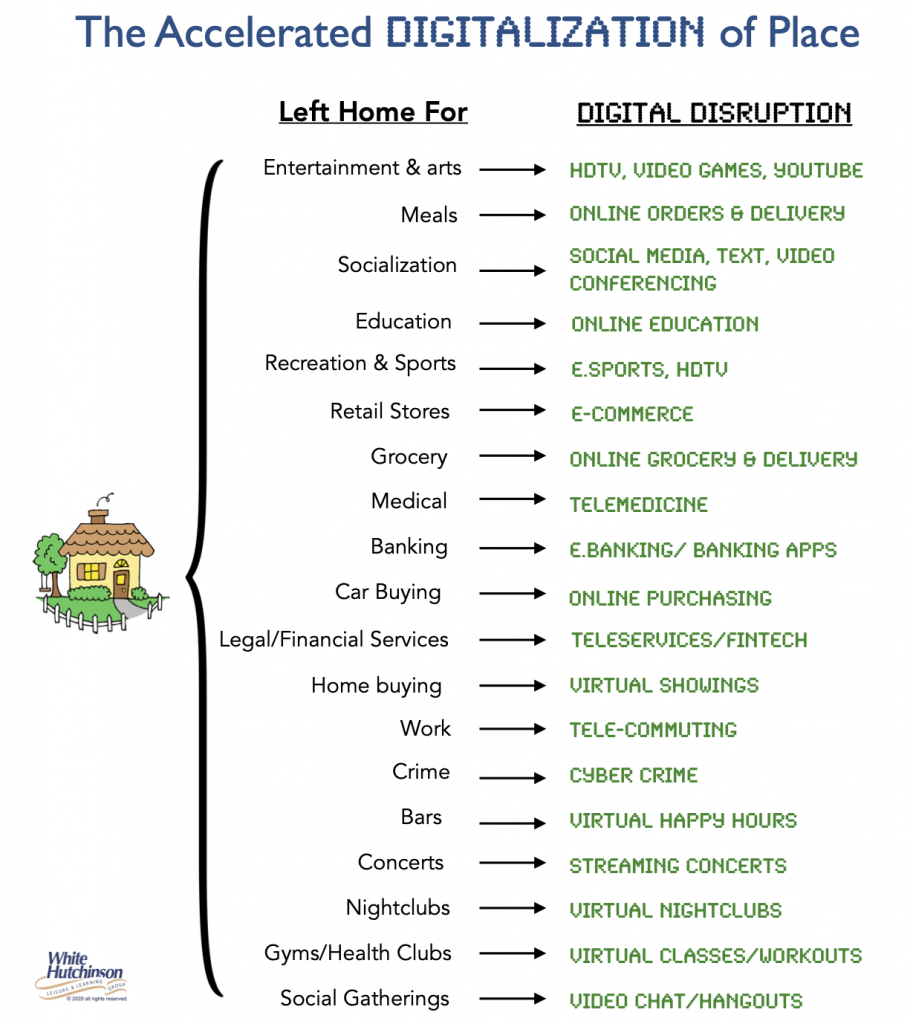 The new at-home habits and routines we are learning and using are likely to stick with us to various degrees, not only post-lockdown, but post-pandemic. This will have a devastating impact on some real estate sectors, the places we used to visit for services, goods, work, play and health. The retail apocalypse that was already underway has been accelerated. It will now spread to grocery stores, restaurants, drug stores, bars and entertainment venues due to the wide adoption of all the new e-Everything-at-home digital options. We will need far less office space as workers and their companies have learned that working at home is a viable option for many jobs. We will need less venue space for conferences and events, negatively impacting the travel, convention and hospitality sectors. Banks, whose physical presence was already shrinking, will see that shift accelerate. It is likely that colleges will need less real estate space with the permanent adoption of more online learning. Carvana, whose virtual business model represented just a very small portion of vehicle purchases, is now a model for all dealership as consumers shift to selecting their new vehicles online and taking delivery at home. 
Yes, overnight, the demand for office, retail, restaurant, entertainment, hospitality and other B2C real estate evaporated. Much of the demand will be permanently lost. Malls and other types of shopping centers that thought restaurants and entertainment would be their saviors have had those dreams dashed. There's going to be a lot of vacant commercial real estate with no users to occupy it. The only commercial real estate sector that may thrive is warehouse fulfillment centers. In terms of residential real estate, people will still be buying and renting residences (albeit virtually) and we may be seeing an increase in size to include home offices. Welcome to the new Covid-disrupted real estate landscape.