In my last blog, I examined how comfortable the different generations are in returning to restaurants and out-of-home (OOH) entertainment and cultural venues.
We've obtained data from a recent Morning Consult poll that allows us to examine how soon people are ready to return to these OOH activities based on their incomes and educational differences. The poll was conducted May 5-9 among a national sample of 2,200 adults. The interviews were conducted on-line and the data was weighted to approximate a target sample of adults based on age, educational attainment, gender, race, and region. The sample was large enough so that granular analysis by income and education would give meaningful results. Results from the full survey had a margin of error of plus or minus 2%.
There doesn't appear to be any significant difference in how soon people of different incomes plan to return to OOH activities.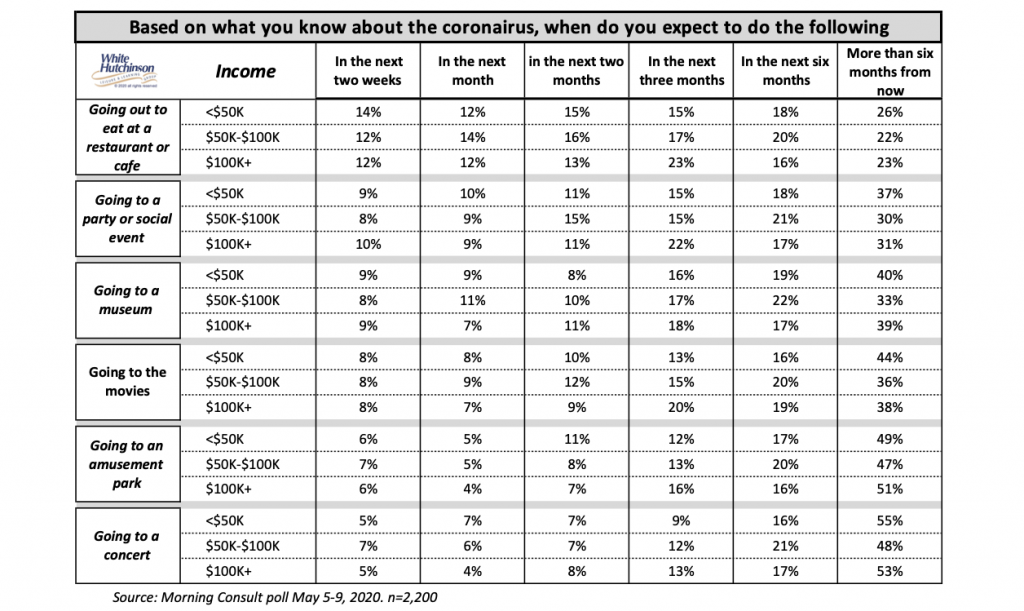 Across the three income levels, people say they expect to return to restaurants the fastest. Among OOH venues, people intend to return fastest to museums, followed by the movies and amusement parks. Going to a concert shows the slowest rate of return.
Levels of educational attainment show a difference in what percent of people expect to return to activities in the next two weeks. People without a college degree plan to return to a greater degree in the next two weeks (highlighted in gray below) and somewhat faster into the next month.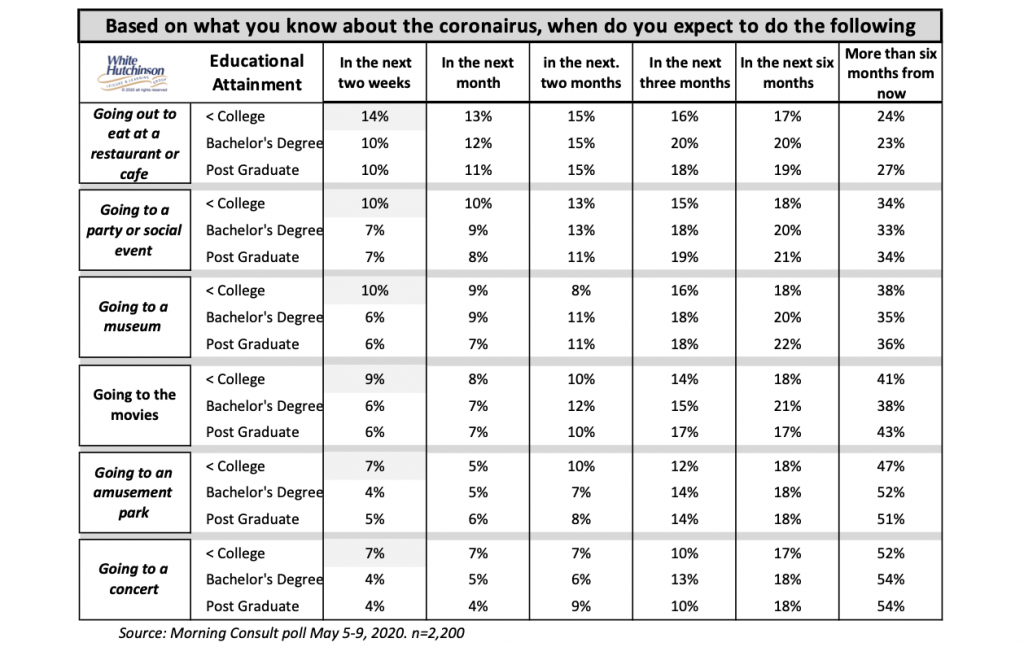 The poll results by both income and education consistently show that approximately one-quarter of people don't plan to return to a restaurant for at least six months, rising to approximately one-third for museums and approximately one-half for attending amusement parks and concerts for the same at least six-month time frame.
We need to remember in considering the results of this poll and many others, that they are only a snapshot of peoples' expectations based on conditions and information on the Covid-19 pandemic and its health risks and government restrictions and recommendations at one point in time, which is continually evolving, sometimes on a daily basis. Expectations and peoples' actual behaviors could easily change one way or another as the pandemic unfolds along with unemployment and the economic downturn. It is likely that peoples' changing individual economic conditions, along with any changes in their perception of their health risks, will have a major impact on their future behaviors.