Vol. XVI, No. 4, April 2016
---
---
Move over bowling, here come the other social games
Yes, bowling was the first type of popular recreation game to have the sport taken out of it and served it up as a great social experience paired with upscale food and beverage in a cool atmosphere. Bowling is no longer alone as now other types of interactive games are moving into that social venue space.
We've previously written about TopGolf that transformed whacking a ball at a golf practice driving range into a social and party experience. Now along comes a nascent trend of social venues incorporating other interactive games.
It's ping-pong time
Two giant ping-pong social venues are opening in Chicago this year.
The first to open will be Spin, a 16,000-square-foot bar-restaurant entertainment venue co-founded and owned by movie star Susan Sarandon. Spin, will have two bars, three private lounge areas and 20 table-tennis tables, including a center court with stadium seating. It plans to serve a slightly upmarket chef-driven menu that follows a farm-to-table sharable plates theme with as many ingredients as possible being sourced from within 200-miles. Menu selections will include flatbread pizza, smoked pork sliders, truffle fries, and charcuterie and cheese plates. This will be the fifth location for Spin, which also has locations in New York, Los Angeles, San Francisco and Toronto. The first opened in New York City in 2009.


Spin, a social ping-pong club
Spin isn't just a nighttime destination. The first floor doubles as a coffee-centric hangout that opens at 11am. People are encouraged to bring their laptops and tablets and just hangout. After 9pm, the entire Spin turns into a 21 and over venue.
Rental rates for tables at Spin are:
The second ping-pong social venue to open in Chicago will be a 14,500-square-foot AceBounce, which aims to draw groups for corporate and social events with its food and bar program as much as for its 17 ping-pong tables.
AceBounce is expected to hold 550 people, including 120 in a sit-down dining room and 45 surrounding a 47-foot timber bar area in the center of the space.
CEO Adam Breeden, who opened the first of his two London ping-pong clubs, Bounce, in 2012, says the place is perfect for larger groups of people who want to do something more than rent a private dining room at a restaurant. Bounce attracts hipsters, bachelorette parties and corporate outings.
"If you have 15 people celebrating a birthday and you wanted to go as a group and enjoy an activity, you usually have to compromise in some way. Either the design of the space is not good, the food is not good, or you had to travel too far to get there," Breeden said. "The whole philosophy here in developing the concept is, if we took out all of the (ping pong) tables, we'd still have a compelling venue because the food is good, the drinks are good, the design and the sound system is good."


AceBounce
AceBounce in Chicago plans to offer a great chef-driven culinary experience with a focus on upscale but accessible food that will include plates for sharing, along with some larger entrees as well as an award-winning mixologist handling cocktails.
AceBounce's focus is on the casual player. Instead of table-tennis pros, for example, the venue is hiring comedians and Second City alumni as "Game Gurus" who will help groups arrange teams, organize tournaments and unique games.
"We're not taking the sport too seriously," Breeden said. "We like people to have fun. If people want to throw ping-pong balls at each other, that's fine with us. If a ball lands in a cocktail, we hope people will have a laugh at that."
Breeden plans to open another concept next year in Chicago that will feature another activity (that he isn't disclosing) and elevate it the same way AceBounce has done for ping-pong.
Both ping-pong clubs are more social versions of KillersSpin, a ping-pong venue without a bar or kitchen geared toward more serious players that opened in the Chicago Loop in 2013.
Not that far to the north, there's also a social ping-pong venue in Milwaukee similar to Spin called Evolution Gastro Pong.
21st Century social darts
The game of darts has now moved into the 21st century at a new bar and entertainment venue in Finsbury Square in London called Flight Club.
Flight Club is the brainchild of Steve Moore and Paul Barham, two entrepreneurs who joined forces with Adam Breeden – who brought ping pong (see above about AceBounce) and bowling to the masses as the founder of Bounce and All Star Lanes – to create a new social entertainment concept they have christened 'social darts'.
Using real-time scoring and a slick touch-screen interface, Flight Club invites customers to rent an 'oche' (booth) for up to 12 people. With the screen's interface, you can punch in player names, scan your faces and split up into teams to play the classic game of darts (first to reach zero from 501) or variants which include the computer challenging players to hit a specific number.
An oche costs £25 per hour after 6pm ($36) and £20 before 6pm ($29) for the entire group of people using it.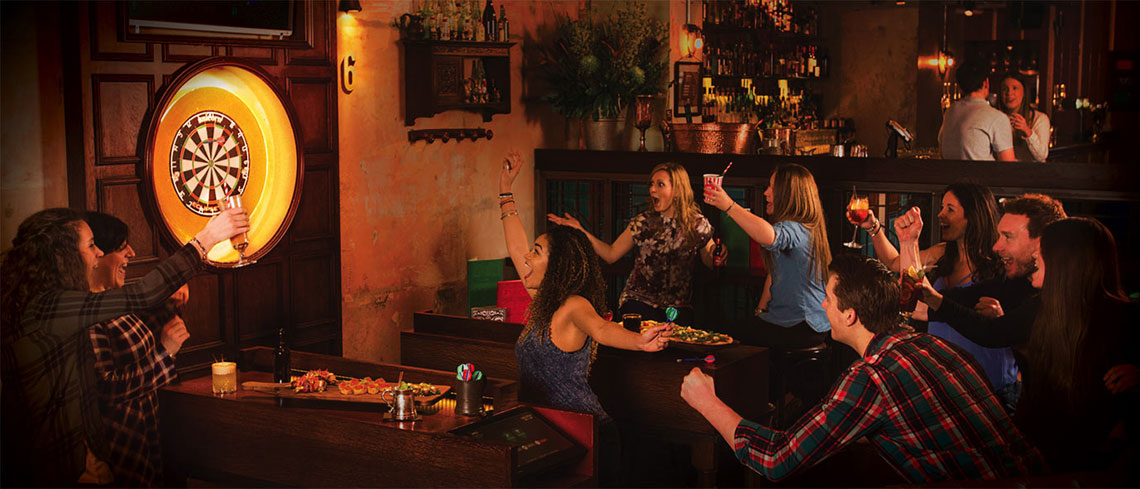 Flight Club
While playing darts, you can order sharable foods along with drinks and cocktails. Sharable menu selections range from roasted aubergine baba ganoush with blue corn chips & stone-baked flat breads to Kadhai chicken skewers to sharable pizza paddles to different varieties of fries to sandwiches such as pulled pork blade to entrée salads such as Forman's smoked salmon with heritage beets and horseradish. Bar selections include a wide range of beers, wines and cool cocktails.
Social shuffling
The 17,000-square-foot Royal Palms Shuffleboard Club in Brooklyn, New York has turned a pastime favored by septuagenarians in Florida into the next social experience for hipsters. The retro-themed, Florida kitsch venue features 10 regulation-sized shuffleboard courts, two bars with craft beer and trendy cocktails, and food-truck dining (yes, from a food truck) using an indoor drive-in bay for food trunks, which change nightly, and two 27-foot bars serving drinks like you would get on vacation in the tropics such as coconut cocktails, key-lime fizzes and hand-shaken pina coladas as well as standard bar offerings including 8 craft beers on tap. Shuffleboard courts rent for $40 per hours. The club serves up a lot more than biscuits (shuffle speak for pucks). You can also play board games at the cabana tables and there's nightly DJ-curated music, tiki-bands and even bingo nights.


Royal Palms Shuffleboard Club
Bocce, the horseshoes for hipsters
What was once a game for older Italian men has now become a game for Millennial-minded people, and that includes the women. Why? Because the game fits the times as being social, fun and easy for anyone to play. While women typically don't feel comfortable playing traditional bar games such as pool because they think they won't be as good at it as the men, with bocce, that's never an issue. The game is simple enough for the athletically challenged to understand and succeed at it.
Bocce restaurants first appeared in California with Campo di Bocce with two locations in Livermore and Los Gatos. Since then several more establishments have opened in California. Bocce bars and restaurants can now also be found in New York City; Cleveland; the Detroit area; Washington, D.C.; Atlanta; New Hampshire; Ohio; St. Louis and Seattle.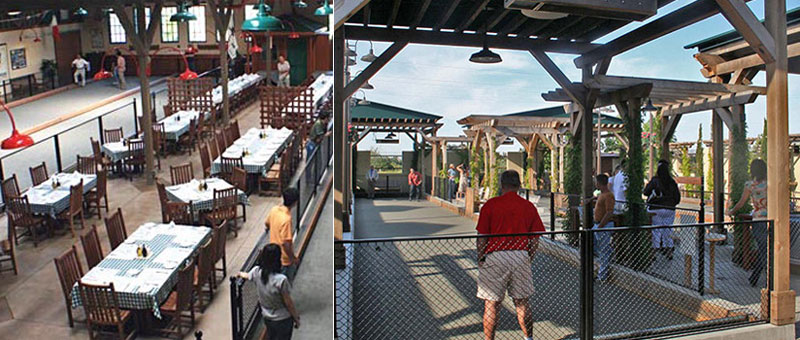 Campo di Bocce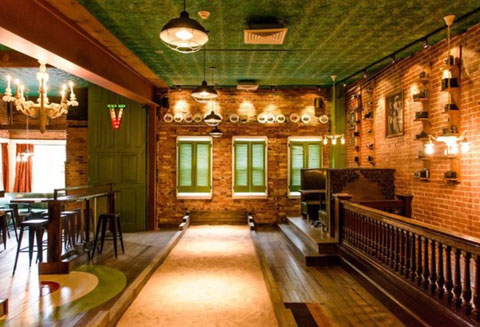 Vendetta
Vendetta Bocce Bar & Taveran, a food-drink-bocce establishment, was the first to open in Washington, D.C. in the H Street Corridor. It even features glow bocce. A number of other combination bocce-bars and bocce-restaurants have since opened in the D.C. area including Vinoteca, Black Jack, Shoe's Cup And Cork and La Taglietella.
Pinstripes, a chain of seven restaurant-bar-bocce-bowling facilities with four more under development got its start in 2007. It features both indoor and outdoor bocce courts. Both Southside Social in Chattanooga and Pinewood Social in Nashville also feature bocce along with bowling at their social-eat-drink-play venues.
Why is bocce's popularity growing? It's rather simple. It's a very approachable social game and allows you to hold a ball in one hand and a drink in the other. That's what makes it such a great game with social adults.
Commonality of social gaming venues
So what do all these type venues have in common and why is their popularity growing?
What these social venues all have in common is that they incorporate approachable interactive games that are played by a small group of people and that any one can play (you don't have to be an experienced player) in an upscale atmosphere with great contemporary food and a great bar.
The growing popularity of these out-of-home social venues can be partially attributed to the growth of digital technology. Not that many years ago, if you wanted to stay in touch and chat with friends, other than using the telephone option, you had to meet up at some location. Of course that has changed with all the convenient instantaneous and asynchronous digital communication options we now have on our screens including email, social media, texting, messaging apps and video chat. So routine communication has become very Convenient. You can do it from your home or wherever you are. Our screens travel with us. So these new communication options, with their social characteristics, have become competition to out-of-home socialization.
We are social creatures by our very nature. That is how we have survived as a species. We are still hard wired to have social physical experiences together in the real world. We still crave visceral experiences. However, since Convenient digital technology allows us to satisfy some of our basic social needs, it now takes a much higher quality, what is known as a Higher Fidelity experience, to get us to leave home and meet up with our friends in the real world. Of course meeting up at a restaurant is one way we do this, as we have always socialized around eating. Remember, in our early days we all gathered around the tribal fire for our meals. That basic social experience is an ingrained part of human culture.
However, nothing raises the quality, the Fidelity of a social experience more than combining eating, drinking and the physicality of rolling a ball or throwing something along with friends while socializing together in the real world. We call this added component interactive physical play. There is a great synergy when you combine all three of these socialization facilitators. Eat-drink-play = a High Fidelity social experience at the other end of the experience continuum from Convenient screen-based socialization. Today, people are seeking great experiential social experiences, and what these expanding social venues offer more than fits that bill.
Additional reading:
Vol. XVI, No. 4, April 2016
---
---