Vol. XII, No. 3, April - May 2012
---
---
The dirty little truth about developing a family entertainment center no one will tell you
We'll call him Jacob for purposes of this story. One Saturday, Jacob, his wife, his 6-year-old son and 8-year-old daughter are visiting a city an hour away from their smaller hometown to shop at the large fashion mall there. It's wonderful weather, so later in the afternoon they decide to check out a family entertainment center they have heard about that just opened down the street from the mall. There is a lot to do at the FEC and they try to take it all in, the laser tag, the go-karts, the ropes course and of course the gameroom. In fact, they're there so long, they suddenly realize its time for dinner. The FEC has a pizza-style restaurant, so they fill their stomachs before heading home.
On the drive home, Jacob starts discussing the FEC with this wife and how busy it was. Before the recession, Jacob worked in the home building industry. He's moved on since that industry tanked and is now in sales for a technology company. He's always wanted to own his own company and over the years, he's saved up a $100,000 nest egg, so his discussion with his wife moves to opening his own FEC., "Why not? There's nothing for families to do in our hometown. It's sure to be a success. Look how busy that FEC was. It's a fun business to be in. How hard can it be?"
Well Jacob, the answer is that it is a very hard business to not only develop and open, but also to operate and be successful at. Yes, there are many successful FECs. But there have also been many failures. The FEC graveyard is littered with the tombstones of FEC roadkill. And Jacob's thinking is a good example of the route to failure. Let's take a look at just a few of the obstacles that Jacob faces if he decides to pursue the dream.
The first issue is that Jacob believes the FEC his family visited is a success. But the truth could well be that it is losing money, or breaking even or has a minimal return on invested capital. Furthermore, the FEC is only in its first year of operation when its newness was attracting everyone to check it out. Jacob only visited the FEC at its busiest time on a Saturday afternoon during good weather. Without seeing the FEC's actual financial statements, nor knowing how well it will perform after its honeymoon period, there is no way to tell if its mix and design is a successful formula.
The first thing Jacob has to do is develop a business plan for his FEC that includes projections of attendance, per capita spending, revenues, expenses and replacements and a cost estimate. But Jacob has never prepared a business plan for an FEC. He does have a database of reliable FEC operation results in different markets to use as a basis for projections. He has never developed an FEC, so have no basis to make cost projections, as he doesn't know everything that is needed to develop an FEC nor what exactly it will cost to build in his hometown. So there is a good chance Jacob has under estimated what this FEC will actually cost to develop. But let's not stop Jacob here. Let's assume that somehow he puts together a business plan that is convincing, even if it is not correct.
FECs are expensive to develop. The good successful ones cost millions of dollars. Even with the nest egg that Jacob has, he is far short of paying for a multi-million dollar facility. Banks are very hesitant to extend a loan to a start-up business, especially to someone with no experience in that type business. And even if using his business plan, Jacob convinces a bank for a loan using a SBA or other type government guarantee, he still won't be able to borrow all the money he needs. Furthermore, over-leveraging, borrowing the bulk of money, is a good way to increase the odds of failure, as there is no margin of error for some bad times, which in today's world, are sure to occur. So Jacob is faced with the need to go find investors and convince them he will have a successful business.
So let's assume that somehow Jacob can raise the money, maybe from a rich relative. Is his business plan correct? Will he have a successful FEC? The first problem is the size of his hometown and its trade area. The trade area population for Jacob's hometown is only about 80,000. The reason Jacob and his family had to drive to the larger town to shop at the fashion mall is that his hometown is too small to support a fashion mall. No different than a mall, it takes a sizable population to economically support an FEC. The FEC Jacob and his family visited was in such a larger size market. The problem is you just can't scale down the size of an FEC to fit a small market any more than you can have a mini-mall. Shopping center developers tried the concept of mini-malls in smaller markets many years ago and every mini-mall failed. The public perceived them as inferior to the larger malls. The mini-malls didn't generate the traffic required to generate the sales stores needed to be successful. It's the same with FECs. Mini-FECs don't work. Trying to size down the 1200-foot go-kart track that Jacob and his kids rode to 600-feet to fit his smaller market doesn't create the same experience. Sizing down a laser tag facility to accommodate 16 players doesn't create the same experience as a large two-level laser tag arena that holds 40 players nor will it have the capacity to support large group events. Half a ropes course is no ropes course at all.
So let's pretend somehow that Jacob's hometown does have a large enough market to support a modern FEC and he raises the money to finance it. What other obstacles are there to Jacob's success?
Jacob has to pick a good location, but he has no experience or expertise in knowing what a good location is for an FEC. He has to get the FEC designed, so he will hire a hometown architect who has no experience or expertise in designing an FEC (see our article on Getting FEC architectural design right the 1st time).
But let's pretend even further that somehow Jacob finds a good location, gets the FEC properly designed and built based on his cost estimate and that his market is actually large market, what other obstacles are there to his success?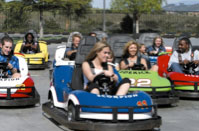 An FEC is really a combination of a number of different type businesses that all have to operated as a synergistic whole. Jacobs wants to operate an entertainment business with laser tag, go-karts, a ropes course and a gameroom. But Jacob has never operated any type of entertainment business, not a go-kart track, not a laser tag arena, not a ropes course, not a gameroom. The gameroom will have a redemption prize store. But Jacob has never operated a retail store. Jacob wants to include a restaurant, but he has never operated a restaurant. The FEC needs to offer birthday and other parties and attract group business; that's basically a group catering business. But Jacob has never operated a catering business. In fact, Jacobs has never operated and managed any type of location-based business that has to attract the same customers on a regular basis (FECs only succeed with high repeat business).
So Jacob has all the cards stacked against him – the market is not large enough to support an FEC, he has little capital of his own and has to raise millions of dollars, he has to pick a good location for the FEC with no site selection experience, he needs to get the FEC properly designed using a architect with no FEC expertise and he has absolutely none of the experience and expertise needed to operate and manage a complex multifaceted consumer business.
So have you ever wondered why so many FECs fail? If you answered yes, meet Jacob and read the above again if the message didn't come through on your first reading.
In today's very competitive entertainment world where the Internet and digital worlds now compete with location-based entertainment and where customers are very sophisticated and discriminating with how they spend their time and money, successfully developing and operating an FEC is extremely challenging, even in a large market. Dreams are great, but to become a reality that will last and be profitable, FEC dreams take lots of money and expertise. FECs are not a business that most non-industry people can succeed at. There are just too many traps of not knowing what you don't know.
Vol. XII, No. 3, April - May 2012
---
---