Vol. XII, No. 3, April - May 2012
---
---
Top pizza trends
The Technomicresearch firm finds that 41% of consumers now eat pizza at least once a week, compared to just 26% two years ago. All methods of consuming pizza have increased, and now, at least once a month, 49% of consumers buy pizza at supermarkets, 45% of consumers enjoy dine-in pizza, and 68% of consumers order carry-out pizza.
Here are two of the hottest trends with pizza:
The Los Angeles Times predicts that 800 Degrees, a new Neapolitan pizzeria in Westwood, LA will one day become "a staple of every food court in America." The paper says its formula for its success, and the reason lines are out the door for its pizza, is its "high-quality pizza reformulated as fast-food — cheap [pizza prices start at $5.15], delicious, made with sustainably grown ingredients, infinitely customizable" and "in and out" of a ferociously hot wood-burning oven almost before you have gotten to the cash register."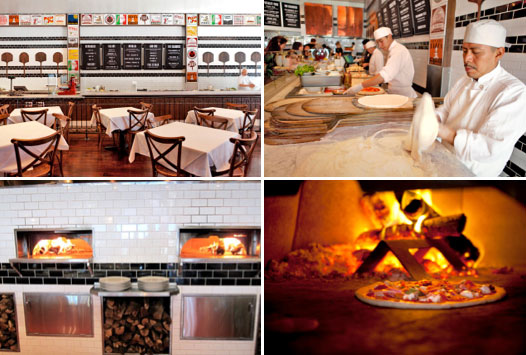 Fast-Casual 800 Degrees Neapolitan pizzeria.
Vol. XII, No. 3, April - May 2012
---
---