Vol. XII, No. 1, January 2012
---
---
Progress at Club Liko in Cairo, Egypt
Club Liko, the ladies membership club and children's edutainment and enrichment center we designed and are producing for our client in Cairo, Egypt, experienced a delay in obtaining a building permit due to the Arab Spring revolution there. Revolutions have a tendency to further complicate slow-moving bureaucracies.
The building permit was finally issued in November, and construction is under way. It takes a lot of imagination to believe what is under construction will end up looking like the final project we designed. We'll be heading back over there in March to check out construction progress and make some final finish material selections.


Construction progress photos taken on December 16th. Those are private villas under construction in the background. Club Liko is at the entrance to a gated community of private villas.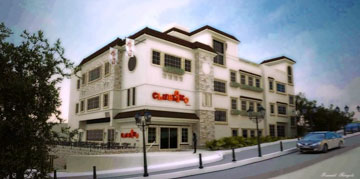 When completed, Club Liko will be a three-story building with basement parking and outdoor terraces, patios and a children's discovery play garden
Vol. XII, No. 1, January 2012
---
---