Vol. VI, No. 4, August/September 2006
---
---
Retail developers become restaurant and entertainment operators
American mall developers are facing increasing challenges to keep their retail projects relevant to today's consumers in the changing face of retail. New forms of shopping complexes, including "lifestyle," big box and even entertainment districts are taking sales away from traditional enclosed malls that used to dominate their markets. The closing and consolidation of department stores, the very anchors that made malls feasible, are further threatening the survival of many malls. Today, many malls are closing and being demolished, and others are being de-malled to become open-air lifestyle type projects.
As department stores in particular are disappearing, mall and other large-sized retail project developers are looking for new anchors. One answer is entertainment, eatertainment and dining - to turn the mall into a retail-tainment destination. However, when it comes to entertainment, there are few tenant options for developers short of cinemas and Dave & Buster's.
In many other parts of the world, mall developers have taken a different and more proactive approach than American developers who want to stay passive and just lease space. Mall developers in Asia, the Middle East and Eastern Europe are developing and operating their own entertainment venues in malls, rather than being limited to the few chain entertainment tenants. Advantages of the developer of the mall developing and operating the entertainment is that they are not constrained to the limited availability of entertainment tenants, and some of the entertainment can be integrated into the mall's common area, rather than have it all be contained in a store space. These developers also understand that the entertainment venues not only generate mall traffic, but can also be highly profitable.
For example, our company is currently working with a retail mall developer in the Middle East who plans to operate cinemas, a family entertainment center, a children's edutainment and enrichment center, a bowling center and restaurant concepts in the mall.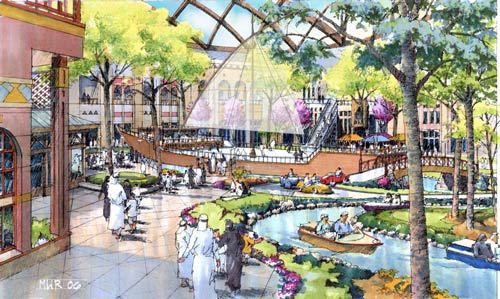 White Hutchinson has been able to fully integrate family entertainment into the Middle East's mall common areas because the mall's developer will own and operate the entertainment attractions. This rendering shows ice skating in the background and u-drive boats and cars in the foreground of this two-story mixed-use enclosed mall.
Perhaps the most extravagant example of integrating entertainment in a mall is Ski Dubai in Mall of the Emirates in Dubai, U.A.E. It features real snow and a 1,200-foot-long (366 meter) indoor ski slope with five ski runs of varying degrees of difficulty, toboggan runs, sledding hills and a tubing run.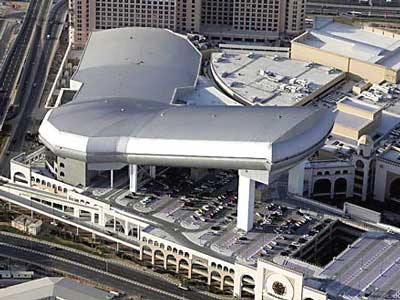 Ski Dubai is constructed over the parking structure at Mall of the Emirates in Dubai
In America, for years, the Mall of America (MOA) in Bloomington, Minnesota, was one of very few malls that operated entertainment attractions to position its mall as retail-tainment, blending together retail, entertainment and dining to produce a fully integrated and rich leisure and shopping experience appealing for the entire family. In the heart of MOA is a large amusement park with a wide variety of rides and attractions for the entire family. Previously known as Camp Snoopy, it is now called The Park at MOA.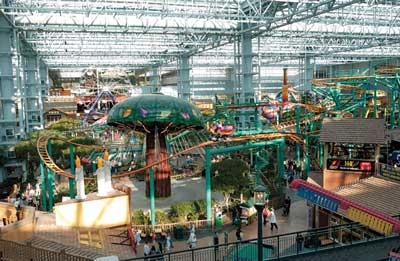 In addition, MOA has a 1.2 million-gallon aquarium, a NASCAR Silicon Motor Speedway , and the Dinosaur Walk Museum. An ice skating rink and indoor waterpark are planned for the phase II expansion.
MOA has 43 million visitors a year. Dan Jasper, Director of PR at MOA, attributes the success this way, "People are multi-taskers. They want to shop, have fun with their kids, eat and relax, all on their own time. Destinations like the Mall of America can provide all of this."
We are seeing a change of attitude on the part of a number of American mall developers toward developing and operating entertainment and eatertainment attractions. Perhaps the best example is the Baltimore-based Cordish Company, which has developed many of the U.S.'s most successful retail and urban entertainment projects. Besides bringing in independent retailers, Entertainment Concept Investors, Inc. (ECI), the restaurant and club division of the Cordish Company designs, builds, owns, and operates restaurant, eatertainment, lounge, and live entertainment concepts throughout the United States. ECI operates a variety of concepts in approximately 30 markets across the United States, often placing them together in Cordish's synergistic entertainment districts.
ECI recently bought the Orlando and Myrtle Beach NASCAR Cafés and plans to recreate them in addition to the license for future projects, and will rebrand them under the name NASCAR Sports Grille. Cordish intends to build one NASCAR Sports Grille a year and at the same time devise a more contemporary look and feel to the 11-year-old race-themed concept.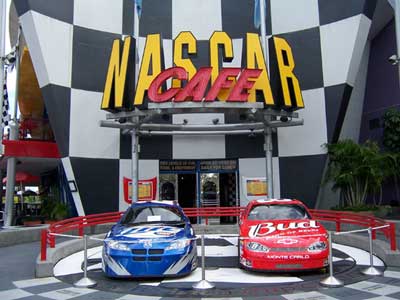 Reed Cordish, vice president of Cordish, said the 20,000-square-foot Orlando restaurant will feature an outdoor tailgate area, interactive gaming space, sports screening room and enclosed shop with NASCAR merchandise.
"We want to far exceed anyone's expectations of a themed restaurant or a sports restaurant," said Reed Cordish, company vice president. "We've brought in a world-class designer and are creating a very hip concept that will appeal to the NASCAR fan base, but also expand well beyond that to people who are just interested in sports in general. We're blowing past the classic model of the sports-oriented restaurant in terms of design, cuisine and content."
"When you look at the café, it was born about the same time as the restaurant industry was exploding," said Blake Davidson, managing director of NASCAR's licensed products. "But the concept hasn't evolved much from what it started out as, so we saw this as a good opportunity to inject some life into it and take it in a new direction, as well. The entire marketplace has evolved. We've got to keep up with what's happening in the marketplace."
Cordish's first move will be to spend $5 million renovating the NASCAR Café in Orlando, which sits in Universal Studio's CityWalk. The redesign will create something of a high-end tailgating atmosphere, complete with a large open-flame grill and a more sophisticated menu than the typical wings and chicken tenders fare associated with most sports restaurants.
Guests will enter the NASCAR Sports Grille through a 30-foot-tall glass and steel replica of the Nextel Cup. Inside, Cordish plans an interactive video component to each table, which will allow guests to select segments on a favorite driver or event.
Cordish intends to keep the Orlando restaurant open through the renovations, with the project to be completed in time to debut before the Daytona 500 next February. Once the Orlando footprint is in place, Cordish will begin work on Myrtle Beach and future locations, as well as developing a smaller model that might target lower-volume areas.
"We're just starting to look at future sites," Cordish said. "We want to be very selective, and we think we can be. There are certainly places of interest, like a Times Square or an Atlantic City, areas around pro sports stadiums. With our background, a strong overall project is the best home."
Cordish's ECI division has licensed several other leading national and international brands including Hard Rock, Hard Rock Live, and McFadden's; assumed exclusive international food and beverage rights for brands such as Maker's Mark; developed additional signature restaurant and limited service concepts including Vine and Vinino by Chef Christopher Paternotte, MEX, Maker's Mark Bourbon House & Lounge, Power Dogs and Chesapeake Market (a.k.a. The Market); and created PPE club/lounge brands including Mosaic Lounge, Snitch and The Grove. New concepts such as Big Sky and Hotel will debut 2006 and 2007. In addition, ECI will be unveiling a new premium movie theater and restaurant venue, dubbed The Theater of the Future, in partnership with AMC Theatres.
Another sign of a changing paradigm in entertainment venue development with U.S. retail developers is a one-million-square-foot mall that recently lost one of its anchor department stores and has less than optimum sales. Our company is managing its redesign and rebranding it as a family destination with the addition of a lifestyle outdoor Main Street with a restaurant cluster on one side of the mall and the addition of a children's edutainment center that will serve as a new anchor and be owned and operated by the landlord.
Vol. VI, No. 4, August/September 2006
---
---