Vol. XXI, No. 1, January 2021
---
---
The tip of the iceberg
by guest author Bob Cooney
For the last 10-months, we've all focused on the impact of COVID. Like how it's changed everything from our hygiene habits to our workplaces to our entertainment choices. It's impacted almost every aspect of life as we know it.
COVID-19 has been the definition of an existential crisis for our industry. The good news is that as predicted, we have vaccines as I write this and more coming. By the end of 2021, COVID will be in the rear-view mirror, and we will all be trying to get back to the "new normal."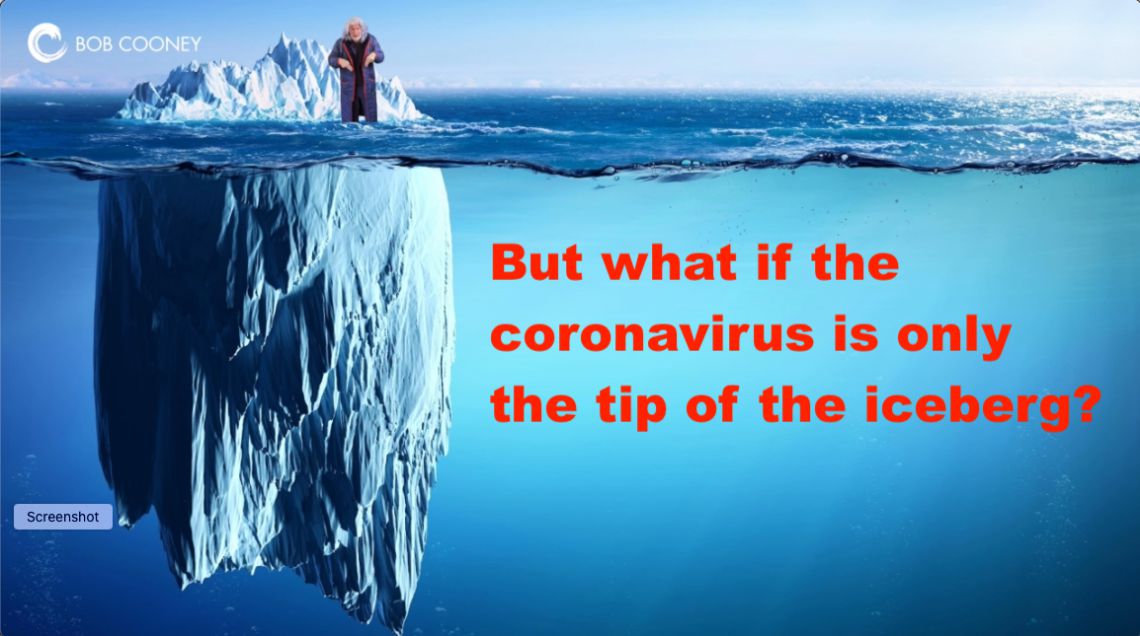 No, I am not talking about another more virulent or deadly strain of the virus. I am talking about something that already exists and is building momentum.
The combination of technology acceleration and shifting consumer needs is where we need to focus. Because that's where the existential threat lies; in the looming obsolescence of anchor attractions FECs have depended on for decades.
Randy has written plenty about consumer trends. I want to focus on the technology trends that will collide with the consumer trends to create massive disruption. Some we are already seeing; others only offer a glimpse of what's possible.
There are six key trends I am watching that have the potential to change the location-based entertainment landscape as we know it. The good news is with disruption comes opportunity. If the pandemic has taught us anything, it's that being at the right place at the right time can generate massive growth. Zoom, Moderna, and Teledoc Health are great examples of companies that leveraged new technology to profited from the pandemic.
The six tech trends that stand to disrupt the location-based entertainment industry are:
Streaming
Esports
Virtual Reality
Augmented Reality
5G
Photogrammetry
Streaming has already changed how we watch television, sports, and now blockbuster new release movies. Now streaming is changing how people use computer games for entertainment. Players now broadcast their gameplay, complete with narrative, to a worldwide audience on platforms like Twitch and Facebook Gaming to more than 15 million viewers per day.
In 2020 3.8 million players were streaming their games on Twitch, watched a total of more than 3 billion hours. This year, 84 million individuals will view esports, which is more than any major league sport in America except the NFL.
Locations have to consider how to enable players to stream their games to their audiences to stay relevant. Instagrammable will no longer be good enough. Your attractions will need to be live-streamable.
Esports is what built Twitch into a tech powerhouse leading to acquisition by Amazon for US$970 million in 2014. According to McKinsey and Co, the total esports market exceeded $1 billion in 2020, with an audience closing in on 500 million viewers. Esports is consumed mostly by young (average 26-years old), tech-savvy, highly educated males, making this a prime audience for location-based entertainment centers.
While an FEC operator might think that his biggest competitor is a business across town, she's more likely competing for time and attention with games like Fortnite, Counter-Strike, or League of Legends.
What makes esports such a powerful competitor for the LBE market is its multiple facets. You can play, compete, or watch. There are constant events that trigger FOMO in the audience if they miss out. And no matter which roles you play, you become part of a community. Entertainment centers will need to develop new community-building skills, event management, promotion, and spectator enablement to wrestle the esports crowd away from their computers.
Virtual reality has become a growing part of the LBE landscape since 2016, and its growth continues. FECs are increasing their deployment of VR attractions as a means of differentiation because video arcades can no longer compete with home gaming consoles on 80" screens in the typical living room. But this differentiation is not sustainable.
The release of the Oculus Quest 2 this past Christmas season heralded virtual reality's iPhone moment. An all-in-one headset with high resolution and ease of use for under $300. The product was sold out in all channels by Thanksgiving. While headset sales will likely only tally in the seven figures next year, the first iPhone only sold 6 million units. Within six years, that number exceeded 125 million handsets.
Once VR becomes a household item, FECs will need to focus on more immersive, hyper-reality experiences not playable at home. Fortunately, that technology is already available and advancing rapidly. Motion bases, haptic suits, environmental effects, and even smell serve to deepen the immersion and create a more immersive experience that can awe even the most jaded gamer.

Bob tests out the latest haptic vest from bHaptics at Amusement Expo 2020 in New Orleans
Augmented reality (AR) has been the annoying younger sibling of VR for the last several years. But the release of wearable AR technology this year from companies like North Focals (recently acquired by Google), Nreal, and soon Facebook and Apple, will usher in an era of always-on visual computing. The battle for consumer attention will then enter a new level of competition. The good news is that operators will be able to integrate AR experiences into their entertainment offerings, creating immersive and interactive social experiences that people will only experience in a physical gathering.
Underpinning all this technology is the mobile world's move to 5G. While there's lots of hype around 5G speed, what will make it disruptive is its lack of latency. 5G offers single-millisecond delays in sending and receiving information. You know that lag you get when you're on a Zoom call that always has you on the verge of interrupting people? It's because our brains are wired for a response time of around 150 milliseconds. 5G will reduce the lag to imperceptible levels.
Combined with AR wearables, the ability to convene with our friends in a way that feels natural even when they're miles away becomes possible. This will redefine the nature of social experiences. No longer will people need a third place to gather because those places will be virtual.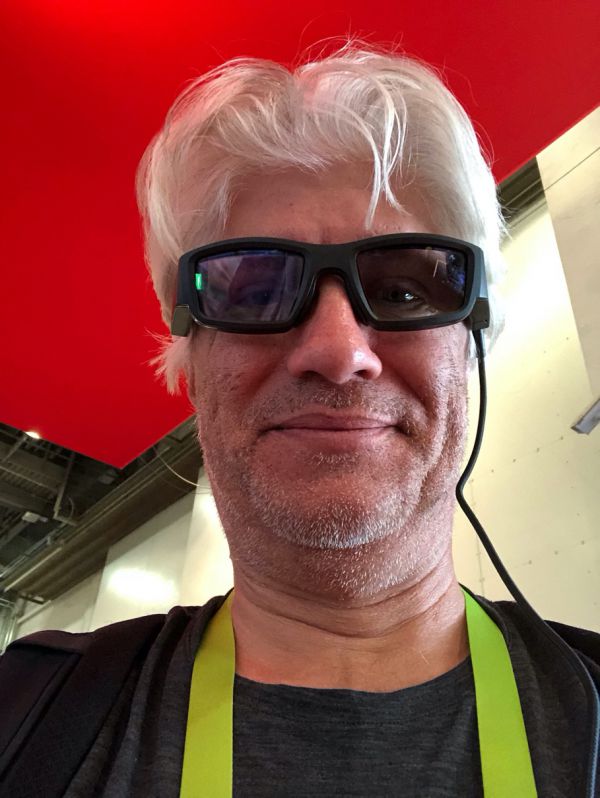 Bob checks out the latest AR glasses at CES
5G also will handle graphics processing at the edge of the cellular network, making processors run cooler on less power. It's a core technology that will enable augmented reality wearables to reach the mainstream.
Photogrammetry is the last piece of the disruptive tech puzzle. The ability to capture a photorealistic 3D space with a mobile phone is here today with the iPhone 12 Pro LiDAR camera. Soon all phones will have this tech, enabling anyone to capture a 3D image that you can walk around like in virtual reality.
This year apps will emerge that enable anyone to make a 3D avatar of themselves. These are being called digital twins. I can already walk around my house, or your escape room, and create a realistic 3D model with my phone. And then my digital twin will be able to walk around and explore your escape room while I wear VR goggles.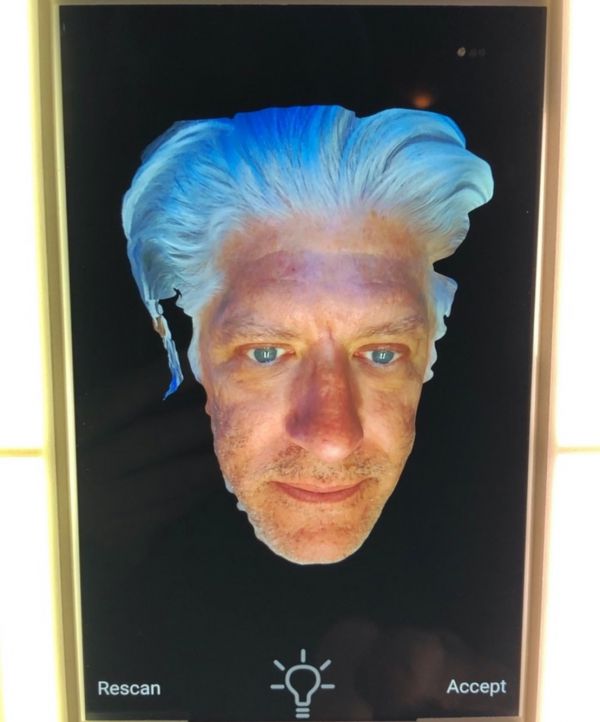 Bob scans his digital twin at Spaces Terminator VR attraction
Oh, and I will do that from my living room. Or my self-driving car as it speeds down the highway.
All of this technology is on the market today. And innovators are figuring out how to pull it together to create new experiences to engage and enthrall consumers. Savvy amusement and entertainment operators will be watching these trends and even experiment with early versions of products you will begin to see later this year.
The pandemic accelerated the investment and development of this technology and the consumer expectation for tech-driven experiences.
If you want to get caught up on the consumer and technology trends that will impact our industry for the next decade, come to ShowUp, the New Social Convention and Trade Show on Feb 1-3. Randy will be speaking, along with more than 60 other experts, trailblazers, and innovators who are using this technology today to change how we work, live, and play. Tickets are "Pay What You Can" pricing through January 15 so that everyone can afford to ShowUp.
Get your tickets today at www.showup.events.
About Bob Cooney:
Always staying on the bleeding edge of technology and able to predict both tech and business trends, Bob Cooney is widely considered the world's foremost expert on location-based virtual reality. Author of the book Real Money from Virtual Reality, Cooney is the go-to-market strategist behind the launch of some of the world's most successful location-based entertainment products of the last 30 years.
Bob can be contacted by clicking here.
All photos in this article © Bob Cooney all rights reserved.
Vol. XXI, No. 1, January 2021
---
---