Vol. XXI, No. 7, July-August 2021
---
---
Agritourism continues to gain market share
Operators in the location-based entertainment (LBE) center industry, especially those who operate local venues characterized as family entertainment centers (although many target adults rather than families), often overlook one branch of LBEs that are major competitors - agritourism farms.
Agritourism covers various farm-based activities, from u-pick to farm markets, to u-cut Christmas trees to fall and food-oriented festivals. The last two categories most directly compete with LBEs and FECs, and they do so very successfully. Our company has clients who run fall festivals from roughly the middle of September through Halloween. The festivals include pumpkin patches, corn mazes, hayrides, plus many other attractions along with multiple food and beverage options. The farms achieve attendances from 25,000 to close to 400,000 (yes, that's a four with five zeros). Over the six weeks, revenues range from approximately $1.0 million to $10 million (yes, ten million dollars).
In addition to Fall festivals, many agritourism farms also run weekend festivals that include many attractions. Examples include festivals themed around in-season crops such as peaches, watermelon, tomatoes, strawberries, and apples to ones based on lavender, sunflowers, and combinations such as cider and sunflowers to a bacon and music festival. These can achieve weekend attendances from Spring to late Fall in the 10's of thousands.
Both last year and this year, agritourism is booming due to the pandemic. We have one client who saw a 60% increase in revenue last year over 2019, and this year is up 30% over 2019. These increases are predominately due to outdoor activities being considered the safest from Covid infection if you want to get out of the house for some leisure/entertainment activity. All the agritourism activities have high appeal to not only families but also adults. They are reasonably affordable, with per capita expenditures for admission, attractions, and food and beverage generally in the range of $30 to $35.
Another category of agritourism targets corporate events and weddings. Most have indoor facilities that operate all year. Their corporate events are also competition to LBEs and FECs.
Our company has been fortunate to have worked for agritourism farms for over 26 years as a part of our work in the LBE industry. We are currently actively working with seven different agritourism clients on growing their businesses and master planning and designing their facilities. We have two active clients in California, one in Georgia, one in Missouri, one in Michigan, and one in Massachusetts that we have continually worked with for 26 years. Our most involved current project is working as overall project managers and designers for the renovation and expansion of the Williamson Family Farm in Murfreesboro, Tennessee.
Williamson Family Farm is a 240-acre farm on the edge of Murfreesboro right off the I-24 interchange. For the last five years, part of it has operated as The Grove, a wedding and corporate event venue. The farm also offered u-pick blueberries and blackberries. The farm's owners took over operation of The Grove from its previous operator last year. We are working with them on a multi-million dollar investment of significant upgrades and renovations to The Grove, as well as the development of the public event and festival grounds and major expansion of the farm's agriculture to include regenerative organic agriculture .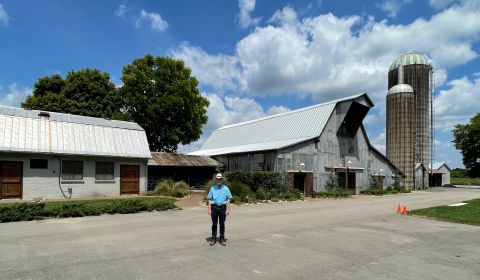 Randy White, our CEO, at Williamson Family Farm
At The Grove, our design work includes upgrades to the two barns, including additions for catering and buffets; two bridal suites; two multi-use groom or breakout rooms; total remodel of the kitchen to accommodate the production of baked goods and ice cream, u-pick cooking lessons and in kitchen farm-to-table dinners; remodel of the farmhouse as offices; a new B&B with two units, one that can be a honeymoon suite; a large new storage barn; and site improvements including paved parking and an entrance structure.
The public event grounds will include a central kitchen and many food stands, an admission's building, a store, renovation of an old barn as an animal barn, public restrooms, a private group area with a pavilion, a stage/concert area, and many attractions. The public events will be branded as Williamson Farm to differentiate it from private events at The Grove.

Overview of The Grove when completed

New entry structure for The Grove
New bridal suite

Main barn and new bridal suite

Kitchen and new back porch

Loafing barn

Groom's suite & meeting breakout room

New B&B

Living area in B&B honeymoon suite
We are also working on a total master plan for the entire 240 acres that will include multiple new crops, animal areas, and hands-on learning and educational opportunities for visitors
A significant challenge for an agritourism operation of this size and complexity is management. We're working with one of our alliance colleagues on setting up total management and marketing for the farm, including the sales staff, facility maintenance, and the farm's agricultural operations, including hiring the staff.
Another one of our current agritourism projects is working with Antioch Urban Growers in Kansas City to develop a master plan to expand their facility and offerings. They are not only currently growing healthy, organic, non-GMO fruits and vegetables, but also working on growing healthy, confident communities of people through demonstration and education
Their slogan is "Taking over the world one back yard at a time"! They're working to see urban farms dotting every Kansas City neighborhood, empowering people to grow their own food and explore how to be sustainable.
Vol. XXI, No. 7, July-August 2021
---
---