Vol. XIX, No. 4, April 2019
---
---
The expanding world of location-based entertainment concepts
We are seeing a constant stream of new community leisure venue (CLV) concepts emerging that satisfy consumers' perpetual pursuit for new, different and social-media-shareworthy out-of-home (OOH) experiences. The desire to encounter new experiences is being driven by a number of age-old, fundamental human needs including status (think posting on social media for social capital), connection (face-to-face socialization), recognition (achieving expertise in order to differentiate themselves and gain social capital).
Here's some of the latest concepts we've found that are obviously taking market share form older CLVs business models.
Artainment
We're seeing a number of for-profit interactive art experiences opening that are a fusion of art and entertainment, expanding the out-of-home "tainment" category. Here's three.
Snark Park in New York will host three interactive installations a year. The first installation is Lost and Found, a grid-like forest of columns that emerge from the ground at varying levels like stalagmites. The thick foam floor is just one of the design features that encourage visitors to thoughtfully interact with the space. Shark Park partner Benjamin Porto says it's fun to hear people try to describe what Snark Park is. "They will say it's a ride, it's a gallery, it's a museum. It's all of these different experiences. Admission is $28.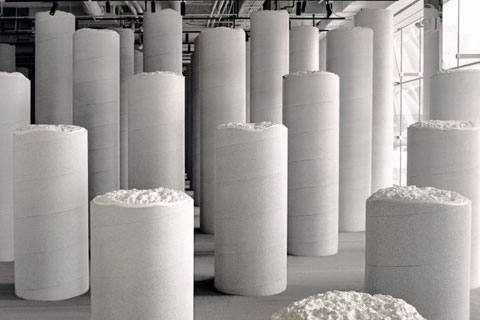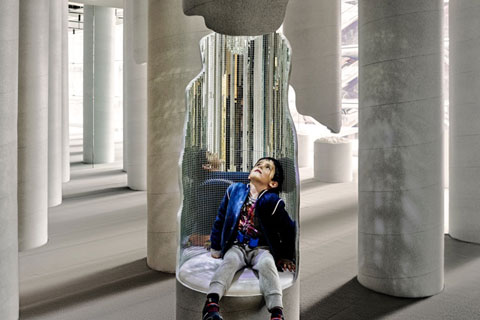 Wonder Wonder in Overland Park, Kansas and Boulder, Colorado is part art installation, part photo studio, part immersive experience. Here's how the website describes it, "Come see Wonder Wonder's ever-evolving home of imagination and exploration. Weave your way through 18 rooms of art installations, light displays, and technological contraptions. Awe-inspiring, mystifying, disorienting, and beautiful, Wonder Wonder seeks to open your eyes to something you've never seen or experienced before. Inspired by art, technology, light, and the senses, our rooms will invite curiosity and engage viewers of all ages and backgrounds."
Meow Wolf currently in Santa Fe, New Mexico, and coming soon to Phoenix, followed by Las Vegas and Denver. The company's Santa Fe location showcases the THEA Award-winning, House of Eternal Return where over 1.5 million visitors have discovered a multidimensional mystery house with secret passages, portals to magical worlds, climbing apparatus, and surreal, maximalist & mesmerizing art exhibits along with a Learning Center and Float Café. The location is also home to a music venue, bar, and outdoor dining scene. Admission is $29.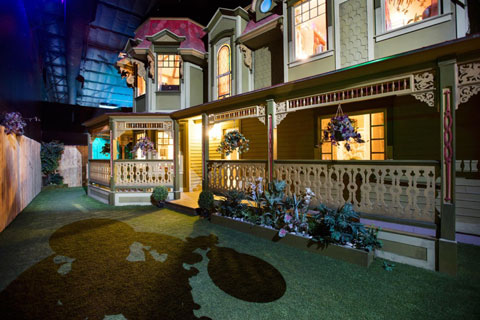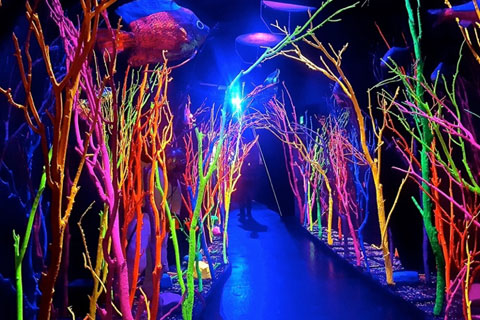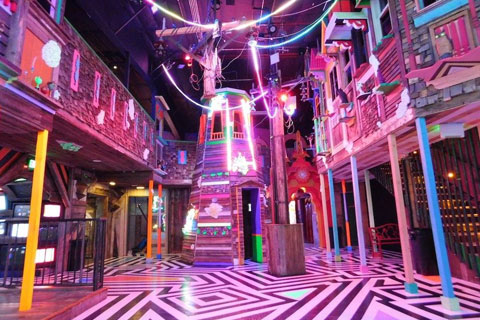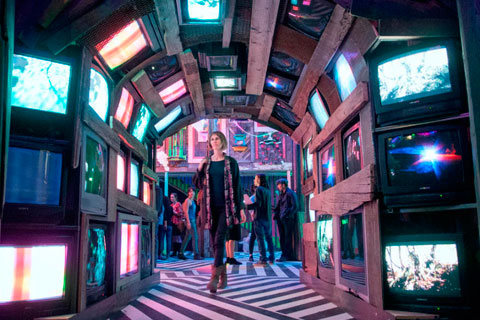 Two Bit Circus
Two Bit Circus in Los Angeles, bills itself as the world's first "micro-amusement park," a carnival-themed high tech attraction offering private gaming lounges, an arcade, escape rooms and virtual reality activities in 38,000 square feet.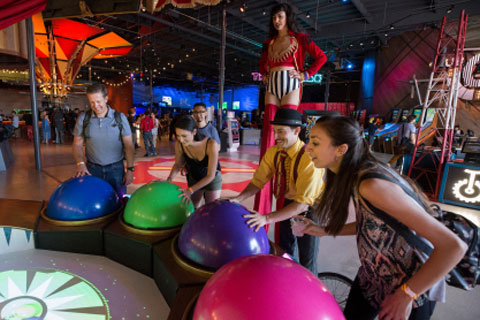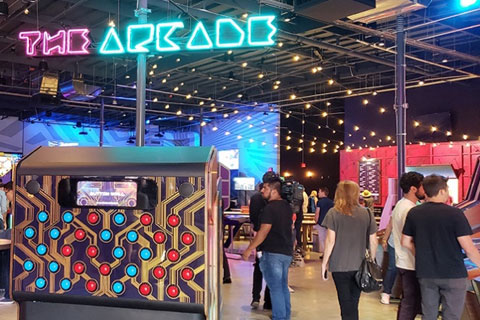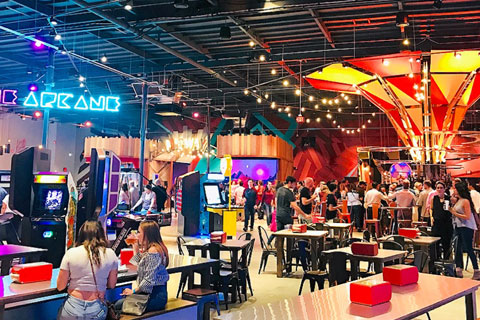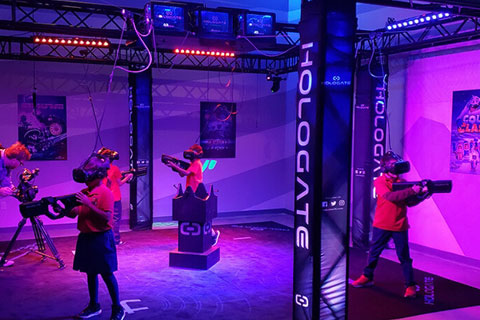 Restaurants
Yes, you read that right. Dining out in restaurants is now considered a form of entertainment by a significant portion of consumers. Just look at the results from this research by McCann Truth Central.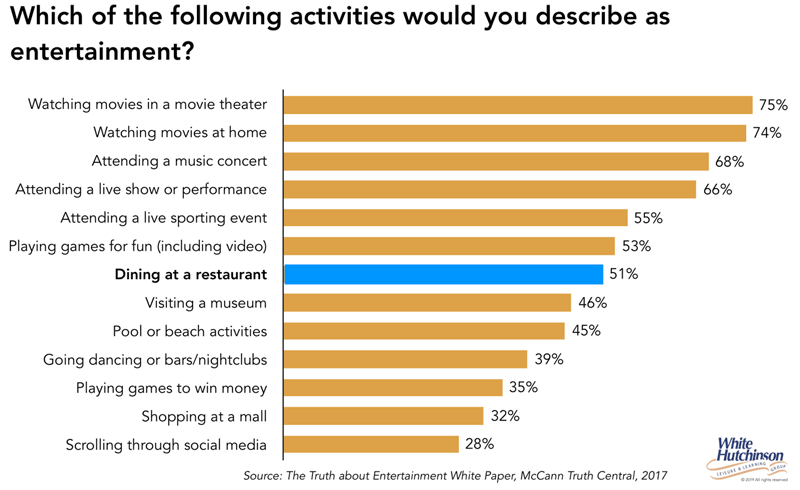 Over half of the respondents consider dining out at a restaurant entertainment, a higher percentage than considered going dancing or to bars and nightclubs.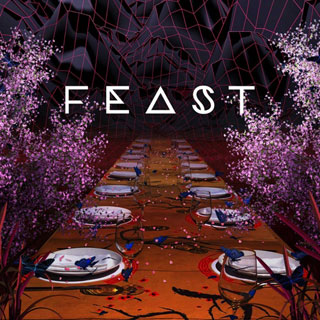 There are dining venues that are really upping the entertainment experience beyond the normal restaurant such as F.E.A.S.T in San Francisco. The F.E.A.S.T dining experience combines interactive digital art, music, and delicious cuisine to create an unforgettable experience that will delight all the senses. "Flourish," the inaugural production, celebrates the tastes, colors, sounds, and sights of spring. It is presented as a "pop up" installation at Onedome in San Francisco. Cost is $160 per person.
Hasbro family entertainment centers
The Hasbro toy company in partnership with Kilburn Live is planning a chain of Hasbro-themed family entertainment centers using all its intellectual properties. The FECs will offer "immersive and innovative experiences" featuring My Little Pony, Monopoly, Mr. Potato Head, GI Joe, Clue, Battleship, Hungry Hungry Hippo, Trivial Pursuit and Chutes and Ladders.
PBS LBEs
PBS has announced plans to develop venues that will offer fun learning experiences themed around topics that PBS and PBS KIDS are known for, including science, the arts, technology and nature. A blend of themed architectural environments and seamlessly integrated media content will create an active atmosphere of hands-on exploration that appeals to multiple demographics. The venues will include PBS KIDS activities that families with young children can enjoy, along with experiences in which older kids and adults can participate.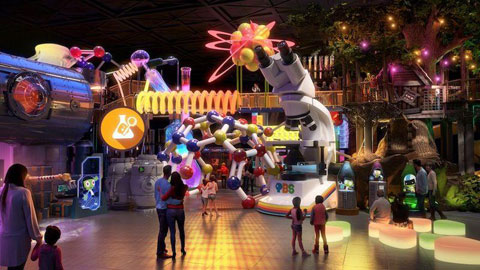 Miniature golf and bar/cocktails
We've previously reported on the emergence of miniature golf targeting adults with cocktails and bars including venues like Swingers and Junkyard Golf Club in the U.K. and Holey Moley in Australia. Now along comes a new version of social entertainment miniature golf at Puttshack in London combined with food and bar. It catapults the traditional game of miniature golf into the 21st Century with technology that gives automatic point scoring and leader-boards. Just like other social entertainment concepts built around driving ranges, darts and ping pong that first opened in the U.K. and then crossed the Pond, we're sure we will be seeing versions of this in the America in the near future.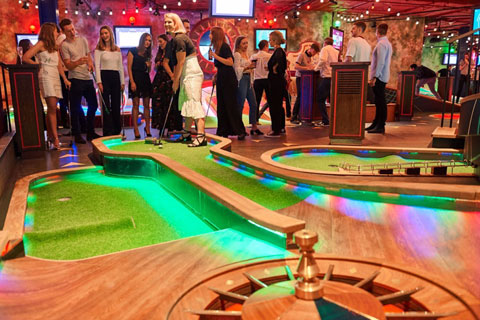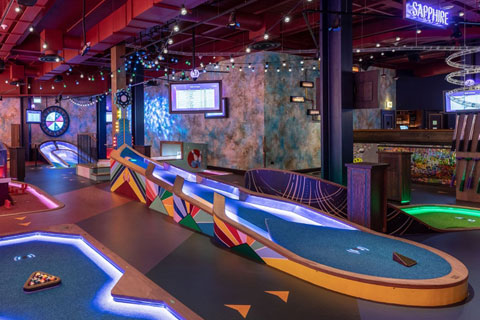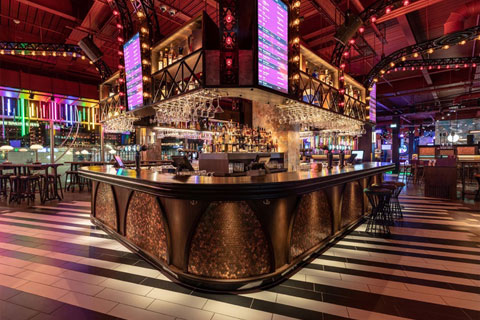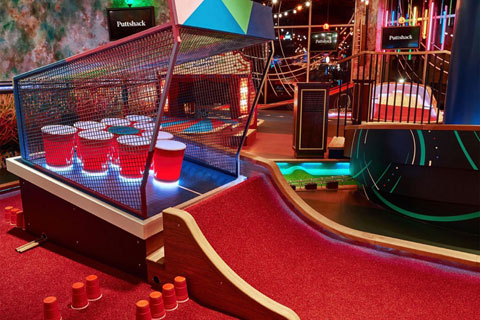 Topgolf Lounge
Topgolf is opening its first Topgolf Lounge in Seattle. The 7,761-square-foot facility will feature four "hitting bays" and one additional VIP space. But, unlike a normal Topgolf facility, the bays won't look out onto a real-life driving range, rather at a screen using Topgolf's TopTracer swing simulator. The facility will also include a bar, massive outdoor patio space and interactive sports games.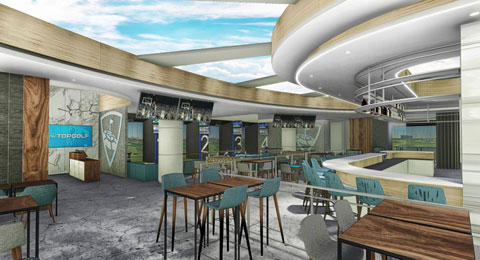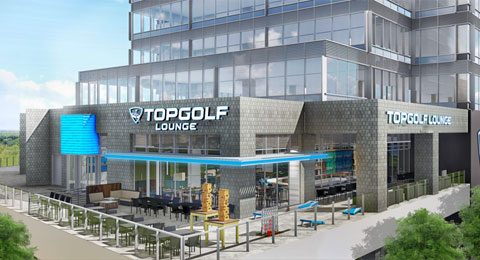 There's been an expansion of arcade bars across the country. Now comes a new mashup, a beer hall combined with social and arcade games. The Post recently opened in Philadelphia
For activities beyond eating and drinking, there's full size shuffleboard, skeeball, basketball, virtual golf, along with a slew of other video and arcade games. Each table also is outfitted with a few board games, including Cards Against Humanity and Trivial Pursuit. The menu includes wings, mac n' cheese, fried chicken, sliders including meatball and BBQ chicken and there's 16 beers on tap. The Post will host live music and DJs on the weekend.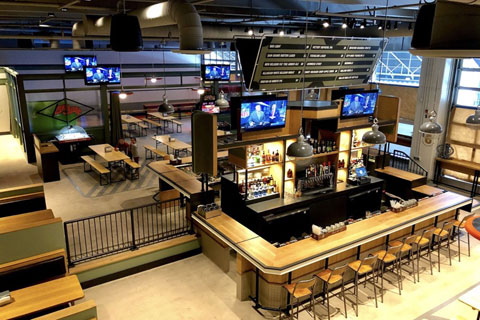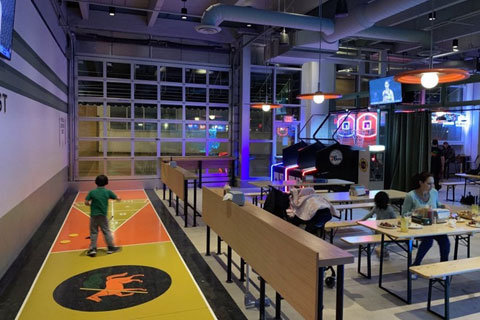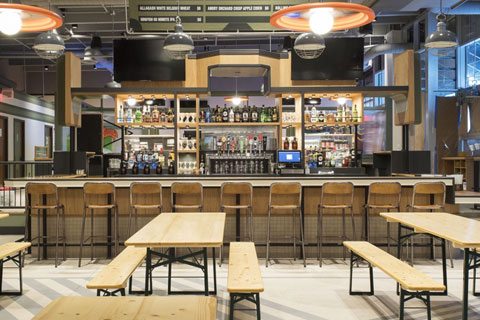 Dark light indoor miniature golf
There's been a significant number of dark light miniature golf courses open in the U.S., some as part of family entertainment centers and some as stand alone. Now along comes a high-tech version - 3D dark light indoor miniature golf at Imagine 3D Mini Golf in Gilbert, Arizona. Prices are $6.95 ages 4-9 and $9.95 for age 10+.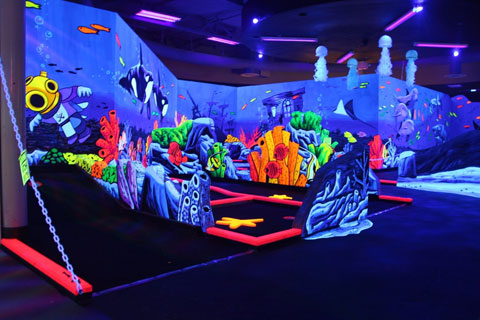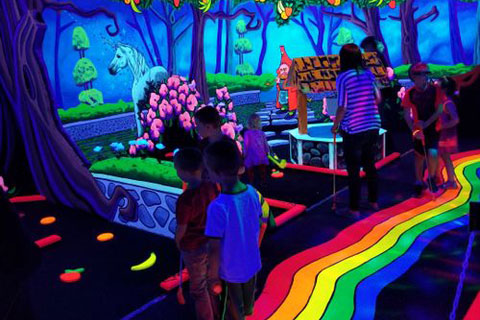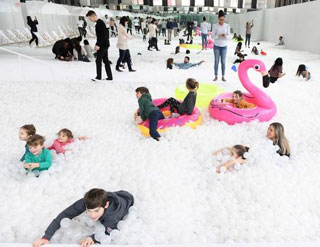 Pop-up ball pits
Instagram-worthy pop-up ball pits are appearing at museums, bars, boats and other locations. On March 1st, the interactive pop-up installation The Beach Detroit opened in a skyscraper in the city's downtown. By March 2nd, the first two weeks of reservations were booked solid. The Beach has been touring various locations since first opening at the National Building Museum in Washington, D.C.
Museum-tainment
Museums of all types are adding entertainment to attract attendance. To name just a few, The Beach described above has appeared at several museums, the Walker Art Center in Minneapolis had 10 unique artist-designed holes at Skyline Mini Golf and The City Museum in St. Louis has a Ferris Wheel.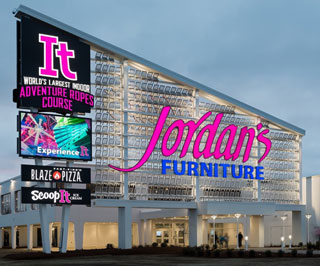 Retail-tainment
We've previously covered the expanding world of retail-tainment when stores add entertainment such as Bass Pro Shops with bowling; Scheels with free entertainment including a huge 16,000 gallon aquarium, a 65-foot operating Ferris wheel, a wildlife mountain, shooting galleries, a soft-containment play unit for children, mini-bowling, laser shot shooting and sport simulators for golf, soccer, hockey, baseball, football and basketball; Cabela's with free aquariums, shooting galleries and extensive taxidermy wildlife exhibits; and Jordan's Furniture with a 60-foot tall ropes course.
Grocerant-tainment
Now we have a new variation on retail-tainment. Entertainment has moved into grocerants. A grocerant is a hybrid of a grocery/supermarket and foodservice, usually eat-in fast casual style and for take-out. Whole Foods started the grocerant trend many years ago.
Now at Whole Foods' new "south region flagship" store in Atlanta, their 500th, they have added entertainment to their formula. At 70,000-square-feet, the store is twice as large as the average Whole Foods.
Having a "grocerant" is a concept gaining traction with numerous grocers, including Kroger, Wegmans and Hy-Vee. While other grocers have also experimented with in-store bars, Whole Foods has taken the concept to the next level - literally - with its rooftop space in Atlanta called the "Canopy Court". The space features a rooftop terrace with a bar serving wine and beer, a food truck, a shipping-container-style kiosk for chef pop-ups and games like giant Jenga and corn hole. There's stadium seating for movies, trivia, open mic nights, and artist gallery nights, plus plenty of space for Zumba and sunrise yoga. On the last Sunday each month, there will be a rooftop brunch with a chef-curated menu and live music.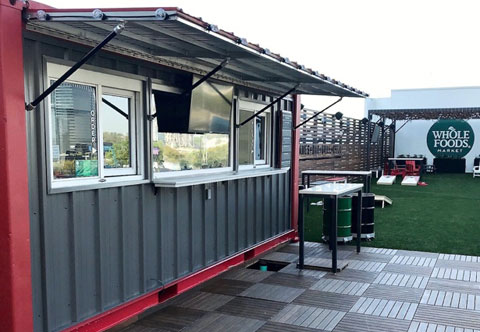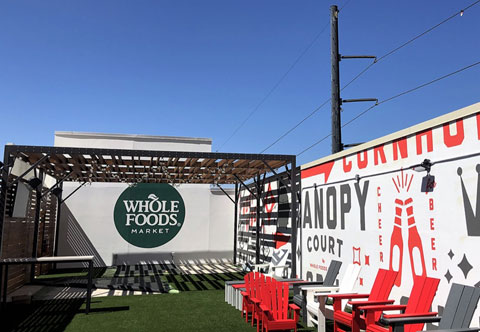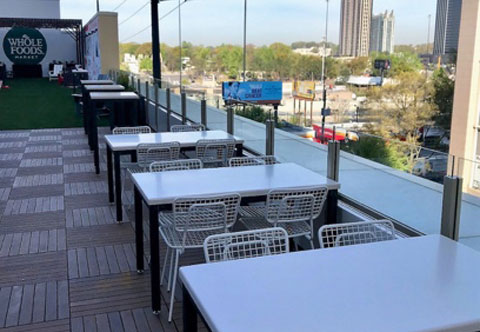 Whole Foods new Canopy Court roof top terrace
In addition to Canopy Court, the store features four restaurants - Farm Burger, a southern grass-fed burger chain; Capital Commons cafe with Allegro coffee; 14th Street Bar, and an outdoor eatery.
Now you can eat, drink and play at the grocery store.
The wide variety of CLV options
Just to give you an idea of how diverse the out-of-home entertainment and leisure options have become for consumers, we created this word cloud, which we're sure doesn't include everything.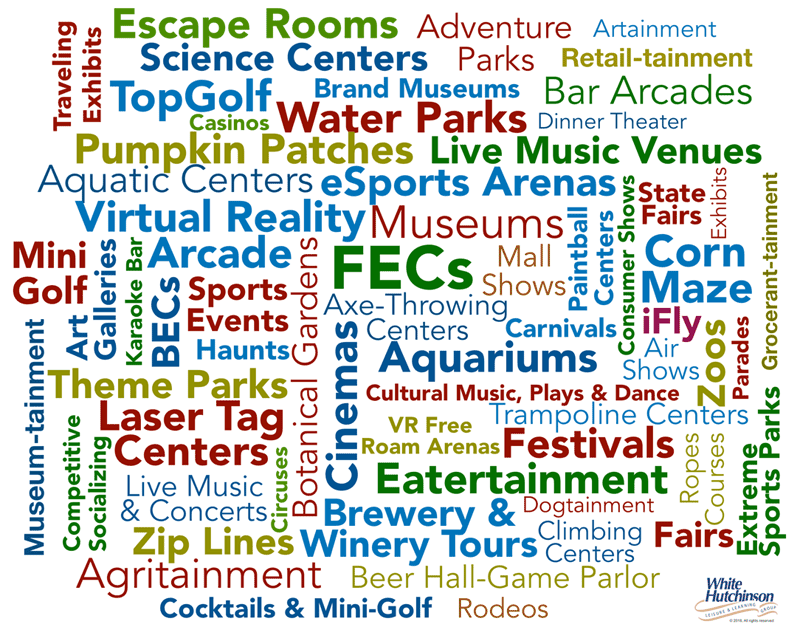 Implications for CLVs
It's basically a zero-sum game for CLVs. As new venues open, especially newer concepts, it will take business away from existing CLVs, especially older more traditional models. The out-of-home CLV competitive landscape is expanding at the same time that screen-based at-home options are expanding, getting higher quality and more affordable. Only the Highest Fidelity CLVs will survive.
Vol. XIX, No. 4, April 2019
---
---