---
The importance of food and beverage - Part 2: Snacks
Part 1 of this continuing series of article about food and beverage, The importance of food and beverage, elicited a lot of discussion and comments. Peter Olesen, one of the speakers at Foundations Entertainment University and the designer we use for go-karts, bumper boats and miniature golf in our projects, offered the following:
"I can't debate those of you that expound on the great potential for F&B in larger venues. That has been proven when the project is sited properly market wise and properly developed. The old adage "failing to plan is planning to fail" is so true. . . What we all have to realize is that there is no universal correct position. I will take a slightly different position with respect to the smaller venues located in smaller markets with smaller budgets. As no one can be all things to all people, in a smaller market it may be far more profitable to create an entertainment venue (participatory attractions) with minimum F&B and attention to providing quality attractions that generate repeat visits. These markets are more likely to have existing F&B venues (restaurants, sports bars, lounges, etc.) than they are to have family oriented FECs.
Concentration on F&B in some areas could be the worst decision possible, while in others it is 100% on target. Not everyone is seeking to be successful in the big leagues. There are far more opportunities for developing smaller but still successful venues in markets that can't handle the Dave & Buster's and similar type venues. They must however be just as concerned with properly addressing the realities of their market.There are many successful FECs around the country that do not emphasize F&B because they chose to address the wider demand for participatory entertainment activities, which may have been non-existent prior to their establishment. The majority target families and teenagers seeking to enjoy the attractions. Many of these offer average stays of less than two to two and one half hours, resulting in far less demand for food. Their bottom lines may be less, but then their expectations may be less as well. Not every location can generate $6 -10 million in revenues. Every situation, location and operator is unique. Keep in mind there is no one size fits all business model for every situation."
Well Peter, need we say we take a different perspective on F&B, even for the smaller venues—quality food and beverage is just as important to success as it is a synergistic element that cannot only increase per capita sales, but most importantly, increase attendance, that in turn also has a positive impact on entertainment revenues.
An analogy to your small entertainment venue would be a movie theater. That's a venue with only around a two-hour length of stay. And you can't purchase what you would call a meal, but rather only a snack (although the number offering meals is on the rise). Those snacks generate about 18% of movie theater revenues and a very large share of profits as their cost of goods sold for their F&B is much less, around 15%, half of the COGS at restaurants (we all know about the enormous mark-up on movie theater food and drinks). Without those sales, the cinemas would not be profitable. The popcorn, sodas or whatever you purchase adds to the enjoyment of the movie watching experience. It becomes part of the expectation of going.
When we talk about the importance of food & beverage, it not only applies to destination dining for meals, but also to snacks. Food consultancy Technomic reports that twice as many consumers report snacking at least twice a day as they did in 2010. And on average they are now eating 2.3 snacks a day. That's right 2.3 a day according to research by the Hartman Group.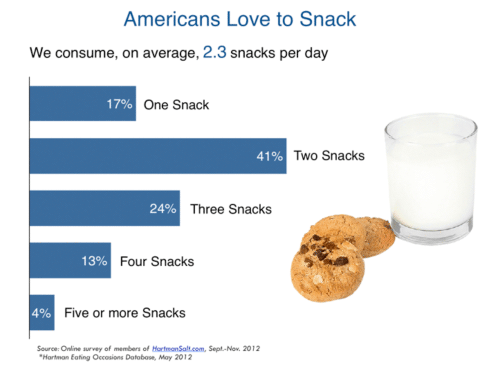 According to a Rabobank Group report, snacks account for a third of all calories consumed daily by adults.
Hartman's research shows that the two top times when Americans snack is in the afternoon and evening, prime time for entertainment centers, especially on weekends and holidays.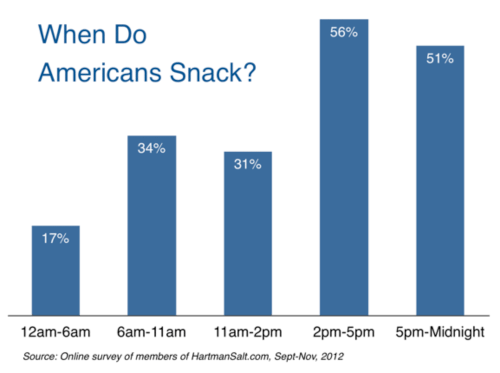 The number one reason Americans snack is for an indulgent treat.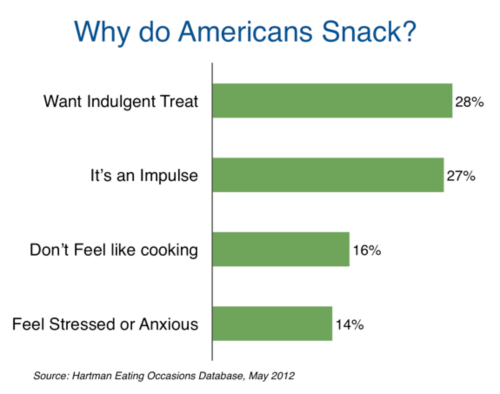 According to Hartman's research, more than half of Americans (57%) said that it is very important or important when snacking for the foods and beverages to be healthy, although those consumers don't necessarily choose healthy snacks all the time. That survey was about a year ago. Since then the importance of healthy eating has increased.
So that gets us back to those smaller entertainment venues that Peter suggests should not focus on F&B. For those smaller venues it might not be appropriate to have a sit down restaurant, no more than for a movie theater (surprisingly, many more movie theaters are now adding sit-down restaurants or serving meals in the theaters to capture meal-time movie business as well as higher F&B per caps). However, guests will still be there at snack time, so the quality of the snacks offered will influence their overall impression of the quality of their visit. We have spoken to people who pick their movie theater based on the quality of the popcorn. And as Hartman found, the majority of American's are looking for healthy snack options. So just offering potatoes chips and candy won't cut it with them.
Recent research by Technomic found that 4 out of 5 Americans (83%) say that cravings are the main reason they purchase food away from home at least once a month. In their consumer survey, craveable was defined as "craveable items I can only get at this restaurant." The survey found that there was a direct relationship between the availability of and quality of craveable menu items and how highly customers rated their satisfaction with their visit to the restaurant.
Technomic said the survey results have these implications for operators: "These [craveable] items drive a strong emotional connection with the consumer and, in many cases, are the items that restaurants become known for. To cultivate craveability, operators must develop and refine unique signature items that have the power to transform guests into regulars. Sweet snacks and bold flavors particularly resonate with guests at limited-service restaurants."
Americans are going to restaurants to snack. Snacks are becoming a big thing at limited-service fast food restaurants. Just look at all the dollar/mini-meal menus. Those menu items are as much about snacking as they are about affordability. The NPD Group says that what Americans snack on is changing. Traditional snacks like chips, pretzels, ice cream and popcorn are still popular, but NPD has found that consumers are also munching at restaurants on foods more associated with full meals in the form of miniature meals that are often handheld, bite-size or dippable, such as wraps, mini burgers, tacos and ethic-inspired foods like Argentinean empanadas. Technomic says that the mini sandwich, slider or wrap has now evolved to a downsized gourmet snack version of signature full-sized offerings.
One example of the expanding snack offerings at fast food restaurants is Taco Bell's Cravings Menu they have been testing at 55 locations and considering rolling out nationally. The Cravings Menu has five categories of food items based on the craving each item is designed to satisfy. Craving categories are Beefy, Cheesy, Spicy, Crunchy and Sweet.
Even full service restaurants are working to get their share of the snacking. One such chain is T.G.I. Friday's with their new Taste & Share Menu that includes things like Bacon Mac & Cheese Bites and more adventurous Thai Pork Tacos, Hibachi Skewers and seared Ahi Tuna Crisps. T.G.I. Friday's has designed the menu to meet consumers' desire for social and sharable snacks and meals.
Snacking in America has definitely changed both in frequency and the desired food items. Limited service and even full service restaurants are raising the bar with their offerings, which in turn is raising consumers' expectations for the snack offerings that they expect to find when they go out, even to an entertainment venue. As when it's time to snack, they want what they want.
The great opportunity for small venues is to have some signature craveable snack food item, no different than cinemas are known for their popcorn. It could be anything from some special gourmet hand-dipped ice cream to some grilled foods on an outdoor grill. We have agritainment clients that have built a big following for foods such as is grilled corn on the cob in the husk and hand-dipped ice cream in flavors made with locally farmed fruits and berries.
Yes Peter, smaller venues don't need to compete in the big leagues with those venues' F&B destination dining, but they still need to offer quality and selections, even if they are only snacks, that fit with Americans' contemporary tastes, expectations and dietary preferences, as it does affect the over quality (Fidelity), value perception and appeal of visiting that entertainment venue. If they don't, they're losing a lot of potential revenue and profits.
We will continue our coverage of the importance of food and beverage in our next eNewsletter issue. Our CEO, Randy White, can be found on Twitter. He tweets about informative news, research and articles about entertainment, but also about F&B. Check out his tweets at https://twitter.com/whitehutchinson. You don't need a Twitter account to view his tweets.
---