Vol. XII, No. 4, June 2012
---
---
Attracting Generation X
Our article Are Millennials the market they are cracked up to be? in our last Leisure eNewsletter showed that Millennials are not the biggest spenders for entertainment. Rather, the biggest spenders for community-based out-of-home entertainment and for audio-visual equipment and services are households headed by the 35-44 age group.
Most community-based entertainment centers, including FECs and bowling centers, offer food and beverage. In many of the newer concepts, including hybrids of bowling and entertainment attractions, food and beverage represents a significant percentage of total revenues, often as much as 50%. Cinemas are also trying to grow their revenues with food and beverage with dine-in theaters, premium concession offerings and even destination restaurants.
When you look at away-from-home food expenditures at hometown locations (predominately in restaurants and not on trips), again households headed by 35- to 44-year-olds are the biggest spenders.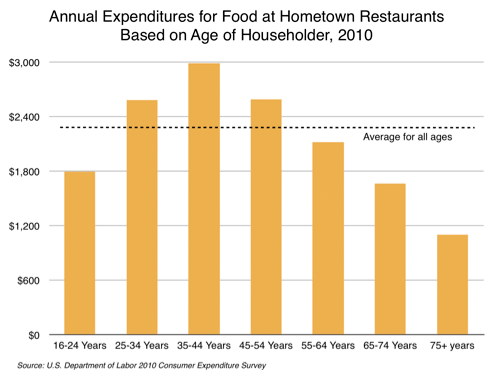 Age 35 to 44 is the heart of Generation X, generally defined as the demographic born between 1960 and 1982. When to comes to away-from-home household spending for both entertainment and dining in their local communities, Generation X is definitely the prime generation to target.
So what does it take to capture Gen Xers at location-based entertainment facilities and restaurants? First, it is important to understand that they are busy family people. They're mostly college-educated and live in two-income households. Gen X includes families with young kids as well as those whose kids are moving out.
As the data shows, Gen Xers love to dine out and enjoy out-of-home entertainment. They have the disposable incomes and are willing to spend more for quality provided they feel they're getting good value for their money. Value drives their decisions, not necessarily price. The rise of the fast-casual segment with its higher quality ingredients, better atmosphere and higher prices than fast food (concepts such as Panera Bread and Chipotle) can be attributed to its popularity with Gen X. Similarly, Starbucks is also a favorite with this generation.
Authenticity is very important to Gen X. They like concepts that show a sense of authenticity, things that make a concept unique and different. This is also a very social generation, so atmosphere and design are very important to them. The ambiance, the social atmosphere and the decor at Panera Bread and Starbucks have been major factors in their popularity with Gen X.
Gen Xers want to eat more healthfully. But at the same time they like to occasionally indulge. The concept of a 'two-sided menu' embracing both healthful and indulgent options appeals to them. Customization is very important to them, another contributing factor to Starbucks' success with Gen X. They also like to see their food being prepared, again a concept found at Starbucks, Panera, Chipotle, other fast casual restaurants and coffeehouses, as well as at Subway that also offers healthy options and attracts Gen X.
With the many Gen X families with kids, being family-friendly is important when they want to bring their kids along.
Gen Xers have been around. Hype doesn't work with them. You can't fake it. A brand's story is important to developing loyalty with Gen Xers. What a brand stands for is important to them. Just think about Chipotle's "Food with integrity." It emphasizes authenticity and quality without hype.
Quality food, both healthful and indulgent, great atmosphere, family-friendly when they bring their kids, an overall great social experience and good value for their money can add up to a winning formula to attract the Gen X generation and their disposable entertainment and dining dollars.
Vol. XII, No. 4, June 2012
---
---