The coronavirus has accelerated many trends. I've written about a few in previous blogs, including the declining birth rate and number of babies, working from home, parental values, uber bunkering, and the development and use of virtual digital experiences. Most, if not all of these trends have not only accelerated during the pandemic, but are sure to continue post-pandemic.
Another accelerating trend that will have a significant impact on out-of-home (OOH) entertainment and arts (E&A) venues, both now as they begin to open up, but also well into the post-pandemic era, is socioeconomic bifurcation, or maybe better described as the gentrification of OOH E&A.
The bifurcation of OOH E&A has been underway for several years, with a larger and larger share of fee and admission spending coming from upper socioeconomic households. Since just before the Great Recession, households headed by a person with a bachelor's or higher college degree have increased from 53% to 71% of all spending on fees and admissions at community-based OOH E&A. Likewise, households in the top two quintiles of income (top 40%, $72,200+) have grown from 57% to 71% of all fee and admission spending. In 2019, upper socioeconomic households accounted for 7 in 10 dollars of all such expenditures (71%).

The following chart shows how 2019 spending breakdowns by education for community-based live events, the movies and other non-live E&A venues, including FECs, amusement parks, museums and zoos.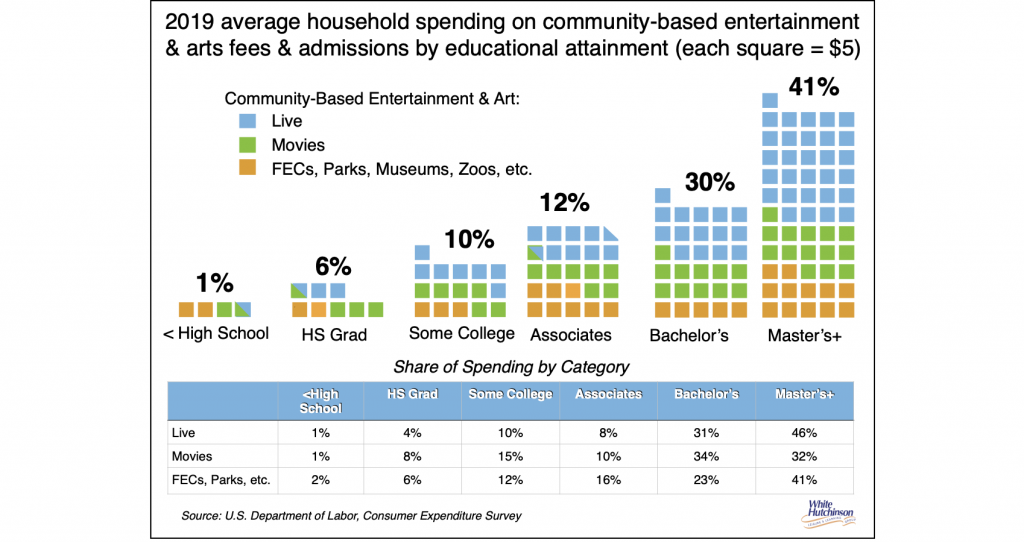 The share of all time spent at E&A venues is also showing the increasing bifurcation trend. Over the past six years, the percentage of all time spent at OOH E&A (community-based and on trips) by adults age 25+ with a bachelor's or higher degree has increased from 39% to 48%.

Of course, all the above trend data is from before the pandemic. However, the coronavirus's negative financial impact on many people is sure to have a continuing long-term impact, well into the post-pandemic world, further continuing the increasing bifurcation of OOH E&A.
The pandemic is having the most harmful financial impact on the lower socioeconomic and younger adults. Following is some current data to demonstrate the bifurcation of Covid's economic impact on Americans.
Younger and lower-income adults are experiencing job loss or pay cuts the most.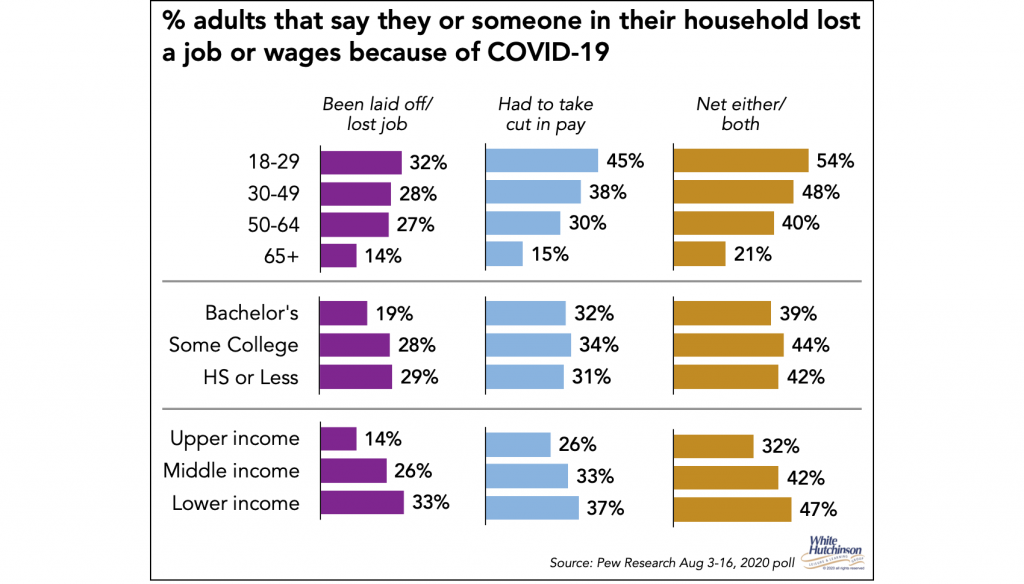 PEW Research found that upper-income people are having the least difficulty with their finances.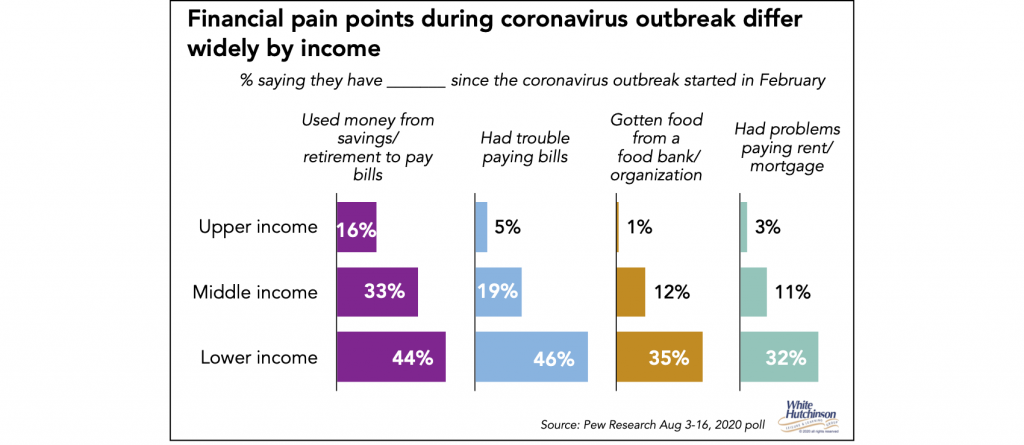 The most recent U.S. Census Bureau's Household Pulse Survey found that more higher-educated versus lower-educated households have been able to continue to rely strictly on their regular income to meet their financial obligations vs. needing to use credit cards debt, borrowing, unemployment insurance or other assistance.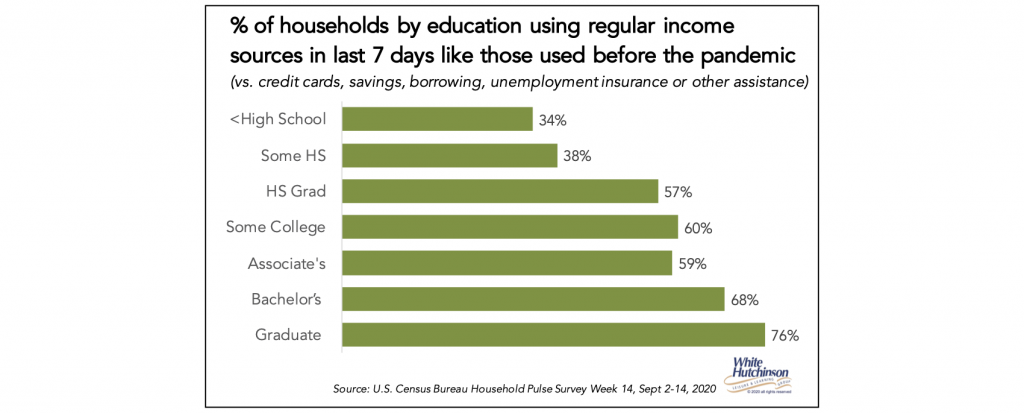 Additional Household Pulse Survey data shows that lower socioeconomic and younger adults are having the most difficulty paying usual household expenses.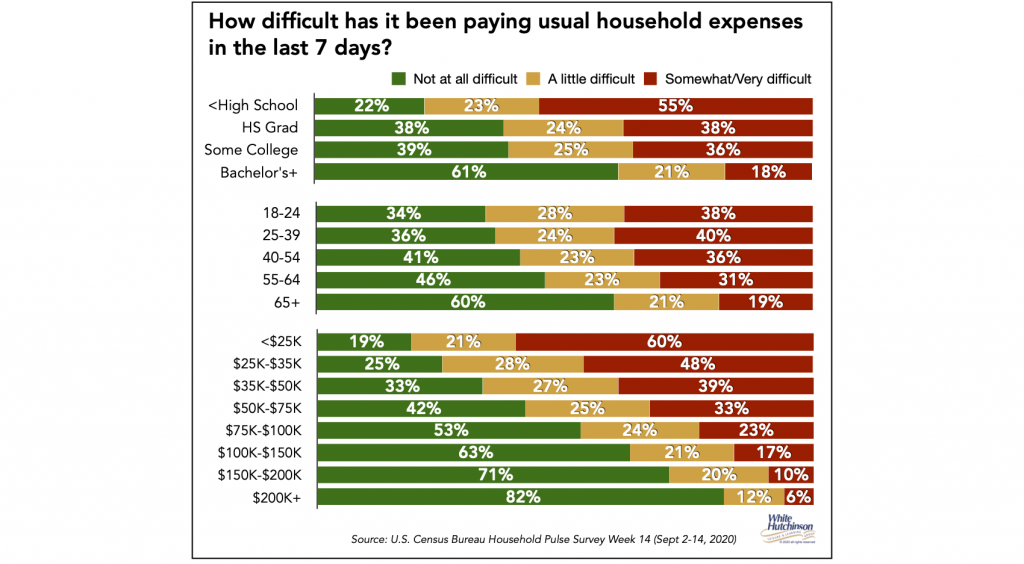 The negative financial impact from the coronavirus is most significant with Millennials according to a recent Morning Consult poll.

A just-released survey by NPR/Robert Wood Johnson Foundation/Harvard T.H. Chan School of Public Health found that over 6 in 10 households with children (61%) are experiencing serious financial problems during the coronavirus outbreak. The percentage experiencing serious financial difficulties varies inversely with incomes. Whereas nearly three-quarters of households with children with incomes under $100K a year (74%) are experiencing serious financial problems, just slightly over one-quarter with incomes over $100K a year (27%) face the same challenges.

A greater share of households with children are experiencing all types of serious financial problems compared to all households. The following chart compares the percentage of households with children who are experiencing different serious financial problems with the percentages for all households.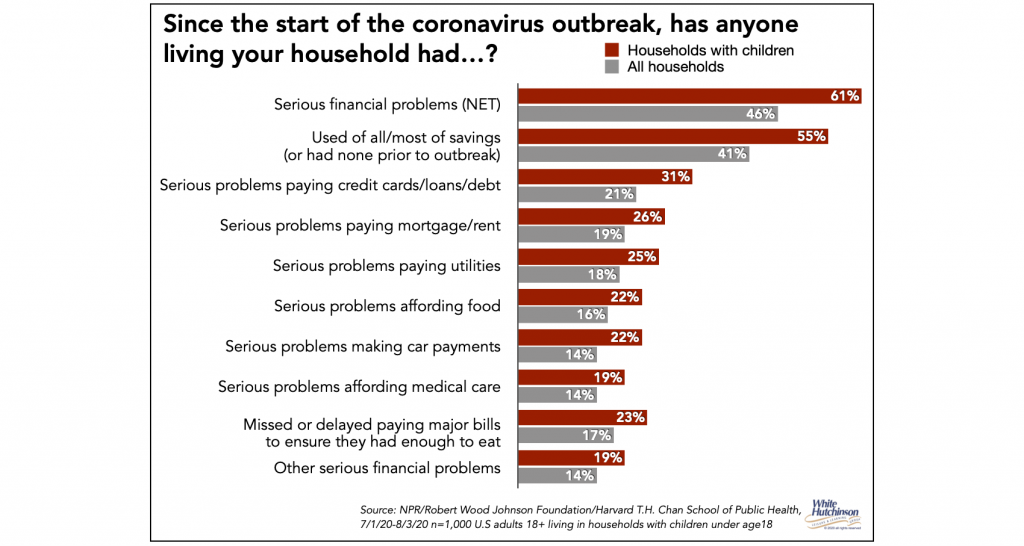 It's noteworthy that 55% of households with children either had no savings or depleted their savings during the pandemic compared to 41% for all households.
I could cite a lot more data on the increasing economic divide the pandemic is causing, but I think the above is more than adequate to demonstrate it.
There can be little doubt the negative financial impact the Covid-19 pandemic is having on such a large share of the population – 46% of all households according to NPR – will continue to impact them long-term into the post-pandemic world. These financially stressed households will be paying off increased debt, trying to replenish savings, some may permanently have reduced earnings and many more than before the pandemic will be living paycheck to paycheck. Those most affected are the lower-income and less-educated households, households with children and Millennials.
These financially-challenged households will have little or no discretionary spending that can be devoted to attending OOH E&A. A survey by CreditCards.com found that 45% of adults said that post-pandemic they would cut back on tickets to movies, sporting events, concerts and theater, 44% said they would pare down spending at bars and 38% would cut back on restaurant spending.
This all indicates that the post-pandemic OOH E&A socioeconomic bifurcated landscape will be greater than it was pre-pandemic.
This increased bifurcation will drive E&A experiences to be further divided into two extremes, either expensive and premium OOH or inexpensive and convenient at home. The higher socioeconomic consumers who were least financially affected by the pandemic will continue to afford the more expensive OOH E&A options. In contrast, the lower socioeconomic will turn predominately to at-home, less expensive digital, board games and other entertainment options.
The result will be two-fold. With more people no longer able to or less often able to afford OOH E&A, the size of the market will be reduced. The vast majority of the remaining market will consist of the higher socioeconomic. They have higher and sophisticated standards and are more discriminating for the OOH experiences they find compelling enough to spend their valuable time to visit, with the cost being less of a consideration. Mediocre OOH E&A designed to appeal to more middle-class customers will have lost its market.
The remaining market is also likely to shift more to older adults and households without children, the least financially impacted during the pandemic
If you thought the 2019 OOH E&A market was gentrified, just wait for how gentrified the post-pandemic market becomes. As they say in hockey, 'skate to where the puck is going to be, not where it has been.' In other words, plan for what the trends indicate the post-pandemic OOH E&A customer and landscape will be, not where it has been.
Follow me on Twitter and Linkedin – I try to post news and information that is relevant to the location-based leisure, LBE and FEC industries a few times every weekday.
To subscribe to my blog, click here