The coronavirus pandemic has led to a surge in remote work by forcing millions of workers out of their offices and into their homes. The Aug 28-Sept 3 poll by Sense360 found that nearly 4 in 10 (38%) of adults employed full-time worked from home. The Sept 11-14 Axios/Ipsos poll found that one-third of full-time and self-employed adults (34%) were working from home or remotely instead of their regular workplace. Research by YPulse found that greater than one-half of employed Millennials are currently working from home.
Multiple companies have announced extended work-from-home policies, with many deciding to allow employees to work from home permanently.
A survey of 25,000 people by IBM found that over half of workers (54%) say they would prefer to continue working remotely full time. A Wall Street Journal/SurveyMonkey poll in late July found amajority of those who've been working from home (64%) say that remote working has made it easier for them to balance their work and home responsibilities.
A survey by Clutch found that some workers found their home office set-up just as comfortable and productive as their desk at the office and that working from home offers time back in their day to spend with friends and family or simply to relax.
As might be expected, telecommuting is much more common among higher socioeconomic Americans, especially those with a college degree. Employed college graduates are more than twice as likely as employees without a college degree to work remotely.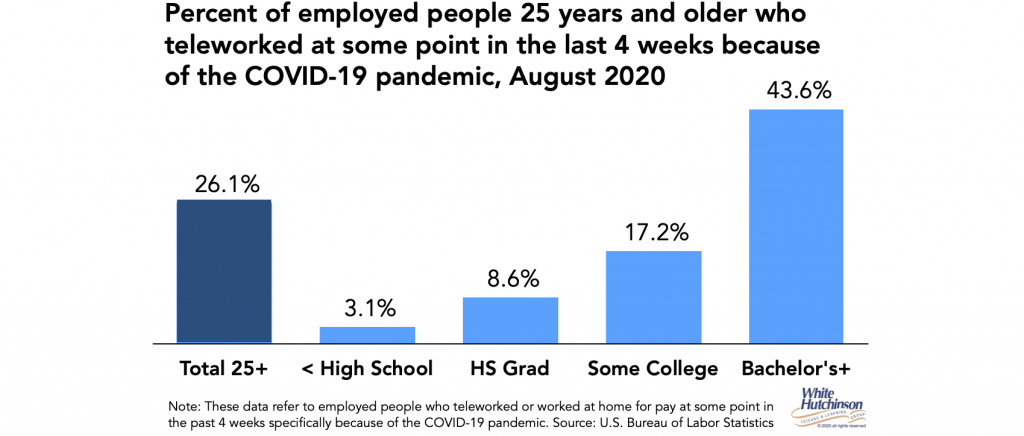 There is a strong correlation between education levels and incomes. Remote work also increases with incomes.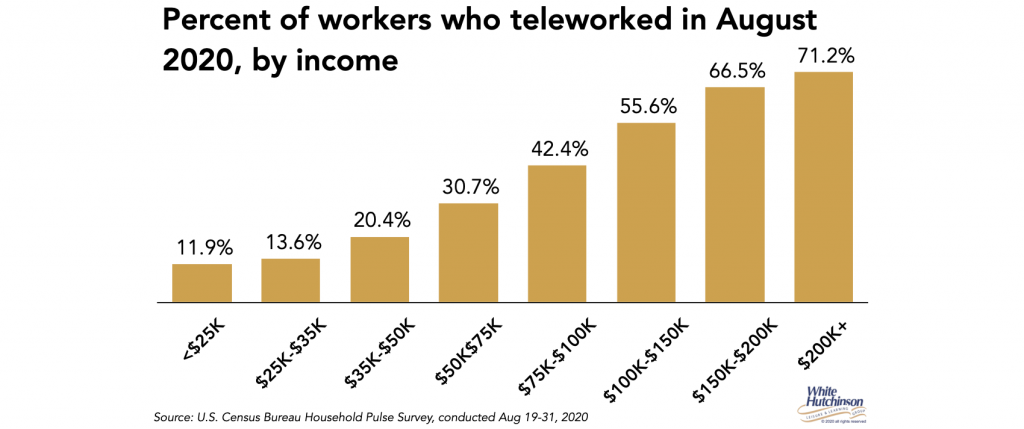 Basically, the majority of remote workers are professionals and white-collar workers.
The Wall Street Journal/Survey Monkey poll found that nearly 6 in 10 of remote workers (59%) say they're spending less time socializing with colleagues. Of course, this change in behavior is very logical. Remote workers are scattered throughout the town or city where the office is located, or even living in remote-distant locations. Meeting up to socialize is much less convenient than when you and your colleagues met up every day at the office and could easily meet up after work at some restaurant, bar or eatertainment venue.
Pre-pandemic, many adult-oriented entertainment and eatertainment venues selected sites for their venues based on the criteria of being close to significant white-collar employment areas, such as office parks, and convenient to higher socioeconomic residential areas. Groups, especially corporate groups, are essential to their success, often generating one-third or more of revenues and an even higher percentage of profits.
The pandemic has upended that site criterion. Now more than half of the workers who once worked in those close-by offices are scattered everywhere. The percentage of remote white-collar and professional workers is likely to remain high, even post-pandemic. There presently and will continue to be fewer workers at company offices who can conveniently get together after work at a close-by venue. With workers scattered everywhere, the close-by venue is no longer necessarily the preferred location for a corporate event as it has lost the convenience of its location.
In 2019, the overwhelming majority (71%) of all spending on fees and admissions for community-based entertainment and arts came from households headed by adults with a bachelor's or higher degree. Those households with the highest spending account for the vast majority of all professionals and white-collar workers. Now, with many of those workers no longer coming to the office, those entertainment and eatertainment venues that relied on the site criteria of being close to white-collar office concentrations will continue to have attendance and revenue challenges into the post-pandemic era.
Follow me on Twitter and Linkedin – I try to post news and information that is relevant to the location-based leisure, LBE and FEC industries a few times every weekday.
To subscribe to my blog, click here